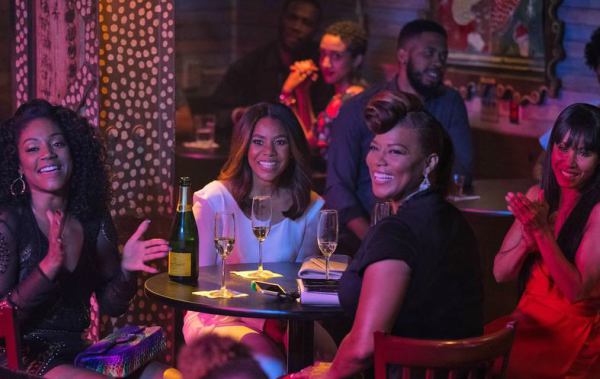 Starring: Queen Latifah, Jada Pinkett Smith, Regina Hall, Tiffany Haddish, Larenz Tate, Mike Colter
Romantic comedy directed by Malcolm D. Lee, the story centers on four lifelong friends (Queen Latifah, Jada Pinkett Smith, Regina Hall and Tiffany Haddish) who decide to travel to New Orleans for the annual Essence Festival. On their adventure sisterhoods are rekindled, wild sides are rediscovered, and there's enough dancing, drinking, brawling and romancing to make the Big Easy blush.
Best Quotes from Trailer:
Copyright Notice: If you decide to copy the movie quotes we've provided and take information from our site, please be kind and either link or refer back to our site. We do notice when other sites take our quotes, literally cut and paste everything, including some of our errors, so it's obvious you've taken it from our pages! We want to share the quotes that we have gathered with people, that is the whole point of this site, but again be decent and refer back to where you found the quotes.
For more information check out our copyright policies here.
Thanks!
Friend #1: How long has it been?
Friend #2: I don't know, two years maybe.
Friend #1: You're getting some this weekend.
Dina: Straight up, you're going to get at least two digs this weekend.
Friend #2: For crying out loud, Dina, we're only going to be there for three days!
Dina: Well three digs then.
Friend #2: You know what, I need you to use your lady mouth.
Dina: I need you to use your lady mouth.
---
Dina: You know, I got some bomb ass kush if you want to take a hit.
Friend #2: Where did you hide it?
Dina: Where the sun don't shine.
Friend #2: You know what, that can cause a lot of infection.
Dina: Girl, you can't get no infection in your booty hole. It's a booty hole.
---
Ryan: We haven't hung in five years. This weekend is about us. We are here together. Today is the last day that we will ever be this young.
---
Dina: I'm about to get pregnant tonight!
---
[as they are getting ready to go out for the night]
Friend #2: Almost ready.
[the other girls shake their head at her boring looking outfit]
Friend #2: What? This is hand stitched embroidery from a tribe in Guatemala.
Dina: So are they not fucking in Guatemala?
---
Dina: We got shit to do, so I bought them my bitch. We're going to be staying up late, drinking, making memories that we can laugh about for the rest of our lives, because that's what a girls trip is for.
---
Friend #2: I have to pee.
Dina: Look the line is short over there, it's a long line in the bathroom here. Just got for it.
[she uses the rope between the two building to glide over but gets stuck halfway between the two buildings]
Friend #1: Oh, shit.
Ryan: Hey, stop taking them pictures!
[unable to hold herself any longer the other friend starts to pee uncontrollably midair]
Friend #1: How much did she drink?
Friend #2: Why?
---
[as they're making out in the bathroom]
Friend #2: Move your arm.
Malik: That's not my arm.
Dina: Ooh, that's that shockazoolo right there.
Girls Trip is set to open in the US July 21, 2017.
Trailer: