New Movies Quotes and Lines
(Total New Quotes: 33)
Here are some of the quotes from recent top box office contenders and soon to be released movies listed in alphabetical order…
New Movie Quotes Page 1 2
---
Alien: Covenant (2017) REVIEWS
Daniels: Are you sure about this, captain?
Oram: How do you mean?
Daniels: I mean we don't know what the fuck's out there!
See more Alien Covenant Quotes
---
Journalist: You're trying to start a positive movement for black people by using negative symbolism like drug and outlaw.
Tupac Shakur: You got to enter into somebody's world in order to lead them on.
See more All Eyez on Me Quotes
---
Deborah: What is your name?
Baby: Baby.
Deborah: Your name's Baby. B-A-B-Y, Baby. Why?
---
The Dream: Here's the thing, being good or bad mostly depends on who you're standing next to.
---
Sgt. Ellerbee: How do I explain this so that you people understand?
Matt Brody: "You people?" "You people?"
Mitch Buchannon: Oh, you don't get to say that. You're just tanned.
Sgt. Ellerbee: Right on.
Mitch Buchannon: Come on, brother.
---
Beauty and the Beast (2017) REVIEWS
[after Belle finds her father locked up in the castle dungeon]
Maurice: Belle, you must leave here. This castle is alive.
[they hear the beast roar]
Belle: Who's there?
Beast: Do you wish to take your father's place?
Belle: Come into the light.
[she shines the candlelight towards the beast and reveals his face]
See more Beauty and the Beast Quotes
---
John McBurney: I admire your strength.
Martha Farnsworth: I'm just trying to give them what they need to survive in these times, nothing is easy.
---
Emily: Can you imagine a world in which we end up together?
Kumail: I don't know.
---
Henry Carpenter: [voice over] When someone hurts someone else we have to make it better. There's only one way to stop it. I'd hope to do it all myself, but that's not an option.
See more The Book of Henry Quotes
---
Tim: Who are you?
Baby Boss: Let's just say I'm the boss.
Tim: Just wait until mom and dad find out about this.
[baby boss pretends to have fallen asleep, he snores loudly until his head drops and he wakes up]
Baby Boss: Powernap! Uh, you were saying?
---
Captain Underpants: The First Epic Movie (2017)
George Beard: [voice over] Hi, I'm George Beard and this is my best friend Harold Hutchins.
Harold Hutchins: [voice over] We just make comics and try to make each other laugh.
George Beard: [voice over] And this old guy is Mr. Krupp. He's the worst principal in the world.
See more Captain Underpants: The First Epic Movie Quotes
---
Jackson Storm: You have no idea what a pleasure it is for me to finally beat you.
Lightning McQueen: Did you say "meet" or "beat"?
Jackson Storm: I think you heard me.
---
Dru: Brother! My brother! Finally I'm meeting you!
[Gru sees that Dru looks exactly like him but with a full set of flowing golden locks]
Dru: Who doesn't love this guy? Look at him. Ah, but hair would make you better.
[Dru tries to be playful with Gru]
Dru: Look at his face. Oh, he's so mad.
See more Despicable Me 3 Quotes
---
Olly Bright: Are you on house arrest? I haven't seen you outside once since we got here.
Maddy Whittier: No, I'm sick. My body can't fight bacteria or infections. If I left the house I would die.
See more Everything, Everything Quotes
---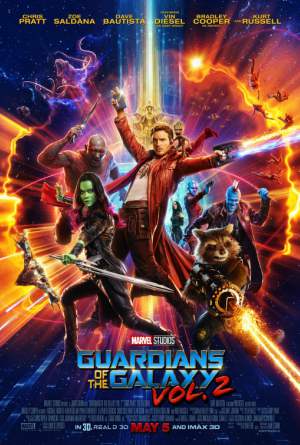 Guardians of the Galaxy Vol. 2 (2017) REVIEWS
Baby Groot: I am Groot.
Yondu: What's that?
Rocket: He says, "Welcome to the frickin' Guardians of the Galaxy!" Only he didn't use frickin'.
See more Guardians of the Galaxy Vol. 2 Quotes
---
Kate Johansen: Alex thinks we can afford tuition and we can't.
Scott Johansen: We got to lie, that's what parents do, because otherwise the kids are going to realize that we don't know what we're doing!
---
Total Quotes: 33