New Movies Quotes and Lines
(Total New Quotes: 33)
Here are some of the quotes from recent top box office contenders and soon to be released movies listed in alphabetical order…
New Movie Quotes Page   1   2
---
Alien: Covenant (2017)    REVIEWS  
Daniels: Are you sure about this, captain?
Oram: How do you mean?
Daniels: I mean we don't know what the fuck's out there!
See more Alien Covenant Quotes
---
Sgt. Ellerbee: How do I explain this so that you people understand?
Matt Brody: "You people?" "You people?"
Mitch Buchannon: Oh, you don't get to say that. You're just tanned.
Sgt. Ellerbee: Right on.
Mitch Buchannon: Come on, brother.
---
Beauty and the Beast (2017)    REVIEWS  
[after Belle finds her father locked up in the castle dungeon]
Maurice: Belle, you must leave here. This castle is alive.
[they hear the beast roar]
Belle: Who's there?
Beast: Do you wish to take your father's place?
Belle: Come into the light.
[she shines the candlelight towards the beast and reveals his face]
See more Beauty and the Beast Quotes
---
Tim: Who are you?
Baby Boss: Let's just say I'm the boss.
Tim: Just wait until mom and dad find out about this.
[baby boss pretends to have fallen asleep, he snores loudly until his head drops and he wakes up]
Baby Boss: Powernap! Uh, you were saying?
---
Captain Underpants: The First Epic Movie (2017)
George Beard: [voice over] Hi, I'm George Beard and this is my best friend Harold Hutchins.
Harold Hutchins: [voice over] We just make comics and try to make each other laugh.
George Beard: [voice over] And this old guy is Mr. Krupp. He's the worst principal in the world.
See more Captain Underpants: The First Epic Movie Quotes
---
Eamon Bailey: At The Circle we can finally realize our potential. When we are our best selves there isn't a problem that we cannot solve. We can cure any disease and we can end hunger. Imagine the human rights implications, the possibilities are endless.
---
Gloria: I just watched the news and I think I'm in shock. A giant monster just materialized over Seoul.
Tim: That happened like nine hours ago, and you're just hearing about this. What have you been doing all day?
---
Olly Bright: Are you on house arrest? I haven't seen you outside once since we got here.
Maddy Whittier: No, I'm sick. My body can't fight bacteria or infections. If I left the house I would die.
See more Everything, Everything Quotes
---
The Fate of the Furious (2017)
Hobbs: Alright, team, listen up. This crew is about family, but the game has changed now. Dominic Toretto just went rogue.
See more The Fate of the Furious Quotes
---
Fifty Shades Darker (2017)   REVIEWS  
Christian Grey: What do you want, Anastasia?
Anastasia Steele: This time no rules, no punishments, and no more secrets.
See more Fifty Shades Darker Quotes
---
[showing them the guns]
Vernon: So, what do you say we checkout the merch?
Chris: [to Justine] That's not what we wanted.
Justine: He say that's not what he ordered.
Vernon: Fuck, really?
Chris: We ordered M16's, a different weapon.
Vernon: Really? I'm not running a fucking pizza delivery service!
Martin: Keep your shit together.
Vernon: Do you want the weapons or you don't want the weapons!
---
Chris's Friend: So look, I go do my research, apparently a whole bunch of brothers have been missing this summer.
Chris: But it's cool.
Chris's Friend: How are you not scared of them, man?
---
Ghost in the Shell (2017)    REVIEWS  
The Major: I saw someone down there. He wasn't human.
Man: He's a known terrorist, and he's killed again.
The Major: He didn't just kill them, he hacked into their minds.
See more Ghost in the Shell Quotes
---
Joe: I'm thinking of robbing a bank.
Al: I'm thinking about buying a Ferrari.
Willie: I just got drafted by the Nick's. Good week for everybody, huh?
See more Going in Style Quotes
---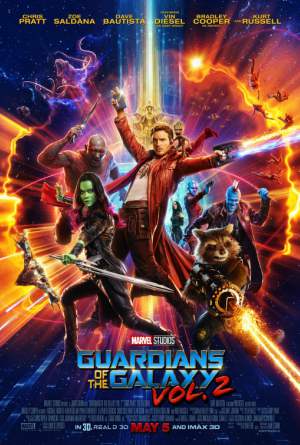 Guardians of the Galaxy Vol. 2 (2017)    REVIEWS  
Baby Groot: I am Groot.
Yondu: What's that?
Rocket: He says, "Welcome to the frickin' Guardians of the Galaxy!" Only he didn't use frickin'.
See more Guardians of the Galaxy Vol. 2 Quotes
---
Paul: I'm just going to having to turn through a few things. When we go out during the day we like to stick to groups just for safety. The red door, it's the only way in and out of the house. That stays closed and locked all the time. I have the keys, this is the only set.
[he shows them the keys tied around his neck]
Paul: The most important thing, we never go out at night. Got it?
See more It Comes at Night Quotes
---
Total Quotes: 33