New Movies Quotes and Lines
(Total New Quotes: 34)
Here are some of the quotes from recent top box office contenders and soon to be released movies listed in alphabetical order…
New Movie Quotes Page 1 2
---
Journalist: You're trying to start a positive movement for black people by using negative symbolism like drug and outlaw.
Tupac Shakur: You got to enter into somebody's world in order to lead them on.
See more All Eyez on Me Quotes
---
Gray: Lorraine Broughton, an expert in escape and evasion. Proficient in intelligence collection and hand to hand combat. That's an impressive set of skills.
Lorraine Broughton: Talents can be overrated.
---
Deborah: What is your name?
Baby: Baby.
Deborah: Your name's Baby. B-A-B-Y, Baby. Why?
---
John McBurney: I admire your strength.
Martha Farnsworth: I'm just trying to give them what they need to survive in these times, nothing is easy.
---
Emily: Can you imagine a world in which we end up together?
Kumail: I don't know.
---
Henry Carpenter: [voice over] When someone hurts someone else we have to make it better. There's only one way to stop it. I'd hope to do it all myself, but that's not an option.
See more The Book of Henry Quotes
---
Captain Underpants: The First Epic Movie (2017)
George Beard: [voice over] Hi, I'm George Beard and this is my best friend Harold Hutchins.
Harold Hutchins: [voice over] We just make comics and try to make each other laugh.
George Beard: [voice over] And this old guy is Mr. Krupp. He's the worst principal in the world.
See more Captain Underpants: The First Epic Movie Quotes
---
Jackson Storm: You have no idea what a pleasure it is for me to finally beat you.
Lightning McQueen: Did you say "meet" or "beat"?
Jackson Storm: I think you heard me.
---
Roland Deschain: I do not shoot with my hand, I shoot with my mind. I do not kill with my gun, I kill with my heart.
See more The Dark Tower Quotes
---
Dru: Brother! My brother! Finally I'm meeting you!
[Gru sees that Dru looks exactly like him but with a full set of flowing golden locks]
Dru: Who doesn't love this guy? Look at him. Ah, but hair would make you better.
[Dru tries to be playful with Gru]
Dru: Look at his face. Oh, he's so mad.
See more Despicable Me 3 Quotes
---
Detective Jones: Melvin, you want to go home?
Dismukes: Yeah.
Detective Thomas: What happened at the motel?
---
Commander Bolton: They need to send more ships. Every hour the enemy pushes closer.
Captain Winnant: They've activated the civilian boats.
Commander Bolton: Civilians? We need destroyers.
---
Gene: I'm an emoji, I've got to have some sort of purpose here.
Jailbreak: I'm going to help you. Follow me. We need to get off the phone and find the source code.
Gene: Then I can fit in.
See more The Emoji Movie Quotes
---
Man: A writer writes a novel. A songwriter writes a song. We do what we can to endure. We build our legacy piece by piece, and maybe the whole world will remember you or maybe just a couple of people, but you do what you can to make sure you're still around after you're gone.
---
Ryan Pierce: We haven't hung in five years. This weekend is about us. We are here together. Today is the last day that we will ever be this young.
---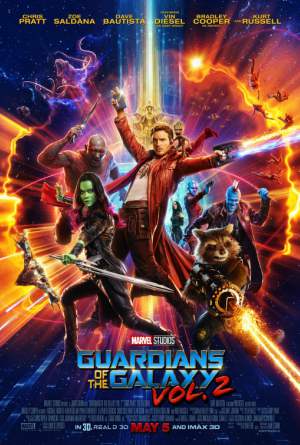 Guardians of the Galaxy Vol. 2 (2017) REVIEWS
Baby Groot: I am Groot.
Yondu: What's that?
Rocket: He says, "Welcome to the frickin' Guardians of the Galaxy!" Only he didn't use frickin'.
See more Guardians of the Galaxy Vol. 2 Quotes
---
Kate Johansen: Alex thinks we can afford tuition and we can't.
Scott Johansen: We got to lie, that's what parents do, because otherwise the kids are going to realize that we don't know what we're doing!
---
Total Quotes: 34