By Phillip Wohlford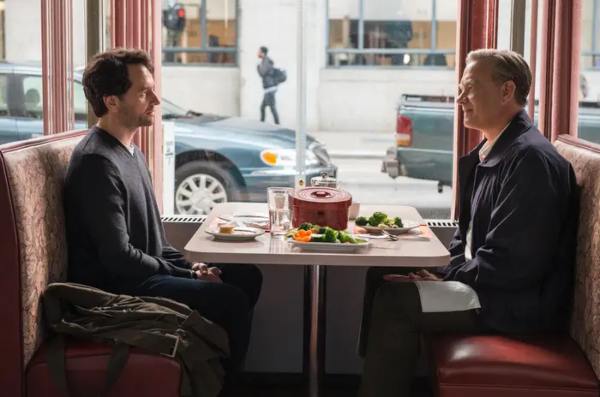 A Beautiful Day in the Neighborhood: Encouraged to express emotions and feeling versus a family that did not
Today, I went to the movie, A Beautiful Day in the Neighborhood, and my expectation prior to the movie was that the movie would bring me to tears. Even though with the movie I did not cry, I related to a family who was in contrast to Fred Rogers main premise of his program. My life has gone downhill health wise; all my family has passed away except for my sister and she is not talking to me. The tears are my way I deal with pain, depression, and sadness and in recent months, I have been reflecting on my childhood and life. Fred Rogers of "Mr. Rogers Neighborhood" encouraged each of us in expressing feelings and emotions. With his upbringing in Latrobe, PA, he experienced a family that did not express any feelings or emotions that I relate to with my family. (Chang, 2019) I remember in my early childhood expressing love towards my older sister and verbalized that I love her, and my mom scolded me, and I was told not to love anybody but my mom.
In the movie, Fred Rogers was instrumental in developing a relationship with Tom Junod's father and depicted a closeness with his father and was on speaking terms. Fred Rogers prayed for Tom Junod's father upon his death bed. (Heller, 2019) This relationship was fictional and Tom Junod never had a relationship with his father that was contentious and he actually idolized his father. However, out of all the characters in the movie, Fred Rogers story was almost completely accurate. (How Accurate is A Beautiful Day in the Neighborhood? The True Story vs The Movie, 2019) Regardless of the accuracy of the relationship of Tom Junod's father, the movie portrayed Fred Rogers with traits that could have been evident in his life as he gave all that he came in contact with that personal relationship combined with his minister background and education that others were moved and contributed to changing lives. (Greenspan, 2019)
My recent life issues currently evident in my life has had me to reflect. I remember my childhood vividly to a certain degree and I remember my mom who was very religious would ask my dad and I to get to our knees and ask forgiveness from God and her for our mistakes treated like transgressions and sin. This is the reason stories like Fred Roger's means so much to me because I related to what I did not have that he provided within his own family. He emphasized in his program and in his own family to talk about your emotions and feelings. (Chang, 2019) I occasionally had good memories growing up but not as frequent has my mental scars that I remember experiencing. Although, the occasional good memories were memorable to me and remember them to this day.
I grew up Pittsburgh, PA I was born in 1966 the same year Fred Rogers first aired the first episode of "Mr. Rogers Neighborhood" although he did have a show with the Canadian Broadcasting Corporation in the early 60's. However, Fred Rogers decided to move he and his family back to the area (Near Latrobe, PA) where he grew up: Pittsburgh, PA. Fred Rogers children were born in 1959 and 1961. (Dwilson, 2019)  
Nine days after my second birthday, "Mister Rogers' Neighborhood" aired the first episode on February 19, 1968. (Burmon, 2018)  I am struggling to remember if my late and life parents ever took me to one of the episodes. If they did not take me to one of his episodes, I wish they did. 
I was born February 10, 1966 to Harold and Ruby Wohlford at Upper Saint Claire hospital, west of Pittsburgh. My mom before I was born had four (4) pregnancies: one still-birth and 3 miscarriages. When she pregnant with me, doctors told her not to carry me full term as they were afraid for her life. However, she wanted her own child more than anything in the world and sure enough decided to carry me full term and she was successful with a baby boy. However, there was always strings attached. My mom developed a sickness not well dealt with at this time known as Manic Depression. I wish I had someone like Fred Rogers in my life to explain the disease not talked about that was an intricate part of his most memorable quotes and my life,
"Anything that's human is mentionable, and anything that is mentionable can be more manageable….The people we trust with that important talk can help us know that we are not alone" (Palmer, 2018)
I remember numerous experiences where I was not able to express my feelings. Fred and his wife Joann both brought their family up to express their feelings as Fred experienced some of the same issues I experience in his childhood with my childhood. Just like Fred Rogers growing up, his feeling were many times repressed as were mine. Like mentioned about, I was told that I could not love my sister. I remember not liking that. Anytime I hear of others disrespecting a human being, this sickens me. As with my founding principal for a failed business I have: "…individuals and human beings deserve the respect no matter what their status is in life…"  My customers are inmates within the Virginia Department of Corrections and one of the reason for my failed business thus far is my motivation to write and provide inspiration, motivation, love, and meanings of life through columns in a newsletter and slogans, poems, and inspirational words provided through my business. Many do not want to deal with themselves and want to see words of motivation in their life. What they want is sexy pictures? (Chang, 2019)
I remember my childhood with my dad who I relate to Fred Rogers with the evidence of love, kindness, and emotions shown with his own household, persona and with his 895 episodes. Although Tom Junod relationship with his father in the movie occurred like it was portrayed, I related as my childhood with my mother had many mental scars growing up. Tom discussed the scar in his childhood when his father was not there for him when his mother died. With my childhood, My father worked so hard to please my mom but in her eyes she always thought he failed in raising children, disciplining me growing up, moving our family back to Virginia after we lived in Florida for two (2) years, contributing to her becoming a third wheel with his failing health, etc.. One of the memorable occurrences in my relationship with my father years before his death was him telling me "…I would always be the apple of his eye…"  He had love and the patience just like Fred Rogers had.
The childhood that Fred Rogers had was like my childhood as we were discouraged to express feelings. (Chang, 2019)  I believe strongly that the important part and good memories of my childhood were seen by others. I did have some good memories of my mom who was always campaigning hard to a better childhood on the surface with numerous camping trips with friends invited in my neighborhood; Halloween fun every year, playing with my friends I grew up with: street hockey, kick ball; playing with the pug dogs my family had growing up, a bell that was rung when dinner was ready, etc… With current generations, you do not have that anymore with families eating together, playing in the streets with friends as well as many other differences between me in the Z Generation to those in the Millennium generation. However, what we do not see is what our life can become for most people whether we say early in our life that we are not going to be like my mom or dad. Fred and Joann Rogers both grew up in families where emotions and feeling were suppressed. (Chang, 2019) One of Fred Rogers favorite quotes from literature was from The Little Prince
"That which is essential is invisible to the eye…" (Langmann, 2019)
When we are taught not to talk our through our emotions, family issues are not talked about and become secrets to others and we hide some of the family issues not seen by others, we realize later that that we should have talked about our feelings, emotions, frustrations, and we I refer to as mental scars encountered during our lives especially in our childhood. When watching the movie, the friendship that Fred Rogers and Tom Junod was astounding with the help Fred Rogers provided in Tom's own relationship with his father becoming an intricate part of the relationship with becoming a friend that his father could talk to. (Heller, 2019) I sometimes wish I had more assistance in dealing with my mother and understanding with her illness. Even though I can remember vivid good memories growing up, the mental scars that make up who I am are and were important and should have been or talked about. (Langmann, 2019)
Rating: 5/5
References:
(n.d.).
Burmon, A. (2018, February 20). watch-first-episode-mister-rogers-neighborhood-50th-anniversary. Retrieved from Fatherly: https://www.fatherly.com/play/watch-first-episode-mister-rogers-neighborhood-50th-anniversary/
Chang, R. (2019, November 14). How Fred Rogers' Family Inspired 'Mister Rogers' Neighborhood'. Retrieved from The Biography.com website: https://www.biography.com/performer/fred-rogers
Dwilson, S. D. (2019, November 24). fred-rogers-sons-james-john. Retrieved from Heavy: https://heavy.com/entertainment/2019/11/fred-rogers-sons-james-john/
GREENSPAN, R. E. (2019, November 22). Inside the Unlikely Friendship That Inspired A Beautiful Day in the Neighborhood. Time.
Heller, M. (Director). (2019). A Beautiful Day in the Neighborhood [Motion Picture]. Tristar Pictures.
How Accurate is "A Beautiful Day in the Neighborhood"? The True Story vs The Movie. (2019). Retrieved from historyvshollywood.com: http://www.historyvshollywood.com/reelfaces/you-are-my-friend/
Janod, T. (2009, December). My Friend Mister Rogers. The Atlantic. Retrieved from The Atlantic: https://www.theatlantic.com/magazine/archive/2019/12/what-would-mister-rogers-do/600772/
Janod, T. (2017, April 6). Can you Say Hero. Esquire.
Langmann, B. (2019, November 22). Mr Rogers Changed Tom Junod's Life. Here's the True Story Behind A Beautiful Day in the Neighborhood. Esquire.
Palmer, S. (2018, August 02). 10 MISTER ROGERS QUOTES TO GIVE YOU HOPE FOR THE WORLD AGAIN. Retrieved from Bookriot: https://bookriot.com/2018/08/02/mister-rogers-quotes/
BEST QUOTES