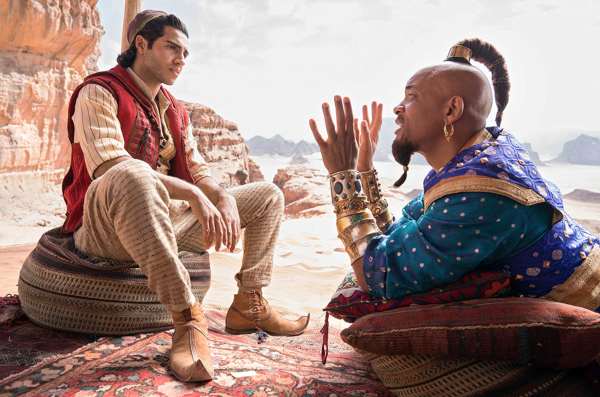 Starring: Will Smith, Mena Massoud, Naomi Scott, Marwan Kenzari, Navid Negahban, Nasim Pedrad, Billy Magnussen, Numan Acar
Story:
Disney's live action musical fantasy adventure directed and co-written by Guy Ritchie. Based on Disney's 1992 animated movie, which follows Aladdin (Mena Massoud), a poor street urchin who spends his time stealing food from the marketplace in the city of Agrabah. His adventures begin when he meets the Sultan's (Navid Negahban) daughter, Princess Jasmine (Naomi Scott), who wants to have a say in how she lives her life.
Aladdin's luck suddenly changes when he retrieves a magical lamp from the Cave of Wonders. What he unwittingly gets is a fun-loving Genie (Will Smith), who only wishes to have his freedom. Little do they know is that the Sultan's sinister advisor Jafar (Marwan Kenzari), has his own plans for both Aladdin and the lamp.
Quotes: 
Cave of Wonders: Only one may enter here. One whose worth lies far within. A diamond in the rough.
---
Jafar: You stumbled upon an opportunity. I can make you rich. Rich enough to impress a princess.
Aladdin: What do I have to do?
Jafar: There's a Cave of Wonders. Bring me the lamp.
---
Jafar: Bring me the lamp. Your life begins now.
[Aladdin walks slowly towards the Cave of Wonders]
Jafar: Aladdin.
---
[Aladdin rubs Genie's lamp and Genie emerges]
Genie: O great one who summons me, I stand by my oath. Loyalty to wishes three.
[Aladdin stares in shock]
Genie: I'm kidding. Watch this.
---
Genie: [to Aladdin] You really don't know who I am. Genie, wishes, lamp? None of that ringing a bell?
---
Aladdin: Hey, can you make me a prince?
Genie: There's a lot of gray area in "make me a prince". I could just make you a prince.
[he uses his magic to create a prince]
Aladdin: Oh, no.
[from the distance]
Prince: Y'all seen my palace?
---
Genie: [to Aladdin] You look like a prince on the outside, but I didn't change anything on the inside.
---
Genie: It's showtime.
Aladdin: No, I'm in charge, okay. I say when it's time…
[Genie uses his magic to float Aladdin closer to Jasmine]
Aladdin: Really?
---
Aladdin: I thought a princess could go anywhere.
Jasmine: Not this princess.
---
Aladdin: [to Jasmine] Do you trust me?
[Jasmine takes his extended hand, who helps her get on the magic carpet]
---
[singing "A Whole New World"]
Jasmine: A whole new world.
Aladdin: Don't you dare close your eyes.
Jasmine: A hundred thousand things to see.
Aladdin: Hold your breath, it gets better.
Jasmine: I'm like a shooting star. I've come so far
Jasmine and Aladdin: Let me share this whole new world with you.
What do you think of Aladdin quotes? Let us know what you think in the comments below as we'd love to know.
Trailer: