By Jinnelope Jay (Tulsa, Oklahoma, USA)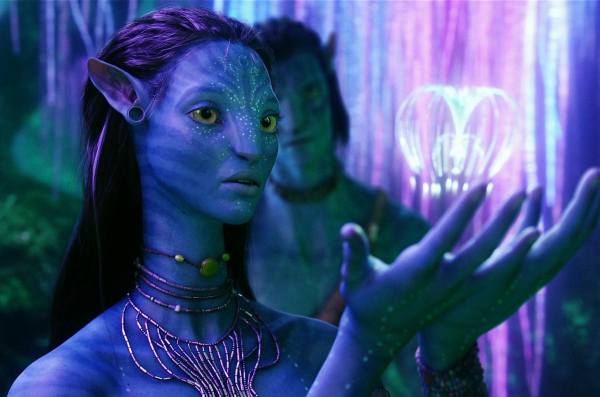 Avatar is, to this day, the most stunning and breath- taking movie around. This film is amazing in 3 main ways:
1. The animation is extremely realistic, the culture of the Navi is so diverse and the actors are entertaining and filled with skill and hidden talents.
2. The moral of the story are two very important things that our society desperately needs to work on.
3. The director is claimed to be one of the most fantastic producers in the history of movies of all kinds.
When I was in the theatre watching this movie in 3D I was so overwhelmed by the serene forests, with all its exotic glowing plants and gorgeous flowers. I could watch these "jungle scenes" all day if I had the time. The Navi people remind me of the Native Americans, with their distinct language and ceremonies. I found myself deeply touched by these people as they seemed like I had known them for an eternity. The actors did so well I found that I was crying at the sad parts and laughing at the hilarious remarks. The speech that "Jakesully" also known as "Sam Worthington" performs close to the end of the movie, gave me goose bumps and shivers because of how determined and heartfelt it was.
Our society has been dramatically influenced by war. War is one of the on-going problems facing our world today. In Avatar, the Navi people represent the "righteous side" and the sky people the "evil side". Much like real life, war usually consists of a good side and a bad side. This movie really concentrates on what war can do to people and how doing the right thing is harder than doing the wrong. The second problem deals with stereotypes and racism. The way the Skypeople treat the Navi is all dependent on their beliefs. In real life, people tend to stereotype others because of their differences or they believe they are superior. Examples would be "all natives live in tepees" or even "Canadians live in igloos!" A famous "superior" case would be the Europeans and the African Americans, involving the underground railway and slavery.
James Cameron has created many outstanding movies and has definitely left his mark in history. Some other famous movies he has directed include; Titanic, Terminator and Aliens. These movies have for sure changed people's ordinary views around the world.
Avatar is a masterpiece of art, inspiration, fascination and is absolutely much, much more than the sum of its parts.
Rating: 5/5
BEST QUOTES