By Shelby Fielding (Lubbock, Texas, US)

Disclaimer: There are two highly rated films I have not seen yet due to my location. The films are Moonlight and Silence. Both films have not played in any theaters near me that is why they are not in my top 20. But, I'm extremely excited to see them.
So let's kick this off with the fact that these films are not ranked based upon the grade I gave them, but they are ranked upon how much I enjoyed them. This year was an excellent year for movies and we had some amazing films making this a very competitive Oscar season. These are my top 20 films I enjoyed the most based off of their filmmaking qualities, rewatchability, and pure entertainment. Hope you enjoy.
Honorable Mentions:
Rogue One – An amazing solo prequel for the Star Wars franchise that is well crafted and well performed.

Hell Or High Water – An enthralling western/action film with a great performance from Jeff Bridges.
And, finally these are my top 20 favorite films of 2016 starting with….
Don't Breathe is an incredibly suspenseful film that displays creative direction, excellent editing, and incredible sound design. Although it does pay a lot of homage to Panic Room. I still thoroughly enjoyed this film.
19. Fantastic Beast and Where to Find Them
Fantastic Beast and Where to Find Them is an awesome spin off film and reintroduction into the world of witchcraft and wizardry. This film introduced so many amazing new characters, and a new setting for the Harry Potter universe. This film was so new, vibrant, and different from its predecessors that I am thoroughly excited for what comes next.
This was a thrilling/suspenseful film with a standout performance from John Goodman. This film followed up one of my favorite found footage with a well-directed isolation film that truly encompasses that feeling of paranoia. I loved this film for its performances and it's well-crafted pacing.
This was one of the biggest surprises of 2016. I was not looking forward to this film at all, but Mike Flanagan surprised me this surprisingly well edited, paced and directed horror sequel. This film was so creative with its scares as well as its editing and direction with a really good performance from Lulu Wilson. The sound design of this film was awesome, as well as how it so truly embraces its time period by displaying it through production and editing.
Moana was a beautifully animated film with amazing music and amazing vocal performances from Dwayne "The Rock" Johnson and Auli'i Cravalho. This film follows every Disney cliché but also sets itself apart at the same time.
This was a beautifully crafted anime film from the great director Makoto Shinka. This was an intriguing and artistic look at a very creative romance story. I loved this film and it's great to know there are so many other great anime directors working today to follow in the great Hayao Miyazak's footsteps.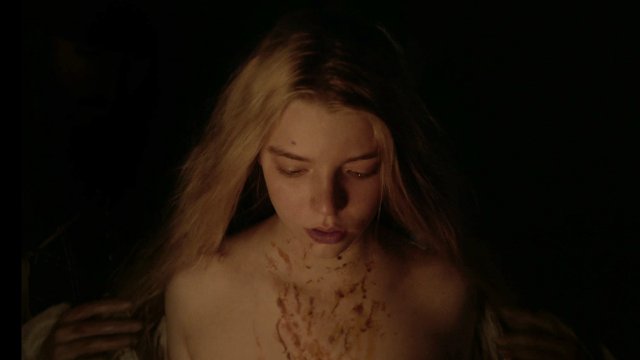 The Witch was a disturbing film with incredible direction and great performances. It is an example that horror films still have some great artistic directors working today, who still find new ways to terrify you.
This was one of the best animated films of the year with only two other films this year that I enjoyed more. This was such an incredible story told through awesome voice acting and animation.
This in my opinion was the best American animated film of the year. It had such mature themes encompassed with its family entertaining animation and characters. This was truly an example of ingenuity for DreamWorks, and hopefully a hint of what's to come.
11. Captain America: Civil War
This was the Marvel Cinematic Universe's best film of the year by far. Telling a much darker story than were used too, encompassing familiar characters while introducing brand new one without ruining its script. Very well done and was so much fun to watch.
10.The Boy and the Beast
Mamoru Hosoda directed this film so beautifully. This is the best anime film of the year as well as the best animated film of the year in my opinion. It tells such a beautiful story that fills you with so many emotions that you forget it's animated.
This was a beautifully crafted and well written film with standout performances from Denzel Washington and Viola Davis. I thoroughly enjoyed this film for its dialogue and encompassing direction.
This was a beautifully written and directed film with multiple Oscar worthy performanhttps://www.moviequotesandmore.com/manchester-by-the-sea-new-trailer/ces. This film is so emotionally powerfully yet it flies by so fast due to its realism. You begin to feel so intimate with its characters and it's setting due Kenneth Lonergan's masterful direction.
This was an amazingly written and directed film. With phenomenal performances from Amy Adams, Jake Gyllenhaal, Aaron Taylor-Johnson, and Michael Shannon. The only reason this film did not make my top 5 is that is such a hard film to watch for enjoyment. It lacks rewatchability due to its amazingly serious and artistically crafted script. But, it's still one of the best films of the year in my opinion due to its amazingly metaphorical representation of its themes.
This film was so awe inspiring, not only from its religious perspective, but also from its creative filmmaking. This is such a beautifully crafted film with how it builds upon itself to a giant crescendo of one if the greatest filmed war scenes in cinema history. Andrew Garfield was amazing in this film and I can't wait to see it again on Blu-ray.
This film is freaking different and groundbreaking. The Daniels brothers crafted a piece of originality for the first time in a long time. Originality is so hard to come by today, especially in filmmaking. Yet, they pulled it off and not only did they pull it off but it's an awesome freaking film that I found thoroughly enjoyable based off its technical filmmaking, and it's hilarious script. This film includes a stand out performance for Daniel Radcliffe, and it's a film that is so different you can't explain it without spoiling the film and I love that.
This was a film that blew me away this year. Dennis Villenueve directed the crap out of this film. This film captures your eyes so beautifully thanks to its gorgeous cinematography. Amy Adams was extraordinary in this film, and this is possibly the greatest sci-fi film in the last 15 years. It's up for debate for sure. This film has amazingly well-crafted sequences due to its fantastic editing.
Deadpool was the biggest surprise of 2016. Bringing a lesser known Marvel character to the big screen that was not only just financially successful, but it was critically successful. This film is even nominated for a golden globe right now. It is so incredibly written, and very well directed by Tim Miller. But, Ryan Reynolds performance steals the show in the funniest Marvel film made so far.
The Nice Guys in my opinion was the funniest film of the year. I thoroughly enjoyed this film, not only for its incredibly written humor, but also for its incredible direction and cinematography. Every shot of this film leaps off the screen. It sinks you into its setting and gravitates you towards its characters and narrative. This film also has incredible performances from Ryan Gosling, Russell Crowe, and definitely Angourie Rice who in my opinion steals the show. This cast had amazing chemistry and it's incredibly sad it's not being nominated for any award due its early release in the year.
I know everyone is making this film out to be the greatest thing ever invented. Everyone can't shut up about this movie and how good it is. But, there's a reason for that popular opinion. It is because this film is freaking incredible. This film is an onslaught in the artistry of filmmaking. It's transformed with amazing musical numbers that are incredibly written and timed. Each song is played at the perfect timing and it blends so well with the films narrative and it's characters. This film also includes an excellent performance from Emma Stone and a stand out performance from Ryan Gosling.
This film is so beautifully crafted through its incredible direction from Damien Chazelle, and its onslaught of well-choreographed musical sequences. It has such incredible cinematography and use of color design. Using bright colors to jump off the screen to captivate the eye and represent the beautiful setting of Los Angeles. Things directors aren't doing that much anymore. I loved the crap out of this film, not only for its technically superior filmmaking, but also for its themes and it's message. A message to never stop chasing your dreams. Anyone can connect with that message, and this films crafts this message beautifully. It is my favorite film of the year, and I can't wait to add it to my Blu-ray collection.