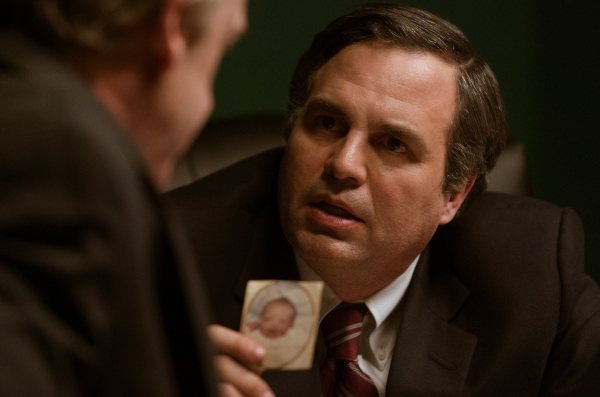 Starring: Mark Ruffalo, Anne Hathaway, Tim Robbins, Victor Garber, Mare Winningham, William Jackson Harper, Bill Pullman
Story:
Bio-drama directed by Todd Haynes. Based on a true story which follows corporate defense attorney, Robert Bilott (Mark Ruffalo), who uncovers a dark secret that connects a growing number of unexplained deaths, and chemical company DuPont, and how he risks everything to reveal the truth to the public.
Quotes: 
Farmer: Your grandma tells me, her grandson's some fancy environment lawyer down in Cincinnati.
Robert Bilott: I am a corporate defense attorney.
Farmer: So?
Robert Bilott: I defend chemical companies.
Farmer: Well, now you can defend me.
---
[referring to his herd of cows]
Robert Bilott: How many did you lose?
Farmer: A hundred and ninety.
Robert Bilott: A hundred and ninety cows?
Farmer: You tell me nothing's wrong here.
---
Robert Bilott: It's a small matter for a family friend. Help a guy that needs it.
Tom Terp: The farmer, or you?
---
[to Robert, referring to the water in the river]
Farmer: That's chemicals, I'm telling you.
---
Robert Bilott: I'm seeing documents I don't understand. They're hiding something!
---
Robert Bilott: That chemical, what if you drank it?
Dr. Gillespie: Drank it? That's like saying, "What if I swallowed a tire?"
---
Robert Bilott: What if whatever's killing those cows, is in the drinking water?
---
DuPont Corporate: At DuPont, better living through chemistry. It's our DNA.
---
Sarah Bilott: You need to tell me what in the hell is going on!
Robert Bilott: DuPont is knowingly poisoning seventy thousand local residents for the last forty years.
---
[to the DuPont Corporate]
Robert Bilott: You knew, still you did nothing.
---
DuPont Corporate: [to Robert] You want to flush your career down the toilet, for some cowhand?
---
Lawyer: You want to take everything that you know, and turn it against and iconic American company, like an informant? Isn't that right? Isn't that right?!
[pause]
Lawyer: Isn't that right?
Robert Bilott: Yes!
---
Robert Bilott: They have all the money, all the firepower, and they'll use it. I know, I was one of them.
---
Robert Bilott: [to Tom] Our government is captive to DuPont. They're trying to force you to make me stop.
---
Robert Bilott: The system is rigged! They want us to think it'll protect us. We protect us! We do!
---
Sarah Bilott: He was willing to risk his job, his family, for a stranger, who needed his help.
What do you think of Dark Waters quotes? Let us know what you think in the comments below as we'd love to know.
Trailer: