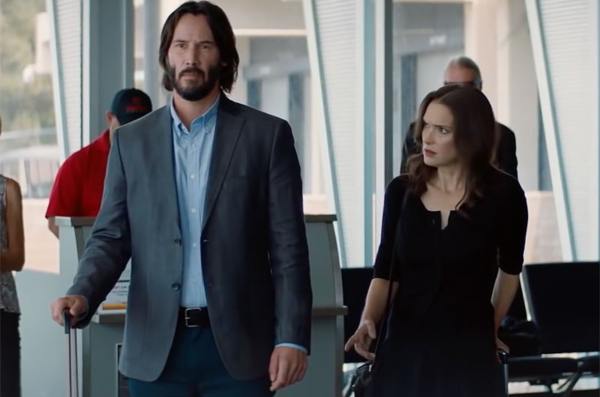 Starring: Keanu Reeves, Winona Ryder
Story:
Romantic comedy written and directed by Victor Levin. The story follows two miserable and unpleasant wedding guests, Lindsay and Frank (Winona Ryder and Keanu Reeves), who are invited to a mutual friend's wedding. While there, the two blow off their grievances about each other and their friends and develop a mutual affection despite themselves.
Best Quotes: 
[while waiting at the airport]
Frank: That's a nice dress.
Lindsay: Thank you. I like your jacket.
Frank: Thanks. I hope our flight's on time.
Lindsay: Oh, it is.
Frank: Great.
[he takes a step forward]
Lindsay: I'm sorry, what was that?
Frank: What?
Lindsay: You just took a step forward there.
Frank: I did?
Lindsay: Yeah, you did. You know you did. And what's funny is there's no way you can board first because the only way you could board first is if you have a special need. Do you have a special need?
Frank: Yes. I need to be over there.
---
[sitting on the plane]
Frank: What brings you to Paso Robles?
Lindsay: I'm going to a destination wedding.
Frank: Please don't tell me it's Keith and Ann's.
---
[at the wedding reception]
Lindsay: So we're just the people you don't know where to stick?
Frank: You might as well just stick us together.
Lindsay: I don't want to be a person you don't know where to stick.
---
Frank: Destination wedding is presumptuous. They're in a fool's paradise.
Lindsay: Don't you believe there's someone for everyone?
Frank: Close. I believe that there's nobody for anyone.
---
Frank: I don't understand how even after Keith did what he did to you, you can possibly still be mooning over him.
Lindsay: Because you're a monkey who doesn't understand the human condition.
Frank: Having met you I understand why it's a condition.
---
Lindsay: You know, I'm not wearing anything under my pajamas.
Frank: Why would you, they're so alluring.
---
Lindsay: What is that?
Frank: I think it's a mountain lion.
Lindsay: Could it be a jaguar?
Frank: What difference does it make?!
Lindsay: A cougar maybe?
Frank: Oh, Jesus Christ!
---
Lindsay: How do you not install a pathway? The heels won't make it. Can't you carry me please?
Frank: What?
[we see Frank carrying Lyndsay trying to walk on the pathway]
Lindsay: This is the slowest I've ever been carried.
Frank: Oh, dear God. Be quiet!
What do you think of Destination Wedding quotes? Let us know what you think in the comments below as we'd love to know.
Trailer: