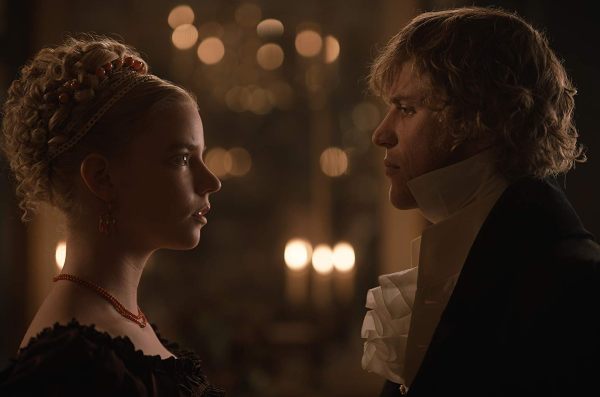 Starring: Anya Taylor-Joy, Johnny Flynn, Bill Nighy, Mia Goth, Miranda Hart, Josh O'Connor, Callum Turner, Rupert Graves, Gemma Whelan, Amber Anderson, Tanya Reynolds
Story:
Jane Austen's romantic comedy directed by Autumn de Wilde. The story follows Emma (Anya Taylor-Joy), a young woman, who lives in Georgian and Regency-era England and occupies herself with matchmaking, in sometimes misguided, often meddlesome fashion, in the lives of her friends and family.
Copyright Notice: It's easy to see when our quotes have been copied and pasted, as you're also copying our mistakes and movie scene descriptions. If you decide to copy our movie quotes please be kind and either link back, or refer back to our site. Please check out our copyright policies here. Thanks!
We'll add the best quotes once we've had a chance to watch the movie, but for now here's a small selection.
Quotes: 
[giving his sermon]
Mr. Elton: Dearly beloved friends, we gather here…
[one of the parishioners sneezes]
Mr. Elton: …in this time of man's great inno-cence.
Mr. Woodhouse: [to Emma] Inno-cence? Innocence. No?
---
Miss Bates: Miss Woodhouse! Miss Woodhouse! Such news!
---
Miss Bates: Mother, you must sample the tart!
---
Harriet Smith: Miss Woodhouse! You will never guess what has happened. Robert Martin has offered me his hand. Do advise me.
Emma Woodhouse: Oh, no, no, no. The words must be your own. You must be the best judge of your own happiness.
---
Harriet Smith: [to Emma] I have now quite determined, and really almost made up my mind to refuse Mr. Martin.
---
George Knightley: Emma.
Emma Woodhouse: Mr. Knightly.
[referring to Harriet]
George Knightley: This is your doing. She's the natural daughter of nobody..
[the start talking over each other after which Emma  scoffs, turns and walks away]
George Knightley: Upon my word.
---
Mr. Woodhouse: [to Emma] You should not make matches. Whatever you say, always comes to pass.
---
[to Harriet; referring to Elton]
Emma Woodhouse: He's in love with you.
---
Mr. Elton: [to Emma] Who can think of Miss Smith when Miss Woodhouse is near?
---
Emma Woodhouse: I've no thoughts of matrimony at present.
---
[referring to Emma]
George Knightley: She always declares that she will never marry. Which of course means just nothing at all.
---
Frank Churchhill: Good heavens, have I missed the party?
---
[to Emma; referring to Frank]
George Knightley: He spent the whole day going to London just to get is haircut. He's a trifling silly fop.
---
George Knightley: [to Emma] With whom will you dance?
What do you think of Emma quotes? Let us know what you think in the comments below as we'd love to know.
Trailer: