By Rohan Mishra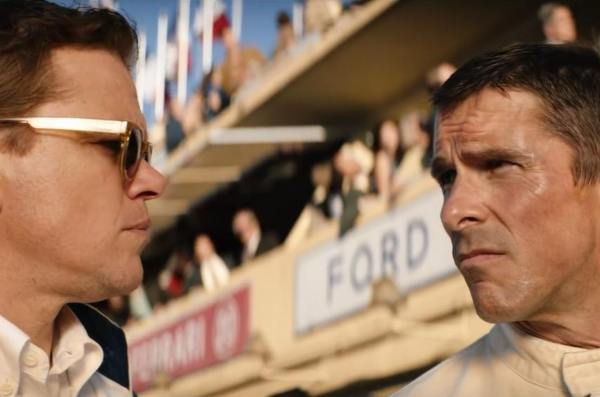 "Looks aren't everything." Ford vs Ferrari starring Matt Damon, Christian Bale, Jon Bernthal, Caitriona Balfe, Tracy Letts and Josh Lucas. Directed by James Mangold.
Official Synopsis: "American car designer Carroll Shelby and driver Ken Miles battle corporate interference, the laws of physics and their own personal demons to build a revolutionary race car for Ford and challenge Ferrari at the 24 Hours of Le Mans in 1966."
I wrote at the start of the year that Ford v Ferrari was one of my most anticipated film of 2019 and I was just crazy excited to watch this film on the big screen today.
After a jaw-dropping vision behind Logan, James Mangold ups his game with his astonishing vision behind Ford v Ferrari. Christian Bale totally steals the show even though Matt Damon was excellent in this film. I hope Bale wins an Academy Award for this.
I loved the writing behind this film. The writers paced this film in a very clever way. Each act was beautifully written. This film feels very authentic in many ways. Like the struggle of Ken Miles to be the best at racing but also needs to provide for his family at the same time. Carroll Shelby's struggle is the war with the "suits" of Ford and how he overcomes them.
The film is a tiny bit long for me. For example, the racing sequences could have been cut short. Even though the racing sequences were riveting, some of the sequences felt long. But hats off to the editor of this film, he knew how to place each and every sequence of this film into the proper places. Especially considering the racing sequences of the Le Mans '66. The whole race was just jaw-dropping. To blink your eyes is to miss out on some of the stuff.
The sound design of the film was mind-blowing. One of the best I have heard in a long time. Each sound whether it was of the engine or the squealing of tires or the gear change, it was just flawless.
The story of the film was known to many people as it is based off a true story but the way it was shown was very heartfelt and emotional. The scenes of Bale with his wife and his kid were the ones to watch where he just explains his dream to them and the looks on their faces was just "WOW". The on screen chemistry between Bale and Damon was just dynamic and worth applauding. Whenever the duo was on the screen, those sequences were funny, emotional and frankly quite energetic. One of the best rock solid duo I have ever seen.
The supporting cast of this film were quite eccentric as well but special appreciation to Jon Bernthal and Josh Lucas to playing perfect executives of Ford.
Overall, one of the best films of 2019 and Ford v Ferrari should be watched on the biggest screen possible. Preferably, IMAX.
Rating: 4/5
[button link="https://www.moviequotesandmore.com/ford-v-ferrari-best-movie-quotes/" color="black"]BEST QUOTES[/button]