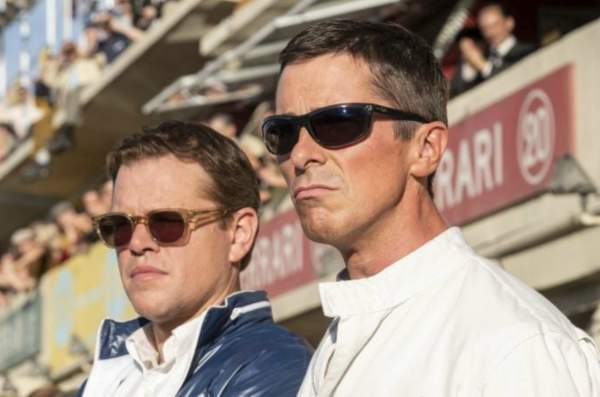 Starring: Matt Damon, Christian Bale, Jon Bernthal, Caitriona Balfe, Tracy Letts, Josh Lucas, Noah Jupe, Remo Girone, Ray McKinnon
Story:
Action bio-drama directed and co-written by James Mangold. Based on the true story of the American car designer Carroll Shelby (Matt Damon) and the British driver Ken Miles (Christian Bale), who are dispatched by Henry Ford II (Tracy Letts) and Lee Iacocca (Jon Bernthal) with the mission of building from scratch the Ford GT40, an entirely new automobile with the potential to finally defeat the perennially dominant Ferrari at the 1966 24 Hours of Le Mans race in France.
Quotes: 
[Miles and Peter are staring out at a race track]
Ken Miles: Look out there. Out there is the perfect lap. You see it?
Peter Miles: I think so.
Ken Miles: Most people can't.
---
Lee Iacocca: Carroll Shelby?
Carroll Shelby: Maybe.
Lee Iacocca: Lee Iacocca. Ford Motor.
---
Lee Iacocca: Suppose Henry Ford II wanted to build the greatest race car the world's ever seen to win the 24 Hours of Le Mans. What's it take?
Carroll Shelby: Well, it takes something money can't buy.
Lee Iacocca: Money can buy speed.
Carroll Shelby: It isn't about speed.
---
Carroll Shelby: You need a pure racer behind the wheel of your car. That's Ken Miles.
Henry Ford II: I don't trust him an inch.
---
Henry Ford II: This isn't the first time Ford Motor's gone to war. We know how to do more than push paper. Go ahead, Carroll. Go to war.
Carroll Shelby: Thank you, sir.
---
Man: We heard he's difficult.
Carroll Shelby: Oh, no. Ken's a puppy dog.
[we then see a shot of Ken punching Shelby in the nose]
---
Ken Miles: No. Whatever it is, Shel, no.
Carroll Shelby: Trust me.
---
Ken Miles: You're going to build a car to beat Ferrari with a Ford.
Carroll Shelby: Correct.
Ken Miles: And how long did you tell them that you needed? Two, three hundred years?
Carroll Shelby: Ninety days.
[Ken laughs]
---
Peter Miles: Do you think you can beat Ferrari?
Ken Miles: I could try.
---
Carroll Shelby: We're lighter, we're faster. If that don't work, we're nastier.
---
Carroll Shelby: We're going to make history.
---
Carroll Shelby: You ready?
Henry Ford II: I was born ready, Mr. Shelby. Hit it.
[Shelby hits the gas, they go for a quick spin in the GT40, Shelby looks over to Ford who starts cry]
What do you think of Ford v. Ferrari quotes? Let us know what you think in the comments below as we'd love to know.
Trailer: