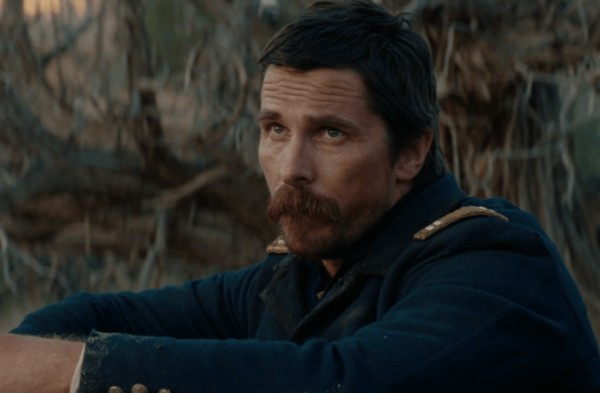 Starring: Christian Bale, Rosamund Pike, Wes Studi, Ben Foster, Adam Beach, Jesse Plemons, Rory Cochrane, Q'orianka Kilcher
Story: Western period drama directed and co-written by Scott Cooper, which centers on embittered and battle-hardened US Cavalry officer Captain Joseph Blocker (Christian Bale) who is ordered to accompany a Cheyenne war chief, Yellow Hawk (Wes Studi), and his family back to their tribal lands in Montana. This mission is a particularly bitter pill to swallow for Blocker as Yellow Hawk has been his mortal enemy for years due to a conflict that killed many of Blocker's friends. The Chief has also lost friends in the conflict.
Setting out through dangerous territory, much of it inhabited by hostile tribes, the small band of soldiers and Cheyenne navigate the beautiful prairies and wilds of the west, while facing a series of challenges. As the challenges mount, Blocker is forced to confront his own bigotry while carrying out his orders. To complicate matters, the party is joined by a stricken widow, Rosalie Quaid (Rosamund Pike), who has just seen her family massacred in a raid.
Best Quotes from Trailer: 
Captain Joseph J. Blocker: For the thing which I greatly feared has come upon me, and that which I was afraid of, is come on to me.
---
Rosalie Quaid: Do you believe in the Lord, Joseph?
Captain Joseph J. Blocker: Yes, I do. But he's been blind to what's been going on out here a long time.
---
Sgt. Thomas Metz: Now, I've killed everything that's walked or crawled. If you do it enough you get used to it.
Soldier: That's what I'm afraid of.
---
Captain Joseph J. Blocker: Understand this, when we lay our heads down out here, we're all prisoners.
Hostiles open date to be confirmed.
Trailer: