By Jilian Cramb (Livonia, Michigan, US)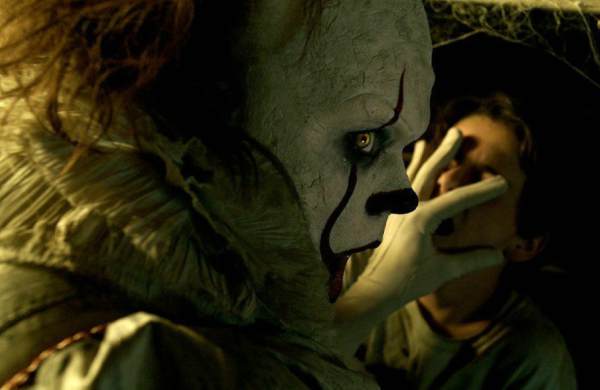 In King's 1990 movie It the clown Pennywise was played by Tim Curry. He spoke very often, had a face that was extremely emotive and showed his expressions more so than 2017's by Bill Skarsgard. Tim Curry's voice was deep and frightening, confident and full of malicious intent. On the contrary, Skarsgard's was high-pitched, child-like, and had the articulation and vocabulary skills of a child. The constant drooling was also a poor "addition" to his persona.
First of two FAIL's, in my opinion, despite the improvements in special effects and "new look". The first scene of 2017's It was when Georgie took his boat, made by brother Bill Denbrough, out in the rain where he meets Pennywise at a storm sewer. In the original, the following scene was a funeral scene for Georgie, and it was said It "tore his arm right off". 2017's version shows the actual ripping off, plus dragging of him into the sewer. Immediately I was disappointed. Stephen King doesn't do much gore, and leaves much to the imagination. However, the gore did not continue thankfully.
Young Bill Denbrough was originally played by the child actor who committed suicide in 2013, Jonathan Brandis, 2017's is by a new actor Jaeden Lieberher who was in my opinion, one of the most disappointing facets of the film. Bill has a stutter, and Brandis pulled it off, for lack of a better word, than Lieberher.
However, Stan Uris (Wyatt Olef) and Eddie Kaspbrak's (Jack Dylan Grazer) characters were much more comedic than in 1990's. They were also more developed and the audience learned a bit more about Stan's Jewish faith and Eddie's over-protective mother, which added to 2017's appeal.
The class-clown Richie Tozier (and professional comedian as an adult in the original) was played by well-known actor Seth Green. Any actor was likely not to "better" than Seth, but Finn Wolfard did hold his own.
Beverly Marsh, whose "hair is winter fire, January embers…" by Sophia Lillis, was not just picked-on in 2017, but bullied badly by school girls. Yet, refreshingly Lillis fought back. Even against her abusive father, and school custodian, Al Marsh (Stephen Bogaert). Stephen did justice to the original Al, Frank Turner. Lillis differed in so many was to 1990 Bev, Emily Perkins, that they were almost different girls. We will see if Chapter 2's adult Beverly Marsh will be able to perform like Annette O'Toole.
Writer of the well-known poetry (to us King fans) written to Beverly, by Ben Hanscom (Jeremy Ray Taylor) in 2017 was by far the best portrayal of the original, played by Brandon Crane. A rising young actor to watch! Now, adult Ben Hanscom was originally played by the late John Ritter, which sets up the actor who will play Ben in Chapter 2, for failure.
Beethoven's Fur Elise was THE Song in the original 1990 It, and gives me chills to this day. Second biggest FAIL of the 2017's movie was changing that song.
Another "win", per se, however was incorporating into a scene the fact that It returns every 27 years. For 2 reasons; 1) we are set up to know there will likely be a second movie, and 2) makes the release date of 2017 exactly 27 years after the original. Only adding to the fear, and disturbingly genius mind of Stephen King.
2017's It disappointingly lacked a vital scene, that you may be looking forward to; the shower-scene with young Eddie Kaspbrak. My father, and movie-goer partner, sadly didn't see how this would have been done with new special effects. Which, definitely contributed to the success of this film.
"They all float" – this saying is likening the dead, or "missing" children, to balloons. Something I somehow never put together before seeing It movie. One of the final scenes in 2017 shows children, tons of children, and Beverly Marsh at the bottom, floating in a trance, so to speak. As adults, in the 1990 original, we find the "missing" in an enormous spider web. That entire web/spider scene was one of the original's biggest downfalls, due to poor special effects of 1990. So I was pleasantly surprised with this change.
Lastly, some small nuisances were eluded to, but, likely only caught by King Fans. "Beep, beep, Richie" was said only once, which may confuse new viewers. Also, it lacked any effect on me on a fear factor, with Skarsgard's childish voice.
Written in blood, (yes, this scene was not skipped!), in Bev's blood-covered bathroom, was "DIE IF YOU TRY" on the ceiling. Again, likely lost on new generations of viewers. Pennywise's bone-chilling voice by Tim Curry gurgled in the background in the original 1990 film, as Bev tried to clean the blood. And, after finishing once, Curry's eerie laugh bubbled up from the drain with fresh new blood; "You'll die if you try… "
Overall it was different enough to stand on Its own, pun intended. But we will have to wait for Chapter 2 to find out…!
Rating: 4/5
BEST QUOTES