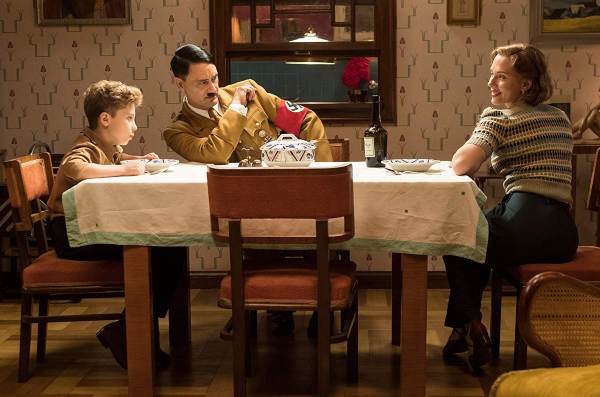 Starring: Roman Griffin Davis, Taika Waititi, Scarlett Johansson, Thomasin McKenzie, Rebel Wilson, Stephen Merchant, Alfie Allen, Sam Rockwell
Story:
Dark comedy drama directed and written by Taika Waititi. The story is set during World War II and follows a lonely German boy, Jojo "Rabbit" Betzler (Roman Griffin Davis), whose world view is turned upside down when he discovers that his single mother, Rosie (Scarlett Johansson), is hiding a young Jewish girl, Elsa Korr (Thomasin McKenzie), in their attic. Aided only by his idiotic imaginary friend, Adolf Hitler (Taika Waititi), Jojo must confront his blind nationalism.
Quotes: 
Jojo Betzler: Are you ready for the best weekend ever?
Yorki: Yes, I am!
---
[as Jojo is by himself crying]
Adolf Hitler: Hey, Jojoj, my old friend.
Jojo Betzler: Hi, Adolf.
Adolf Hitler: What's wrong, little man?
Jojo Betzler: They called me a scared rabbit.
Adolf Hitler: Let them say whatever they want. People used to say a lot of nasty things about me. "Oh, this guy's a lunatic. Oh, look at that psycho, he's going to get us all killed."
[he then shrugs his shoulders]
What do you think of Jojo Rabbit quotes? Let us know what you think in the comments below as we'd love to know.
Trailer: