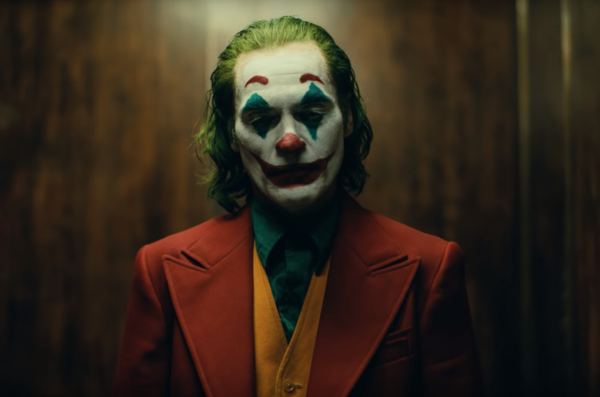 Starring: Joaquin Phoenix, Robert De Niro, Zazie Beetz, Bill Camp, Frances Conroy, Brett Cullen, Glenn Fleshler, Douglas Hodge, Marc Maron, Josh Pais, Shea Whigham
Story:
Psychological thriller and based on the DC Comics character Joker, directed and co-written by Todd Phillips. The story follows Arthur Fleck (Joaquin Phoenix), a failed stand-up comedian who is driven insane and turns to a life of crime and chaos in Gotham City.
Quotes: 
Arthur Fleck: [voice over] My mother always tells me to smile and put on a happy face. She told me I had a purpose to bring laughter and joy to the world.
---
Social Worker: Arthur, does it help to have someone to talk to?
---
Arthur Fleck: [voice over] Is it just me, or is it getting crazier out there?
---
[sitting in the subway Arthur, wearing clown costume and makeup, laughs crazily]
Subway Rider: What's so funny?
[punches Arthur]
Subway Rider: Freak!
---
Arthur Fleck: What?
---
Thomas Wayne: Gotham's lost its way. What kind of coward would do something that coldblooded? Someone who hides behind a mask.
---
Arthur Fleck: [voice over] I used to think that my life was a tragedy. But now I realize, it's a comedy.
What do you think of Joker quotes? Let us know what you think in the comments below as we'd love to know.
Trailer: