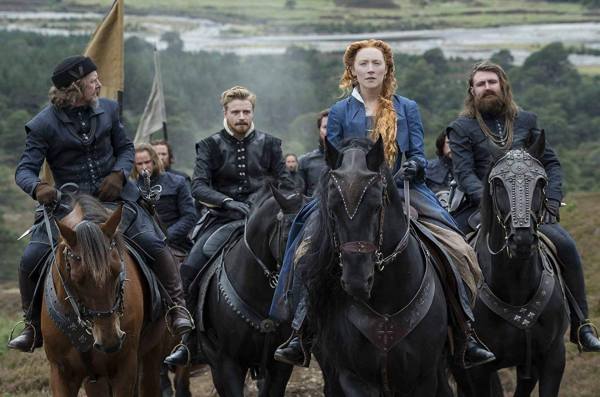 Starring: Saoirse Ronan, Margot Robbie, Jack Lowden, Joe Alwyn, Martin Compston, Brendan Coyle, David Tennant, Guy Pearce
Story:
Historical bio-drama directed by Josie Rourke in her directorial debut. The story centers on the turbulent life of the charismatic Mary Stuart (Saoirse Ronan). Queen of France at 16 and widowed at 18, Mary defies pressure to remarry. Instead, she returns to her native Scotland to reclaim her rightful throne. But Scotland and England fall under the rule of the compelling Elizabeth I (Margot Robbie).
Each young Queen beholds her "sister" in fear and fascination. Rivals in power and in love, and female regents in a masculine world, the two must decide how to play the game of marriage versus independence. Determined to rule as much more than a figurehead, Mary asserts her claim to the English throne, threatening Elizabeth's sovereignty. Betrayal, rebellion, and conspiracies within each court imperil both thrones, and change the course of history.
Best Quotes: 
Mary Stuart: England does not look so different from Scotland.
Mary's Counselor: Aye, they are sisters.
---
Robert Dudley: Queen Elizabeth, your cousin Mary has returned to take up her throne in Scotland.
---
Mary Stuart: My dear cousin Elizabeth I hope we might meet in person, that I might embrace thee, but ruling side by side we must do so in harmony, not through a treaty drafted by men lesser than ourselves.
---
Queen Elizabeth I: My dear cousin, let out nations cherish each other, as we would, two kingdoms united.
---
Nobleman: How did the world come to this?
Earl of Moray: wise men servicing the whims of women.
---
Queen's Counselor: [to Elizabeth] Mary is our foe. We must never bow to her as we bow before you.
---
Queen Elizabeth I: You have the boldness to doubt my judgement.
---
[referring to Mary]
Queen Elizabeth I: She is only your queen if I should not produce an heir.

---
Mary's Servant: What is it like?
Mary Stuart: To have a man?
---
Mary Stuart: With heaven's blessing, we bring an heir to Scotland, and to England.
---
Queen's Advisor: It is a clear provocation. We must make war in Scotland.
Queen Elizabeth I: So put your skills to use.
---
Mary Stuart: Do not play into their hands. Our hatred is precisely what they hope for. I know your heart has more within it than the men who counsel you.
Queen Elizabeth I: You would do well to watch your words.
Mary Stuart: I will not be scolded by my inferior.
Queen Elizabeth I: Your inferior?
---
Queen Elizabeth I: Your beauty, your bravery, now I see there's no cause for envy. Your gifts will be your downfall.
Mary Stuart: Should you murder me, remember you murder your sister, and you murder your queen.
---
Mary Stuart: Are afraid, Henry?
Lord Darnley: No.
Mary Stuart: Good. Because our swords are not just for show.
---
John Knox: We have a scourge upon our land. It is a woman with a crown.
What do you think of Mary Queen of Scots quotes? Let us know what you think in the comments below as we'd love to know.
Trailer: