New Movies Quotes and Lines
(continued...)
 Page   1   2
---
Jurassic World: Fallen Kingdom (2018)     REVIEWS
Owen Grady: If I don't make it back, remember you're the one who made me come here.
[Claire goes to say something, Owen smiles and turns to leave]
Owen Grady: I'll be alright.
See more Jurassic World: Fallen Kingdom Quotes
---
Deanna: That's why somebody's mom just enrolled in college. I'm referring to myself. I'll see you around the quad.
Maddie: Nobody says that, mom.
Deanna: Well I'll bring it back.
See more Life of the Party Quotes
---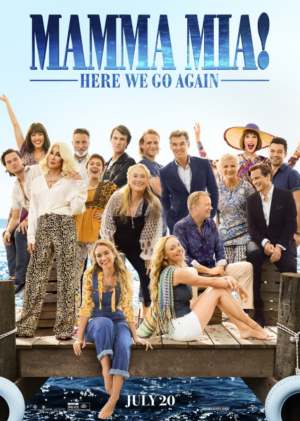 Mamma Mia! Here We Go Again (2018)
Rosie: [to Sophie] Your mother was the bravest person we ever met.
Tanya: Let me tell you how she did it all on her own.
See more Mamma Mia! Here We Go Again Quotes
---
Jonas Taylor: That thing is out there. We have to find it and kill it.
Jack Morris: Why don't you just put a tracker on it? Did you guys ever watch Shark Week?
---
James Silva: Do you want to live in a world where everybody feels cozy and validated all the time, or do you want to live in a world that works? We fight new wars. The old options, military, diplomacy, they don't always succeed. Sometimes you need a third option. That's Overwatch. According to the government we do not exist. We're ghosts, but we are very real and we get shit done.
---
Mission: Impossible – Fallout (2018)
Solomon Lane: [to Ethan] There cannot be peace without first a great suffering. The greater the suffering, the greater the peace. The end you've always feared is coming. It's coming. And the blood will be on your hands.
See more Mission: Impossible – Fallout Quotes
---
Sister Irene: I had a series of visions when I was younger, and after each one ended the same spot would be stuck in my head.
Father Burke: What did you see?
Sister Irene: I saw a nun.
---
Lou: Even if this was possible you'd need twenty people.
Debbie Ocean: Seven people.
Lou: Why do you need to do this?
Debbie Ocean: Because it's what I'm good at.
---
Detective Rosemary Vick: You can't see things clearly.
David Kim: All I'm trying to do is to help you find my daughter!
Detective Rosemary Vick: We need nothing from you.
---
Sicario: Day of the Soldado (2018)   REVIEWS
Matt Graver: You're going to help us start a war.
Alejandro: With who?
Matt Graver: Everyone. No rules this time.
See more Sicario: Day of the Soldado Quotes
---
Will Sawyer: The Pearl is the tallest most advanced building in the world. You've build a vertical city, but you've brought with it every single safety and security challenge that I could think of. Not only have you brought them all indoors, but you've trapped them two hundred and forty floors in the air. No one really knows what would happen if things go wrong. But I'm just a glorified security guard, so what the hell do I know anyway?
---
Solo: A Star Wars Story (2018)   REVIEWS
Han Solo: I heard about you, I was wondering if it's true.
Lando Calrissian: Everything you've heard about me is true.
See more Solo: A Star Wars Story
---
Langston: Let me give you a tip. If you want to make some money here, use your white voice.
Cassius 'Cash' Green: My white voice.
Langston: I'm not talking about Will Smith. White, like this young fella.
[he suddenly starts speaking in his white voice]
Langston: Hey, Mr. Kramer. This is Langston from Regal View.
See more Sorry to Bother You Quotes
---
Audrey: Is this really happening?
Morgan: Yeah, because you dated a spy.
See more The Spy Who Dumped Me Quotes
---
Hoagie: For the entire month of May every year we play tag, and you never know when someone's going to pop up. Our buddy, Jerry, he's the best that ever played, and now he wants to retire. This is the year we get Jerry.
---
STEM: [to Grey] I cannot allow us to be killed. We are going to finish the job we started.
---
Total Quotes: 34

Join In Our Movie Quizzes and Polls: