By Roshan Chandy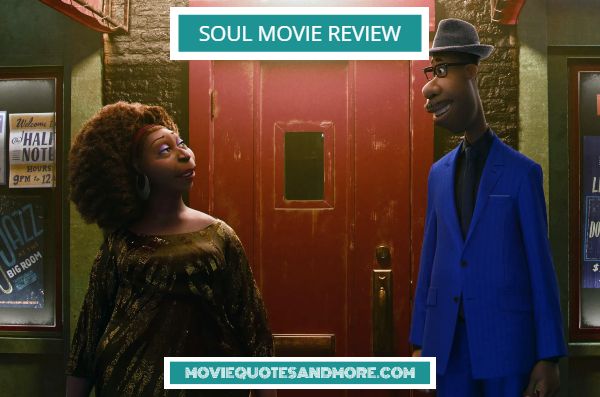 A lovely, jazzy look at life, death and the afterlife.
Pixar's best film since Inside Out (2015) premiered on Disney Plus Christmas Day. Soul (2020) is a lovely, jazzy fable about life, death and the afterlife that combines the Christmas Carol-esque mournful meditations of It's A Wonderful Life (1946) with the body swap comedy of Source Code (2011) or Your Name (2016).
Soul centres around middle school music teacher Joe Gardner (voiced by Jamie Foxx) who is massively overqualified and feels stuck and lost in his current job. Joe has dreams of a career in jazz which his seamstress mum Libba (Phylicia Rashad) rejects as she believes he will not be financially secure in that career. One day, on his way to preparing for his first performance in the band of jazz legend Dorothea Williams (Angela Bassett), he falls down a manhole.
Seconds away from death, Joe is thus cast into a "soul" – minion-like creatures that everybody becomes in the afterlife. He is caught in the stairway between heaven and hell or, as this movie calls it, "Great Before" and "Great Beyond".
Desperate to avoid being put into the Great Beyond, Joe finds himself trapped in the Great Before where soul counsellors prepare unborn souls for life on Earth. Joe is assigned a cynical old soul named 22 (Tina Fey) who has been trapped in the Great Before for a millennia.
Through a varying number of circumstances, Joe and 22 find themselves cast back to Earth, only not in the bodies Joe remembers being in. Joe is in the body of a cat while 22 inhabits his body. There's many funny scenes of the two impersonating one another. On Earth, Joe discovers the true meaning of life…
Soul is a visual treat which we somewhat take for granted from Pixar. It's incredible how much the animation has matured and realised in the 25 years since Toy Story (1995) first hit the big screen. The visuals now look as photogenic as any live-action photograph.
The movie is packed with such beautiful visual moments such as when Joe is walking up the stairway to heaven or downward to hell. When he is in the paradisiacal blue valleys of the Great Before or the darkness of the Great Beyond which is basically just a big, black space.
In addition to its visual splendour, Soul packs a weighty punch in its themes about life, death and the afterlife. There's a wonderful moment where Joe's entire life flashes right in front of his eyes in a montage and I shed a tear just like Joe does in the movie. This scene reminded me of the ending of American Beauty (1999) when Lester Burnham's entire life flashed in front of his eyes seconds before he died. But it also reminded me of It's A Wonderful Life (1946) – a Christmas classic and quasi-Christmas Carol adaptation.
In that movie, James Stewart is shown just how crap life would be without him by an angel while he contemplates suicide. Just like James Stewart, Joe here comes to realise that life isn't all about money, cars and how many girls you have flocking after you.
Soul alleviates the darkness of its afterlife themes with shots of humour. Watch out for a scene-stealing, hilarious cameo from our very own Graham Norton as a spiritual sign twirler named Moonwind. Meanwhile I laughed like a parrot during the hospital scene when 22 first realises she's trapped in Joe's body and Joe in a cat's.
The body swap humour here follows in a long tradition of movies about people inhabiting polar opposite bodies such as the Alec Baldwin-Meg Ryan crusher Prelude To A Kiss (1992) to the Ryan Reynolds-Jason Bateman stinker The Change-up (2011). The swapping of bodies makes for some very good physical comedy here.
On top of this, the soundtrack is terrifically funky. It mixes jazzy saxophones, pianos and vocals from R&B singer Cody Chesnutt singing his song 'Parting Ways' at the subway. Beautiful stuff.
The whole movie builds to an ending that is so uplifting and morally right. Once again, just like the recent Happiest Season (2020), this movie proves that watching It's A Wonderful Life can really change your life. There's a character realisation here that is as moving as when James Stewart decides to not kill himself and enjoy the Christmas spirit. And I don't say that lightly…
Watching Soul brought a truly terrible year to a warm close. I wish I'd seen this at the cinema when it played at the London Film Festival. Either way, it has a home viewing potential for the family for years to come. I just hope people watch it…
Soul is on Disney Plus now.
Rating: 5/5
[button link="https://www.moviequotesandmore.com/soul-new-movie-quotes/" color="black"]BEST QUOTES[/button]