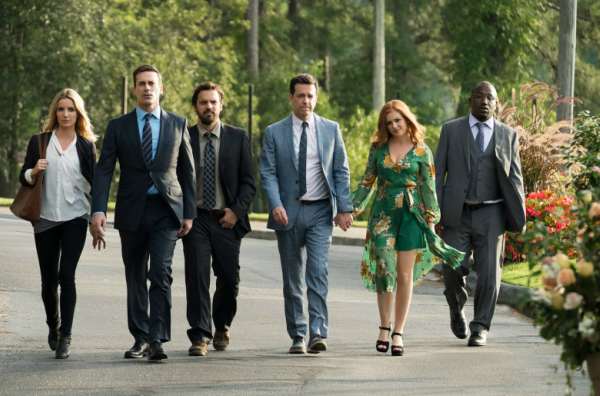 Starring: Jon Hamm, Jeremy Renner, Ed Helms, Jake Johnson, Hannibal Buress, Annabelle Wallis, Isla Fisher, Rashida Jones, Leslie Bibb, Brian Dennehy
Story:
Comedy directed by Jeff Tomsic based on a true story in which the story centers on a group of ex-classmates (Jon Hamm, Jeremy Renner, Ed Helms, Jake Johnson and Hannibal Buress) who one month every year hit the ground running for a no-holds-barred game of tag, risking their necks, their jobs and their relationships to take one another down. This time, the game coincides with the wedding of the only undefeated player. What should be an easy target soon becomes an all-out war as he knows they're coming to get him.
Best Quotes:
Pastor: Susan, do you take Jerry to be your husband.
[as they're watching the ceremony]
Sable: What's the difference between Episcopalian and Lutheran?
Randy: Episcopalians don't eat fish.
Sable: That's pescatarian, that's not a religion.
Randy: They're all fanatics, I don't know.
[back to the ceremony]
Pastor: You may kiss the bride.
[as Jerry and Susan are about to kiss, Hoagie runs towards them, lunges at Jerry to tag him, but Jerry steps aside]
---
Rebecca: Please tell me what's going on here?
Hoagie: Our group of friends has been playing the same game of tag for thirty years.
Rebecca: What?
---
Hoagie: For the entire month of May every year we play tag, and you never know when someone's going to pop up. Our buddy, Jerry, he's the best that ever played, and now he wants to retire. This is the year we get Jerry.
---
Jerry: Never been tagged, just saying.
---
Hoagie: Synchronize your watches.
Callahan: I don't know how to do that.
Randy: I don't wear a watch.
Sable: Time is a construct.
---
Anna: Some couples go on cruises. Some couples go camping. Some couple go to strip clubs and have gang bangs. And this is just what we love, this is our gang bang.
Cheryl Wow.
---
Rebecca: It seems like the game has really kept you guys connected.
---
Hoagie: This game has given us a reason to be in each other's lives.
---
[at Hoagie's father's funeral]
Randy: I think your dad would want you to be…
[he touches Hoagie on his shoulder]
Randy: Tagged.
---
[reading Jerry's note which just says "Eat my," and then points to a drawing]
Hoagie: Eat my dick.
Callahan: My dick. Balls.
Sable: No. Butt. Ice cream.
Hoagie: What?
Sable: He knows I'm lactose intolerant, he's taunting me.
What do you think of Tag quotes? Let us know what you think in the comments below as we'd love to know.
Trailer: