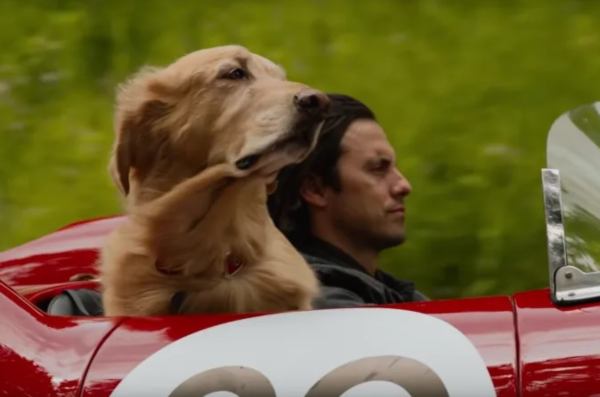 Starring: Milo Ventimiglia, Kevin Costner, Amanda Seyfried, Kathy Baker, Martin Donovan, Gary Cole, Ryan Kiera Armstrong, Giacomo Finn
Story:
Comedy drama directed by Simon Curtis in which the story follows wise old dog Enzo Swift (Kevin Costner), who recalls the life lessons he has learned from his race car driving owner, Denny Swift (Milo Ventimiglia).
Quotes: 
[as we see Denny driving in his race car]
Enzo: [voice over] No race was ever won in the first corner, but many have been lost there. I should know, I was born to be a race car driver, but there's only one problem, that's not me.
[we see a little puppy]
Enzo: [voice over] That's me.
---
Enzo: [voice over] He picked me out of a pile of pups. A tangled mass of paws and tails.
Denny Swift: This one. Definitely this one.
Dog Breeder #1: The pick of the litter.
Enzo: [voice over] She always said that.
[Denny picks up Enzo]
Dog Breeder #2: Well, just a minute now. We were thinking of keeping that one.
Enzo: [voice over] He always said that too.
---
Enzo: [voice over] Call it fate, call it love, all I knew was, I was meant to be his dog.
---
[as they watch car racing on the TV]
Denny Swift: So you like that, huh?
Enzo: [voice over] Like it? I loved it. The sound, the smells, I felt like I truly belonged.
---
Enzo: [voice over] In racing your car goes where your eyes go.
---
Eve: I'm not really much of a dog person.
Denny Swift: He's more person that dog.
Enzo: [voice over] Denny was clearly taken with her grooming. She probably bathed everyday for all I knew.
Eve: Does he always stare at people like this?
Denny Swift: If he likes them.
---
Eve: Oh, sweet boy. Come here.
[Enzo goes over to Eve and lies his head on her pregnant belly]
Enzo: [voice over] It must be amazing to have a body that can carry an entire creature inside. I just hoped it would look like me.
---
Enzo: [voice over] The best drivers don't dwell on the future or the past. The best drivers focus only on the present.
---
Enzo: [voice over] No one knows what curves life will throw at you, but if a driver has the courage to create his own conditions, then the rain is simply rain. But for now, all I want is one more lap. Faster, Denny. Faster.
What do you think of The Art of Racing in the Rain quotes? Let us know what you think in the comments below as we'd love to know.
Trailer: