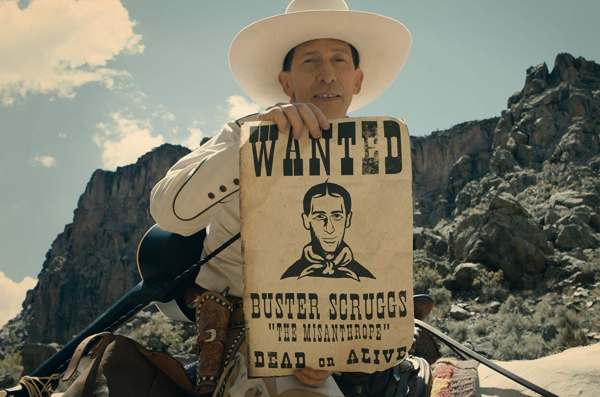 Starring: Tim Blake Nelson, Liam Neeson, James Franco, Zoe Kazan, Tyne Daly, Brendan Gleeson, Tom Waits, Willie Watson, David Krumholtz, Stephen Root, Ralph Ineson, Harry Melling
Story:
Western anthology written, directed, and produced by the Coen brothers. The story is told in six chapters which present a different story from the wild frontier. The Ballad of Buster Scruggs tells the story of sharp-shooting songster, Buster Scruggs (Tim Blake Nelson). In Near Algodones, a wannabe bank robber (James Franco) gets his due and then some. Meal Ticket, is a gothic tale about two weary travelling performers (Liam Neeson and Harry Melling).
All Gold Canyon is a story about a prospector (Tom Waits) mining for gold, while a woman, Alice Longabaugh (Zoe Kazan), finds an unexpected promise of love, along with a dose of life's cruel irony, on a wagon train across the prairies in The Gal Who Got Rattled. Finally, ghostly laughs haunt The Mortal Remains as a Lady (Tyne Daly) rains judgment upon a motley crew of strangers undertaking a final carriage ride.
Quotes: 
Englishman: People are so easily distracted, so I'm the distractor with a little story. People can't get enough of them because, well, they connect the stories to themselves I suppose, and we all love hearing about ourselves. So long as the people in the stories are us, but not us.
---
Englishman: You know the story. There are two kinds of people.
Frenchman: Lucky and unlucky?
Irishman: Pale and frail.
Lady: Upright and sinning.
Englishman: No, dead or alive.
---
Trapper: What is your business?
Englishman: Well, I like to say that we're…
Irishman: Harvesters of souls.
---
Mr. Arthur: Here's a tale to tell.
---
Buster Scruggs: I'm Buster. Buster Scruggs.
Hard Man: Your shooting arm work?
[Buster does a little gun trick]
Buster Scruggs: It appears to do, yes.
---
[as the cowboy is about to be hanged]
The Man in Black: Do you have anything to say before sentence is carried out?
Cowboy: Say? What's my sentence?
---
Buster Scruggs: Well, folks, things have a way of escalating out here in the West.
---
[points his weapon at Buster]
Buster Scruggs: I'd appreciate it if you'd deposit your weapon in the receptacle by the swinging doors.
Curly Joe: And if I don't?
---
Artist: My name is Ozymandias, king of kings.
---
Billy Knapp: That man is a wonder.
---
Prospector: Well we'll just have to see, won't we?
---
[to the man next to him who's about to be hanged also]
Cowboy: First time?
Blubberer: Huh?
---
Mother: What are you doing, Israel?
Israel: Walking backwards.
Father: Don't do that!
Israel: Why not?
What do you think of The Ballad of Buster Scruggs quotes? Let us know what you think in the comments below as we'd love to know.
Trailer: