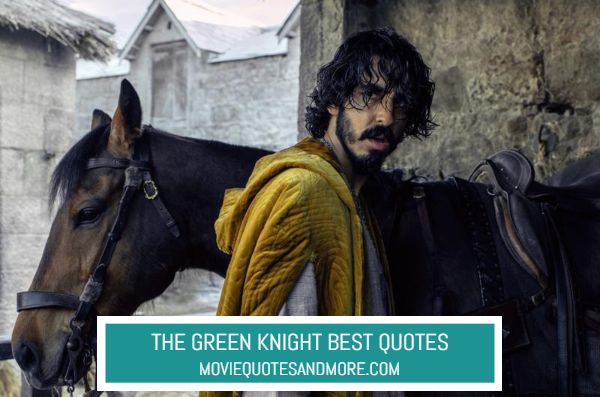 Starring: Dev Patel, Joel Edgerton, Barry Keoghan, Ralph Ineson, Alicia Vikander, Sean Harris, Kate Dickie, Sarita Choudhury, Erin Kellyman
Story:
Medieval fantasy adventure directed by David Lowery based on the Arthurian legend. The story follows Sir Gawain (Dev Patel), King Arthur's reckless and headstrong nephew, who embarks on a daring quest to confront the eponymous Green Knight (Ralph Ineson), a gigantic emerald-skinned stranger and tester of men. Gawain contends with ghosts, giants, thieves, and schemers in what becomes a deeper journey to define his character and prove his worth in the eyes of his family and kingdom by facing the ultimate challenger.
Copyright Notice: It's easy to see when our quotes have been copied and pasted, as you're also copying our mistakes and movie scene descriptions. If you decide to copy our movie quotes please be kind and either link back, or refer back to our site. Please check out our copyright policies here. Thanks!
We'll add the best quotes once the movie is released and we've had a chance to watch it, but for now here's a small selection.
Quotes:
King: Tell me a tale of yourself, so that I might know thee.
Gawain: I have none to tell.
Queen: Yet. You have none to tell yet.
---
Gawain: I fear I'm not meant for greatness.
King: We all fear, but fear can be a gift.
Queen: Do not waste this.
What do you think of The Green Knight quotes? Let us know what you think in the comments below as we'd love to know.
Trailer: