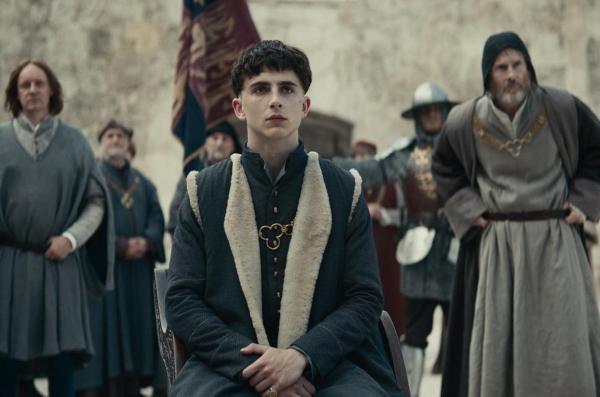 Starring: Timothée Chalamet, Joel Edgerton, Robert Pattinson, Ben Mendelsohn, Sean Harris, Thomasin McKenzie, Lily-Rose Depp, Dean-Charles Chapman, Tom Glynn-Carney, Dean-Charles Chapman, Edward Ashley, Andrew Havill, Ivan Kaye, Steven Elder
Story:
Historical drama adapted from several plays from Shakespeare's Henriad, directed and co-written by David Michôd. The story centers on Hal (Timothée Chalamet), a wayward prince and reluctant heir to the English throne, who has turned his back on royal life and is living among the people. But when his tyrannical father dies, Hal is crowned King Henry V. Now the young king must navigate the palace politics, chaos and war his father left behind, and the emotional strings of his past life, including his relationship with his closest friend and mentor, the aging alcoholic knight, John Falstaff (Joel Edgerton).
Quotes: 
Catherine: Do you feel a sense of achievement?
King Henry V 'Hal': In what regard?
Catherine: In any regard. Do you?
---
King Henry V 'Hal': A new chapter of my life has begun. Already, I can feel the weight of this crown I wear. I've been forced to rely upon the counsel of men whose loyalty I question every waking moment. I need men around me I can trust. I'm here because you're my friend.
Falstaff: A king has no friends. A king has only followers and foe. But I will come with you.
---
Man: All hail King Henry!
What do you think of The King quotes? Let us know what you think in the comments below as we'd love to know.
Trailer: