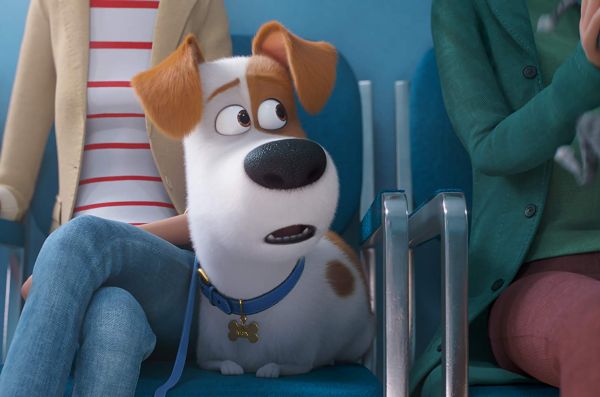 Starring: Patton Oswalt, Eric Stonestreet, Kevin Hart, Jenny Slate, Ellie Kemper, Lake Bell, Dana Carvey, Hannibal Buress, Bobby Moynihan, Tiffany Haddish, Nick Kroll, Harrison Ford, Pete Holmes
Story:
Animated comedy sequel directed by Chris Renaud, which follows the lives our pets lead after we leave for work or school each day.
Quotes: 
Katie: Hey, Maxie, let's say we go for a walk.
---
[as he's going for a walk with Katie]
Max: Ah, I got to admit, this is nice.
[Max walks by another dog with his owner]
Dog: I don't want to go the vet!
Max: Uh, the vet!
[he stops walking]
Max: No! No, no, no!
Katie: Come on, buddy.
Max: You tricked me!
[Katie pulls on Max's leash into the vet]
---
[sitting in the waiting room at the vet]
Cat: First time here?
Max: Uh, yeah.
Cat: Oh, Dr. Francis is the best veterinarian in the business. You're going to love him. He specializes in behavioral disorder.
Max: But I don't have a behavioral disorder. I, I…
Cat: Yeah, I'm fine too. It's my human that's nuts. I mean, you know, I, I bring her a dead bird, she throws it out. I bring her dead mouse, right in the garbage!
[the cat starts getting hysterical at his owner]
Cat: Is nothing I do good enough for you, mother?!
Max: Okay.
---
[Max looks over at the guinea pig in its cage at the vet, running around in its cage wheel]
Guinea Pig: I run, I can run, and I run, and I run, and I get out, and I've gone nowhere. Nowhere!
---
[Max sees a nervous looking dog waiting at the vet]
Nervous Dog: My owner always says, "You're such a good dog," and I feel like a good dog. But what if deep down I'm a bad dog? What if I'm a bad dog?!
---
[Max notices two creepy looking Siamese twin cats]
Siamese Twin Cats: We start fires.
[Max freaks out and yells]
---
Daisy: That was weird.
Chloe: Oh, sister, it's going to get way weirder.
---
Gidget: Chloe, why is there a lamp shade on your head?
Chloe: My owner might have given me a little bit of catnap.
Gidget: Oh, okay. Gotcha. That's great. Um…
Chloe: Do you hear that?
Gidget: Chloe, you're purring.
Chloe: Oh, I wonder what other sounds I could make.
[Chloe starts making strange meow sounds]
Gidget: Are you finished?
[Chloe make another weird sound]
---
[dressed in his superhero outfit]
Snowball: Good morning, New York City!
[starts singing his superhero theme as he poses for flight off]
Max: Snowball, what are you doing?
Snowball: What's it look like I'm doing? I'm doing superhero stuff.
---
[in her bedroom with Snowball and her toys]
Molly: I'm calling this meeting of the superhero animal friends to order.
Molly's Mother: Come on, Molly. Time to go.
Molly: Ooh. I'm going to be late for school. Captain Snowball, you're in charge while I'm gone.
[she kisses Snowball and leaves the room, Snowball continues the meeting with the other toys]
Snowball: First of all, I want to welcome White Thunder back from the washing machine, who was put in there with a red blanket, and hence forth will be known as Pink Thunder. Personally, I like the new look.
---
Daisy: What you're about to hear is the most dramatic thing you ever heard in your whole life.
---
Daisy: Excuse me, do you any of you know Captain Snowball?
Snowball: Uh, yes. Yes, we do.
Chloe: And here we go.
Daisy: My name is Daisy, and I really got to talk to him. I don't mean to sound dramatic, but a poor defenseless animal needs saving. I need Captain Snowball for top secret…
Snowball: Well, I got to go. But nice meeting you, uh, what was it again?
Daisy: Okay, you don't listen. It's Daisy.
[he starts hopping off]
Snowball: Whatever. Okay, I got the dude that gets stuff to do things. Bye-bye.
---
[Snowball puts on his superhero costume]
Snowball: It's Snow-time, baby.
[Daisy here's Snowball shouting]
Daisy: Uh, is he okay?
Chloe: Not in any way, no.
---
[Snowball hops in front of Daisy and Chloe dressed in his superhero costume]
Snowball: Hello, citizens.
Daisy: Who is that? Mm-mm-mm.
Snowball: I'm Captain Snowball. Let's free that tiger.
Daisy: Or die trying.
Snowball: Well, I mean…
Daisy: I mean we might.
Snowball: Um…
Daisy: Probably you.
Snowball: Huh?
Daisy: You're wearing a bright suit. Everyone's going to notice you. I'll be fine.
What do you think of The Secret Life of Pets 2 quotes? Let us know what you think in the comments below as we'd love to know.
Trailers: