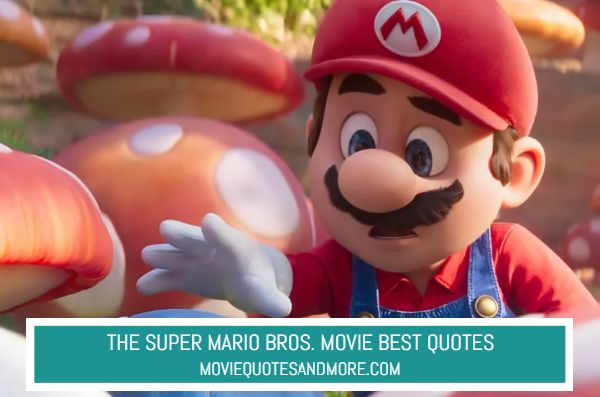 Copyright Notice: It's easy to see when our selected quotes have been copied and pasted, as you're also copying our format, mistakes, and movie scene descriptions. If you decide to copy from us please be kind and either link back, or refer back to our site. Please check out our copyright policies here. Thanks!
Starring: Chris Pratt, Anya Taylor-Joy, Charlie Day, Jack Black, Keegan-Michael Key, Seth Rogen, Fred Armisen, Sebastian Maniscalco, Charles Martinet, Kevin Michael Richardson
Story:
Illumination animated adventure comedy directed by Aaron Horvath and Michael Jelenic, based on Nintendo's Mario video game franchise. The Super Mario Bros. Movie (2023) follows Mario (Chris Pratt), a plumber who travels through an underground labyrinth with his brother, Luigi (Charlie Day), trying to save a captured Princess Peach (Anya Taylor-Joy).
We'll add the best quotes once the movie is released and we've had a chance to watch it, but for now, here's a small selection.
Quotes:
Kamek: Behold the king of the Koopas.
---
Bowser: Open the gates!
Penguin Kin: [as the gates are opened] Attack!
---
Penguin Kin: [after the tiny penguins throw snowballs at Bowser] That is but a taste of our fury. Do you yield?
Bowser: I do not.
---
Bowser: I finally found it. Now who's going to stop me?!
---
Bowser: Not sure if you know who I am, but I'm about to rule the world.
Luigi: Wow. Yay.
Bowser: But there's one problem. There's a human, has a mustache just like you.
Luigi: Do you think I know every human being with a mustache, wearing an identical outfit with a hat, with a letter of his first name on it? Because I don't.
---
Mario: What is this place?
Toad: Do not touch that mushroom! You'll die! Oh, I'm sorry. That one's perfectly fine.
---
Toad: Come on, Mario!
Mario: Mushroom Kingdom, here we come.
---
Mario: Alright. Let's-a go.
---
Princess Peach: Bowser is coming. Together we are going to stop that monster.
Toad: How? Look at us. We're adorable.
---
Mario: Oh, I got this. No problem.
---
Toad: Come on, Mario. Our big adventure begins now.
---
Mario: Ah! Get it off! Get it off! Get it off!
---
Princess Peach: There's a huge universe out there. With a lot of galaxies. They're all counting on us. No pressure.
Trailer: