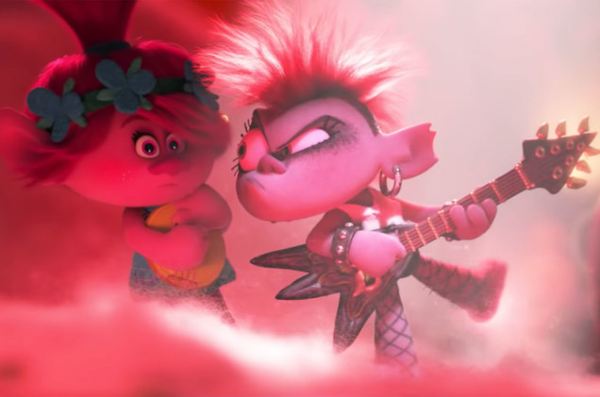 Starring: Anna Kendrick, Justin Timberlake, Rachel Bloom, James Corden, Jamie Dornan, Kelly Clarkson, Ozzy Osbourne, Sam Rockwell
Story:
Animated musical comedy sequel directed by Walt Dohrn and David P. Smith. The story follows Poppy (Anna Kendrick) and Branch (Justin Timberlake), who make a make a surprising discovery, there are other Troll worlds beyond their own, each defined by a different genre of music. When a mysterious threat puts all the Trolls across the land in danger, Poppy, Branch, and their band of friends must embark on a quest through unfamiliar terrain to do the impossible, create harmony among the diverse Trolls to unite them against certain doom.
Quotes: 
Barb: I'm Queen Barb, of the Hard Rock Trolls. I'm here to take your string, bro.
Smidge: Oh, don't do it, man.
King Trollex: If we lose our string, we lose our music.
---
Barb: I'm going to unite the six strings and destroy all music. Except for rock! So I'm going to need your string.
---
[referring to Barb]
Poppy: Who was that?
Hickory: There are other kinds of Trolls. Our ancestors created six strings, each for a different type of music. Pop. Funk. Classical. Techno. Country. And rock.
---
Hickory: These other trolls aren't like us. They dance different. They sing different.
---
Poppy: I can't believe another queen would use her power for evil.
---
Branch: [to Poppy] If Barb collects all the strings, our music will be destroyed, forever.
---
[referring to Barb]
Poppy: We have to unite all the Trolls. And if we don't stop her, who will?
---
Branch: We're going to need a battle plan and weapons.
Poppy: Violence never solves a problem, Branch.
[referring to the knuckle duster]
Poppy: Is this some kind of jewel? Ooh, it's actually kind of cool looking.
[holds it up to let the gold glisten on the duster]
Branch: Give me that!
---
Poppy: That only weapons we need are, this girl…
[holds up on arm]
Poppy: And this girl.
[hold up her other arm]
Poppy: For hugs!
Branch: This is going to take a lot of hugs.
---
Biggie: How are we going to hug our way out of this one?
Poppy: I will protect you, no matter what. I pinky promise.
Biggie: You can't go back on a pinky promise.
[as their pinky promise, an electric vibration is felt through all the troll lands]
Country Troll: A pinky promise. Dang.
---
Poppy: Let's go save the world!
---
Branch: [to Poppy] This is a terrible idea that will blow up in your face.
---
Branch: We need to go undercover.
Pop Troll: But how?
Satin and Chenille: With fashion.
---
[as the pop trolls are sneaking in]
Hard Rock Troll: Hey. Only Rock Trolls are allowed back here.
Biggie: We are genuine hard rockers.
[they reveal themselves in undercover hard rock clothes; sing in heavy metal]
Mr. Dinkles: One, two, three, four. Rainbows. Unicorn. Everything nice. Yeah! Brush your teeth!
[pause]
Hard Rock Troll: Cool.
---
Poppy: The Country Trolls look friendly.
---
Delta Dawn: Get them!
[Country Trolls start to chase after Poppy and her group]

---
[as they are being chased by the Country Trolls]
Branch: Does anyone else think this is crazy?
---
[as they are chased over the edge of a cliff by the Country Trolls]
Chaz: Oh, look. I think I can see our house from up here.
---
Guy Diamond: Poppy, come quick! It's an emergency!
Poppy: Guy Diamond, what's wrong?
Guy Diamond: I'm having a baby!
[he lays and egg, which hatches]
Poppy: A Hip-Hop Troll?
[the baby starts rapping]
Tiny Diamond: Tiny Diamond is my name. Come straight from my daddy's mane. My whole body is made of glitter, and I'll throw it in your face.

---
Tiny Diamond: Peace and love. Tiny and daddy out.
---
[as a Jazz Troll is playing saxophone for them]
Poppy: A Smooth Jazz Troll? It's like I'm being paralyzed by its smoothness.
Branch: Poppy, I can't feel my face.
---
Poppy: I will never stop fighting until I make things right!
What do you think of Trolls World Tour quotes? Let us know what you think in the comments below as we'd love to know.
Trailer: