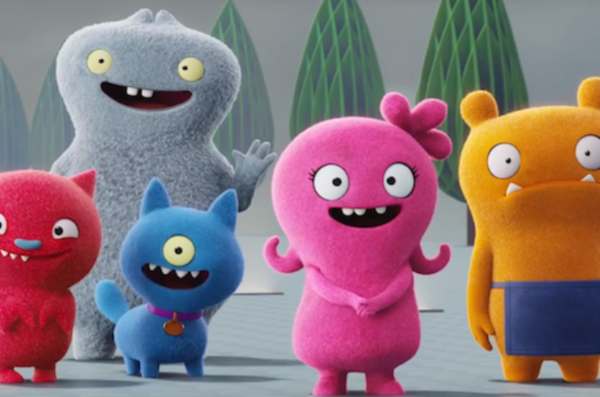 Starring: Kelly Clarkson, Pitbull, Nick Jonas, Wanda Sykes, Gabriel Iglesias, Blake Shelton, Janelle Monáe, Emma Roberts, Wang Leehom, Bebe Rexha, Charli XCX, Lizzo
Story:
Animated musical comedy adventure directed by Kelly Asbury based on the Uglydoll plush toys. The story is set in the town of Uglyville, where weird is celebrated, strange is special and beauty is embraced as more than simply meets the eye. Here, the free-spirited Moxy (Kelly Clarkson) and her UglyDolls friends live every day in a whirlwind of bliss, letting their freak flags fly in a celebration of life and its endless possibilities, occasionally looking to the sky, where a new UglyDoll will appear and be embraced by the community. Although Moxy loves her life, her curiosity about all things leads her to wonder if there's something, anything, on the other side of the mountain which nestles Uglyville.
Moxy gathers a group of her closest friends and sets off to find what's on the other side where they discover another world, Perfection, a town where more conventional dolls are trained in protocols before they graduate and are sent to the real world to find the love of a child. In Perfection, Moxy and her crew are subject to the manipulations of Lou (Nick Jonas), the perfect doll in charge of training recruits. Here, the UglyDolls will confront what it means to be different, struggle with their desire to be loved, and ultimately discover that you don't have to be perfect to be amazing because who you truly are is what matters most.
Quotes: 
Ox: Welcome to Uglyville, friend. What's your name?
Wedgehead: Wedgehead.
Ox: I love literal naming. Isn't that right, Gibberish Cat?
[Gibberish Cat replies back in gibberish]
---
Moxy: I've always believed the big world is real. I know I'll find the perfect kid for me, but I'm starting to wonder with no evidence, no proof, what if it's not true?
Lucky Bat: Mmm.
[he breaks a fortune cookie and reads the fortune]
Lucky Bat: "Find your own truth."
Moxy: Come on!
---
Moxy: This pipe, it has to lead somewhere. Are you really going to let me go in alone? Ugly Dog, you're my best friend.
Wage: Well that's just hurtful.
---
Moxy: Guys, what if this is the way to the big world?
Ugly Dog: How do we get up there?
[they throw Ugly Dog, who has a rope tied around his neck, to the top]
Ugly Dog: Anytime now, guys.
[the others start climbing up the rope]
---
[they arrive at the Institute of Perfection]
Babo: I have a feeling we're not in Uglyville anymore.
Moxy: Look, guys.
Lucky Bat: What's per-fection?
Wage: Don't know, but let's go say hi.
Ugly Dog: Hello!
[all the perfect dolls scream]
Lucky Bat: Must be a customary greeting here.
[he screams at the perfect standing near them and she passes out from fear]
---
[referring to Lou]
Wage: Who's that?
---
Perfect Doll: That's Lou. He's the most perfect one here.
---
Lou: Let me break it down. Welcome to the Institute of Perfection, where only the best will meet their perfect human match.
---
Lou: Remember, only pretty dolls will meet their perfect human match.
---
[a perfect doll is passing through a computer sensor]
Computer: You're an engineer slash model.
Perfect Doll: My accessories will make me different.
---
[another perfect doll passes through the computer sensor]
Computer: You're a lawyer slash model.
Perfect Doll: I'm an individual, exactly like the rest of you.
---
[as Moxy passes through the computer sensor]
Computer: You're not a model. Computer does not compute.
[the computer breaks down]
---
Lou: [to Moxy] Do you honestly think your little band of sock puppets stands a chance here?
---
Lou: [to Moxy] It's probably better if you just go back where you belong.
---
Moxy: [to Lou] You know what, we are not going anywhere!
---
Moxy: [to Lou] We can be pretty loveable.
---
Lou: Bless their ugly little hearts.
---
Ugly Dog: Are we really not good enough for the big world?
Moxy: No, our flaws make us unique. Those are all worth fighting for.
---
Moxy: Our flaws make us who we are. Those are all worth fighting for.
---
Mandy: You do know that Lou is going to make it super hard for you.
Moxy: Well, I say, "Bring in on, Louis!"
---
Wage: [to Ugly Dog] Another swing, another miss.
---
Tuesday: We have to save him.
[referring to one of the perfect dolls is grabbed by a dog]
Lou: Leave him. He's a lost cause. He's gone forever.
Perfect Doll: I'm over here.
[ignoring the captured doll]
Lou: There's nothing we could have done.
What do you think of UglyDolls quotes? Let us know what you think in the comments below as we'd love to know.
Trailers: