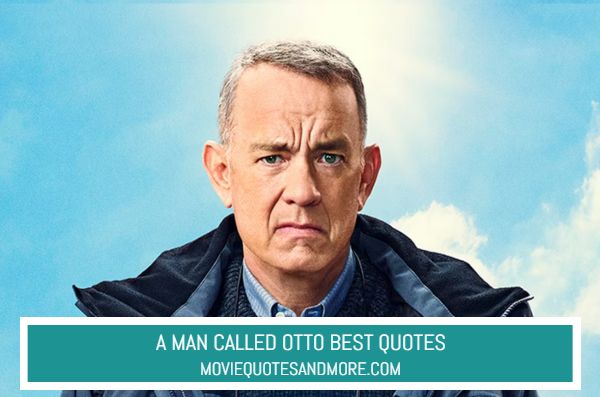 Copyright Notice: It's easy to see when our selected quotes have been copied and pasted, as you're also copying our format, mistakes, and movie scene descriptions. If you decide to copy from us please be kind and either link back, or refer back to our site. Please check out our copyright policies here. Thanks!
Starring: Tom Hanks, Mariana Treviño, Rachel Keller, Manuel Garcia-Rulfo, Cameron Britton, Mike Birbiglia
Story:
Comedy drama directed by Marc Forster. A Man Called Otto (2022) follows Otto Anderson (Tom Hanks), a grumpy isolated widower who is very set in his ways with strict routines, and a short fuse. When a lively young family moves in next door, he meets his match in quick-witted and very pregnant Marisol (Mariana Treviño), leading to an unlikely friendship that will turn his world upside-down.
We'll add the best quotes once the movie is released and we've had a chance to watch it, but for now, here's a small selection.
Quotes:
Otto: Don't you dare let that little rat dog pi** on my walkway again.
Barb: [to her dog] Ignore him, Prince. He has no idea who's doing that.
Otto: Well, it was one of you.
---
Otto: You cannot use this road without a permit!
UPS Delivery Driver: Have a nice day, sir.
Otto: You know, the other guys don't do this. The guys with the white trucks. How come it's always you brown guys? And I don't mean that racially!
---
Otto: [referring to the U-Haul driver] What is he doing?
Man: Parallel parking.
Otto: Parallel to what?
---
Otto: [visiting his wife's grave] I'm sorry I didn't get here earlier. The whole neighborhood is falling apart these days. Got some new neighbors.
---
Otto: [at his wife's graveside] Nothing works now that you're gone.
---
Luna: What's your name?
Otto: Otto.
Abby: Otto?
Otto: O-T-T-O.
Abby: I'm Abby, O-T-T-O.
---
Marisol: I brought you some food.
Otto: Okay. Bye.
Marisol: [stops Otto from closing the door] Are you always this unfriendly?
Otto: I am not unfriendly.
Marisol: Okay, you're not. Every word you say is like a warm cuddle.
---
Marisol: Can you please give me a ride? I don't have a license.
Otto: You don't have a driver's license? How old are you?
---
Otto: [to Marisol] I can't stand watching one idiot trying to teach another how to drive. It's lesson time.
---
Marisol: [as Otto is teaching her to drive] I almost hit the car.
Otto: That's alright. It's a hybrid.
---
Otto: [to the cat] No, no, no. You are not taking over my bed.
---
Otto: [after Marisol asks him to babysit] I'm not sure about this.
Marisol: It's going to be very fun.
---
Abby: You did a good job. You should pat yourself on the back.
[Otto pats himself on the back with the dolls hand she gives him]
---
Clown: I'm Batman!
Children: Hi, Batman!
Clown: You want to see a trick?
Children: Yes!
Clown: [to Otto] May I borrow a coin?
---
Marisol: What did you do?
Otto: It was all the clown's fault.
---
Marisol: [to Otto] You think you have to do everything on your own. Well, guess what? No one can.
---
Otto: [referring to his late wife] My life was black and white before Sonia.
---
Marisol: [to Otto, referring to his late wife] She's always going to be with you, Otto.
---
Marisol: My father used to smile like that.
Otto: I'm not smiling.
Marisol: Exactly.
Trailer: