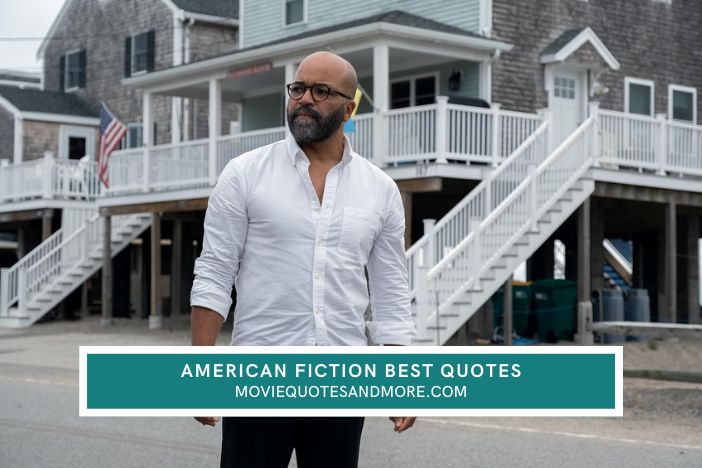 Copyright Notice: It's easy to see when our selected quotes have been copied and pasted, as you're also copying our format, mistakes, and movie scene descriptions. If you decide to copy from us please be kind and either link back, or refer back to our site. Please check out our copyright policies here. Thanks!
Starring: Jeffrey Wright, Tracee Ellis Ross, John Ortiz, Erika Alexander, Leslie Uggams, Adam Brody, Keith David, Issa Rae, Sterling K. Brown, Myra Lucretia Taylor
Story:
Satirical comedy drama written and directed by Cord Jefferson. American Fiction (2023) follows Monk (Jeffrey Wright), a frustrated novelist who's fed up with the establishment that profits from "Black" entertainment that relies on tired and offensive tropes. To prove his point, he uses a pen name to write an outlandish "Black" book of his own, a book that propels him to the heart of hypocrisy and the madness he claims to disdain.
We'll add the best quotes once the movie is released and we've had a chance to watch it, but for now, here's a small selection.
Quotes:
Moderator: How did you come to write this book?
Sintara Golden: What really struck me, was that too few books were about my people. Where are our stories? Where is our representation?
Moderator: Would you give us the pleasure of reading an excerpt?
Sintara Golden: [reads from the book] "Yo Sharonda! Girl, you be pregnant again? If I is, Ray-Ray's going to be a real father this time around."
---
Arthur: Monk, your books are good, but they're not popular.
---
Arthur: Editors, they want a Black book.
Thelonious 'Monk' Ellison: They have a Black book. I'm Black, and it's my book.
Arthur: You know what I mean.
---
Thelonious 'Monk' Ellison: Look at what they publish. Look at what they expect us to write.
---
Thelonious 'Monk' Ellison: I just want to rub their noses in it.
---
Arthur: "I be standing outside in the night."
Thelonious 'Monk' Ellison: Deadbeat dads, rappers, crack. You said you wanted Black stuff. That's Black, right?
Arthur: I see what you're doing.
---
Paula: We believe Mr. Leigh has written a bestseller.
---
Arthur: We sold your book.
Thelonious 'Monk' Ellison: No.
---
Thelonious 'Monk' Ellison: [referring to his book] As a joke!
Arthur: The most lucrative joke you've ever told.
---
Paula: Now is Stagg a pseudonym?
Thelonious 'Monk' Ellison: Yeah.
Arthur: Mr. Leigh can't use his real name.
Paula: Is this based on your actual life?
Thelonious 'Monk' Ellison: Yeah. You think some b**h a** college boy can come up with that s**t?
Paula: No, no. No I don't.
---
Wiley: Can I ask what you were in for? Was it murder?
Thelonious 'Monk' Ellison: You said that, not me.
---
Ailene Hoover: They ran three hundred thousand copies.
---
Lisa Ellison: [to Monk] Your books change people's lives.
---
Arthur: They're offering four million dollars for the movie rights.
Thelonious 'Monk' Ellison: The dumber I behave, the richer I get.
---
Thelonious 'Monk' Ellison: This has gone too far.
---
Kenya Dunston: Stagg R. Leigh is still on the run from authorities.
---
Arthur: [to Monk] You haven't done anything. It's not like they can arrest you.
---
Thelonious 'Monk' Ellison: I wish I could go back to not selling books.
---
John Bosco: There's already so much buzz because of the movie deal.
Arthur: Michael B. Jordan is circling.
John Bosco: We want to put him on the cover in one of those scarves, I guess you would call them, tied around his head.
Thelonious 'Monk' Ellison: A do-rag?
John Bosco: Do-rag. That's it! Do-rag, and a tank top, with the muscles showing.
Paula: Ooh. Somebody call the fire department!
John Bosco: We're thinking we can get it out in time for Juneteenth!
---
Sintara Golden: Is it bad to cater to people's tastes?
---
Clifford Ellison: People want to love you, Monk. You should let them love all of you.
Trailer: