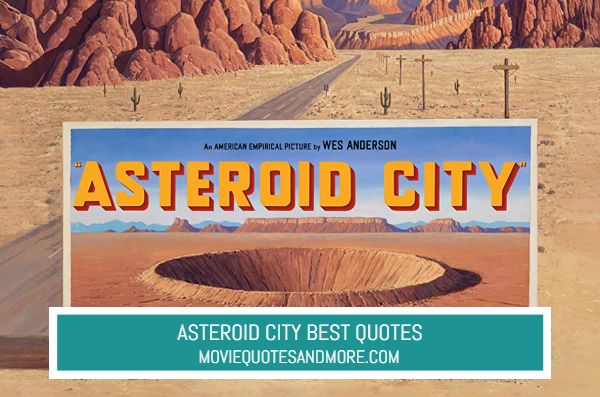 Copyright Notice: It's easy to see when our selected quotes have been copied and pasted, as you're also copying our format, mistakes, and movie scene descriptions. If you decide to copy from us please be kind and either link back, or refer back to our site. Please check out our copyright policies here. Thanks!
Starring: Jason Schwartzman, Scarlett Johansson, Tom Hanks, Jeffrey Wright, Tilda Swinton, Bryan Cranston, Edward Norton, Adrien Brody, Liev Schreiber, Hope Davis, Stephen Park, Rupert Friend, Maya Hawke, Steve Carell, Matt Dillon, Hong Chau, Willem Dafoe, Margot Robbie, Tony Revolori, Jake Ryan, Jeff Goldblum, Sophia Lillis
Story:
Romantic comedy written and directed by Wes Anderson. Asteroid City (2023) is set in a fictional American desert town circa1955, where the itinerary of a Junior Stargazer/Space Cadet convention, organized to bring together students and parents from across the country for fellowship and scholarly competition, is spectacularly disrupted by world-changing events.
We'll add the best quotes once the movie is released and we've had a chance to watch it, but for now, here's a small selection.
Quotes:
Stanley Zak: [over phone] You're not here.
Augie Steenbeck: We're not there. The car exploded. Come get the girls. I have to stay here with Woodrow.
Stanley Zak: I'm not their chauffeur. I'm the grandfather. Where are you?
Augie Steenbeck: Asteroid City, Farm Route 6, mile 75.
---
General Grif Gibson: Junior star gazers and space cadets, each year we celebrate Asteroid Day, commemorating September 23, 3007 BC, when the Arid Plains Meteorite made Earth impact.
---
Sandy Borden: Holy Toledo, that's Midge Campbell.
---
Sandy Borden: Hello. We met before. I'm the mother of that cookie trooper who idolizes you.
Midge Campbell: I know.
Sandy Borden: Thought you might not recognize me out of uniform.
---
Sandy Borden: You were very good in the one about the tramp in the brothel who gets amnesia, and becomes a pediatrician. You were very authentic.
Midge Campbell: Thank you. That's actually maybe my favorite character I've ever…
Sandy Borden: I don't know why nobody else liked it.
Midge Campbell: Oh. Yes. Me neither, thank you. Some people liked it.
Sandy Borden: Oh. I'm sure. I did.
---
Midge Campbell: You took a picture of me.
Augie Steenbeck: Uh-huh.
Midge Campbell: Why?
Augie Steenbeck: I'm a photographer.
Midge Campbell: You didn't ask permission.
Augie Steenbeck: I never ask permission.
Midge Campbell: Why not?
Augie Steenbeck: Because I work in trenches, battlefields, and combat zones.
---
Midge Campbell: What are you going to do with it? My picture.
Augie Steenbeck: Well, if it's any good, I guess I'll try to sell it to a magazine, now that you mention it. "Midge Campbell eating a waffle."
---
Woodrow Steenbeck: What do those pulses indicate?
June Douglas: What? Oh, the beeps and blips? We don't know.
---
June Douglas: Some of our information about outer space may no longer be completely accurate. Anyway, there's still only nine planets in the solar system, as far as we know. Billy?
Billy: Except now there's a alien.
---
General Grif Gibson: What's happening now?
Soldier: I don't know.
---
Augie Steenbeck: I don't like the way that guy looked at us. The alien.
Midge Campbell: How did he look?
Augie Steenbeck: Like we're doomed.
Midge Campbell: Maybe we are.
---
General Grif Gibson: I've just informed the President.
---
Sandy Borden: How long can they keep us in Asteroid City? Legally, I mean.
J. J. Kellogg: Well, I'm not an attorney, but I'd say as as long as they like. I think we'd have to file an injunction and successfully argue the case, six months to year. Of course, we'd also need to initiate a civil suit for loss of income.
Stanley Zak: Maybe we should just walk out right now. I'm not sure they could stop us without killing somebody.
J. J. Kellogg: Interesting idea.
---
J. J. Kellogg: What kind of mileage do you think that jet pack gets?
Sandy Borden: Ask Roger, or his son. Apparently, he's being prosecuted for revealing state secrets.
J. J. Kellogg: They'll never make it stick.
Stanley Zak: I'm in no hurry. I like the desert. I like aliens.
---
Stanley Zak: Are you married?
Sandy Borden: Of course.
---
Woodrow Steenbeck: The world will never be the same.
---
Shelly: That's an alien doing jumping jacks. That's an alien in a top hat.
---
Woodrow Steenbeck: What's out there? The meaning of life, maybe there is one.
---
Midge Campbell: Are you married?
Augie Steenbeck: I'm a widower, but don't tell my kids.
---
Woodrow Steenbeck: You're saying our mother died three weeks ago?
Augie Steenbeck: Let's say she's in heaven, which doesn't exist for me, of course, but you're Episcopalian.
---
Stanley Zak: In my loneliness, I've learned to give complete and unquestioning faith to the people I love. I don't know if that includes you, but it included my daughter, and your four children.
---
Teenage Girl: Sometimes I think I feel more at home outside the Earth's atmosphere.
Woodrow Steenbeck: Oh, wow. Me too.
---
Motel Manager: They're strange, aren't they? Your children. Compared to normal people.
J. J. Kellogg: Yes.
Roger Cho: That's correct.
Sandy Borden: It's true.
---
Midge Campbell: I do a nude scene. You want to see it?
Augie Steenbeck: Huh? Did I say yes?
Midge Campbell: You didn't say anything.
Augie Steenbeck: Well, I meant yes. But my mouth didn't speak.
Trailer: