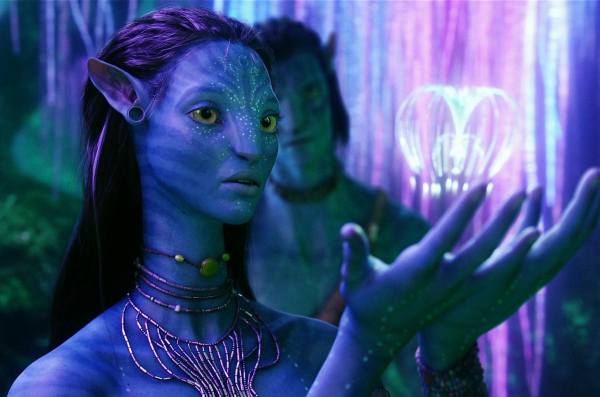 Starring: Sam Worthington, Zoe Saldana, Sigourney Weaver, Stephen Lang, Michelle Rodriguez, Giovanni Ribisi, Joel Moore, CCH Pounder, Wes Studi, Laz Alonso, Dileep Rao, Matt Gerald, Sean Anthony Moran
OUR RATING: ★★★★☆
Story:
Sci-fi fantasy adventure directed, written, produced, and co-edited by James Cameron. Avatar (2009) centers on paraplegic Marine Jake Sully (Sam Worthington), who is dispatched to the alien world of Pandora on a unique mission to gather intel for the cooperating military unit spearheaded by Colonel Quaritch (Stephen Lang), while simultaneously attempting to infiltrate the Na'vi people with the use of an "avatar" identity. While Jake begins to bond with the native tribe, and falls in love with Neytiri (Zoe Saldana), Quaritch moves forward with his orders from corporate figurehead Parker Selfridge (Giovanni Ribisi), who intends to drive off the Na'vi in order to mine for the precious material scattered throughout their rich woodland. 
Our Favorite Quotes:
'Sometimes your whole life boils down to one insane move.' - Jake Sully (Avatar)
Click To Tweet
Best Quotes
---
Jake Sully: When I was lying there in the VA hospital, with a big hole blown through the middle of my life, I started having these dreams of flying. I was free. Sooner or later though, you always have to wake up.
---
Jake Sully: In cryo, you don't dream at all. It doesn't feel like six years, more like a fifth of Tequila and an a** kicking. Tommy was the scientist, not me. He was the one who wanted to get shot light years out in space to find the answers.
---
Jake Sully: So a week before Tommy's going to ship out, a guy with a gun ends his journey, for the paper in his wallet.
---
Jake Sully: Yeah, Tommy was the scientist. Me? I'm just another dumb grunt going some place he's going to regret.
---
Jake Sully: Up ahead was Pandora. You grew up hearing about it, but I never figured I'd be going there.
---
Jake Sully: [as he watches his brother's coffin bun in the furnace] One life ends, another begins.
---
Jake Sully: There's no such thing as an ex-marine. You may be out, but you never lose the attitude. I told myself I could pass any test a man can pass. They can fix a spinal, if you've got the money. But not on vet benefits, not in this economy.
---
Col. Quaritch: [to the new arrivals on Pandora] You are not in Kansas anymore. You are on Pandora, ladies and gentlemen. Respect that fact every second of every day. If there is a hell, you might want to go there for some R and R after a tour on Pandora. Out there beyond that fence every living thing that crawls, flies, or squats in the mud wants to kill you and eat your eyes for jujubees. We have an indigenous population of humanoids called the Na'vi. They're fond of arrows dipped in a neurotoxin that will stop your heart in one minute. And they have bones reinforced with naturally occurring carbon fiber. They are very hard to kill. As head of security, it is my job to keep you alive. I will not succeed. Not with all of you. If you wish to survive, you need to cultivate a strong, mental attitude. You got to obey the rules, Pandora rules. Rule number one…
Jake Sully: [voice over] Nothing like an old-school safety brief to put your mind at ease.
---
Jake Sully: Me and Norm are here to drive these remotely controlled bodies called avatars. And they're grown from human DNA mixed with the DNA of the natives.
---
Jake Sully: [referring to the large blue avatar body floating in the tank] Damn. They got big.
Norm Spellman: Yeah, they fully mature on the flight out. So the proprioceptive sims seemed to work really well.
Dr. Max Patel: Yeah, they've got great muscle tone. It'll take us a few hours to get them decanted, but you guys can take them out tomorrow.
---
Dr. Max Patel: [to Jake, referring to his avatar] There's yours.
Jake Sully: Looks like him.
Norm Spellman: No, looks like you. This is your avatar now, Jake.
---
Jake Sully: [on video log] Now the concept is that every driver is matched to his own avatar so that their nervous systems are in tune. Or something. Which is why they offered me this gig, because I can link with Tommy's avatar, which is insanely expensive.
---
Jake Sully: Is this right? I just say whatever to the video log?
Norm Spellman: Yeah. We got to get in the habit of documenting everything, what we see, what we feel. It's all part of the science.
Dr. Max Patel: Hey, good science is good observation.
Norm Spellman: Plus, it'll help keep you sane, for the next six years.
Jake Sully: Right. Whatever.
Jake Sully: [return to his video log] So, here I am. Doing science.
'All energy is only borrowed and one day you have to give it back.' - Jake Sully (Avatar)
Click To Tweet
Dr. Grace Augustine: [as she emerges from her avatar link unit] Who's got my god damn cigarette? Guys, what's wrong with this picture!
---
Norm Spellman: Grace Augustine is a legend. She's the head of the Avatar Program. She wrote the book; I mean literally wrote the book on Pandoran botany.
Dr. Max Patel: That's because she likes plants better than people.
---
Dr. Max Patel: Here she is, Cinderella back from the ball. Grace, I'd like you to meet Norm Spellman and Jake Sully.
Dr. Grace Augustine: Norm. I hear good things about you. How's your Na'vi?
Norm Spellman: [in Na'vi] May the All Mother smile upon our first meeting.
Dr. Grace Augustine: [in Na'vi] Not bad. You sound a little formal.
Norm Spellman: [in Na'vi] I studied for five years, but there is much to learn.
---
Dr. Max Patel: Grace, this is Jake Sully.
Jake Sully: Ma'am.
Dr. Grace Augustine: Yeah. Yeah. I know who you are, and I don't need you. I need your brother. You know, the PhD who trained for three years for this mission.
Jake Sully: He's dead. I know it's a big inconvenience for everyone.
---
Dr. Grace Augustine: How much lab training have you had?
Jake Sully: I dissected a frog once.
Dr. Grace Augustine: You see? You see? I mean they're just pi**ing on us without even the courtesy of calling it rain. I'm going to Selfridge.
Dr. Max Patel: No, Grace. No, I don't think that's a good idea.
Dr. Grace Augustine: No, man, this is such bulls**t! I'm going to kick his corporate butt. He has no business sticking his nose in my department.
Dr. Max Patel: [to Jake, as Grace leaves] Here, tomorrow, o-eight-hundred. Try to use big words.
---
Dr. Grace Augustine: Parker. You know, I used to think it was benign neglect, but now I see that you are intentionally screwing me.
Parker Selfridge: Grace, you know, I enjoy our little talks.
Dr. Grace Augustine: [sarcastically, as Selfridge is about to putt his ball, Grace kicks the mug away] Oops.
---
Dr. Grace Augustine: [referring to Jake] I need a researcher, not some jarhead dropout.
Parker Selfridge: Well, actually, I thought we got lucky with him.
Dr. Grace Augustine: Lucky?
Parker Selfridge: Yeah.
Dr. Grace Augustine: How is this in any way lucky?
Parker Selfridge: Well, lucky your guy had a twin brother, and lucky that brother wasn't some oral hygienist or something. A Marine we can use. I'm assigning him to your team as security escort.
Dr. Grace Augustine: The last thing I need is another trigger happy moron out there!
---
Parker Selfridge: Look, you're supposed to be winning the hearts and the minds of the natives. Isn't that the whole point of your little puppet show? If you walk like them, and you talk like them, and they'll start trusting us. We build them a school, we teach them English. But after what, how many years? Relations with the indigenous are only getting worse.
Dr. Grace Augustine: Yeah, that tends to happen when you use machine guns on them.
---
Dr. Grace Augustine: [referring to linking to the avatar] You're here. How much have you logged?
Jake Sully: Zip. But I read the manual.
Dr. Grace Augustine: Tell me you're joking.
---
Dr. Grace Augustine: So you just figured you'd come out here, to the most hostile environment known to man, with no training of any kind, and see how it went? What was going through your head?
Jake Sully: Maybe I was sick of doctors telling me what I couldn't do.
'Every person is born twice. The second time is when you earn your place among the people, forever.' - Jake Sully (Avatar)
Click To Tweet
Dr. Grace Augustine: [as Jake settles in his link unit] Just relax and let your mind go blank. That shouldn't be hard for you.
Jake Sully: Kiss the darkest part of my lily white…
---
Dr. Max Patel: [after Jake enters his avatar body for the first time] Jake! Listen to me! You're not used to your avatar body. This is dangerous!
Jake Sully: This is great!
---
Jake Sully: [as he sees Grace's avatar] Damn. Grace?
Dr. Grace Augustine: Well who did you expect, numbnuts?
---
Dr. Grace Augustine: [referring to the tendrils protruding from the end of their long braid] Don't play with that. You'll go blind.
---
Jake Sully: You wanted to see me, Colonel?
Col. Quaritch: This low gravity will make you soft. You get soft, Pandora will s**t you out dead with zero warning. I pulled your record, Corporal. Venezuela, that was some mean bush. Nothing like this here though. You got some heart kid, showing up in this neighborhood.
Jake Sully: Figured it's just another hellhole.
Col. Quaritch: I was in First Recon myself, few years ahead of you. Well, maybe more than a few. Three tours Nigeria, not a scratch. I come out here…
Col. Quaritch: [he points to his scarred face] Day one. Think I felt like a shave tail Louie. But they could fix me up if I rotated back, and make me pretty again. But you know what? I kind of like it. Reminds me every day what's waiting out there.
---
Col. Quaritch: The avatar program is a bad joke, bunch of limpd**k science majors. However, it does present an opportunity, both timely and unique. A recon gyrene in an Avatar body, that's a potent mix! Give me the goosebumps! Such a Marine could provide the intel I need, right on the ground, right in the hostiles camp. Look, Sully, I want you to learn these savages from the inside, I want you to gain their trust. I need to know how to force their cooperation, or hammer them hard if they won't.
Jake Sully: Am I still with Augustine?
Col. Quaritch: On paper. You can walk like one of her science pukes, you quack like one, but you report to me. Can you do that for me, son?
Jake Sully: Hell, yeah, sir.
Col. Quaritch: Well, alright then.
'Good science is good observation.' - Dr. Max Patel (Avatar)
Click To Tweet
Col. Quaritch: Son, I take care of my own. You get me what I need, I'll see to it you get your legs back when you rotate home. Your real legs.
Jake Sully: That sounds real good, sir.
---
Dr. Grace Augustine: Stay with the ship. One idiot with a gun is enough.
Corporal Lyle Wainfleet: You're the man, Doc.
---
Dr. Grace Augustine: [referring to the Hammerhead Titanothere] Don't shoot. Don't shoot. You'll pi** him off.
Jake Sully: It's already pi**ed off.
Dr. Grace Augustine: Jake, that armor's too thick. Trust me. It's a territorial threat display. Do not run or he'll charge.
Jake Sully: So what do I do? Dance with it?
Dr. Grace Augustine: Just hold your ground.
---
Jake Sully: [as the Titanothere runs off upon seeing the Thanator behind Jake] That's right. Get your punk a** back to mommy. Yeah? Yeah, you got nothing. You keep running. Yeah, why don't you bring back some of your friends, huh?
Jake Sully: [to Grace, as he turns and sees an angry Thanator] What about this one? Run? Don't run? What?
Dr. Grace Augustine: Run! Definitely run!
---
Trailer: