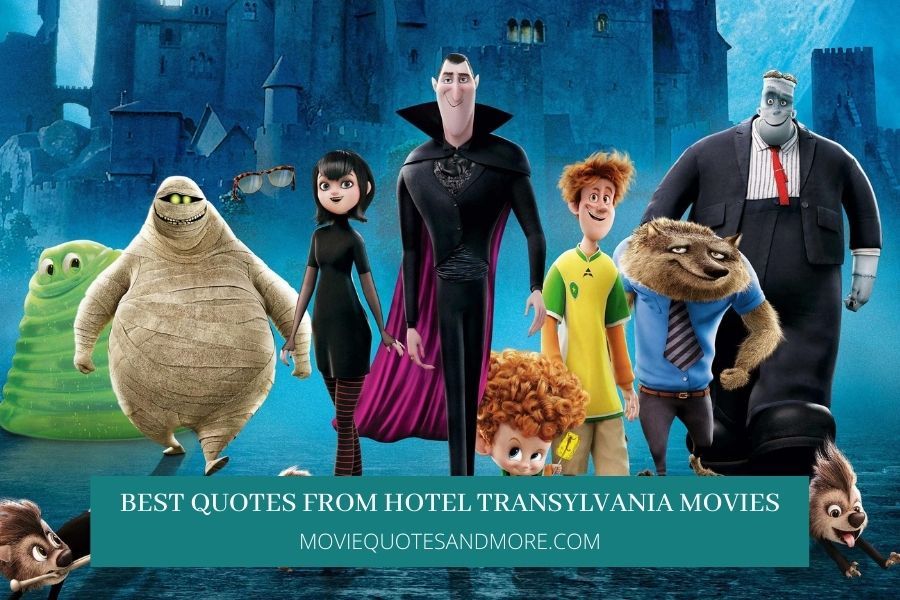 Our list of the best quotes from Hotel Transylvania movies, the animated monster comedy which follows Count Dracula, the owner of Hotel Transylvania, a refuge for the world's monsters to get away and take a rest from human civilization, his daughter Mavis, and his monster pals.
'Suffer, suffer, scream in pain. Blood is spilling from your brain. Zombies gnaw you like a plum, piercing cries and you succumb. Suffer, suffer, scream in pain. You will never breathe again.' - Dracula
Click To Tweet
Copyright Notice: It's easy to see when our selected quotes have been copied and pasted, as you're also copying our format, mistakes, and movie scene descriptions. If you decide to copy from us please be kind and either link back, or refer back to our site. Please check out our copyright policies here. Thanks!
1. Hotel Transylvania (2012)
We follow Jonathan (Andy Samberg), a human who accidentally stumbles upon the hotel and falls in love with Dracula's (Adam Sandler) teenage daughter, Mavis (Selena Gomez), despite Dracula's attempts to keep Jonathan away from his daughter.
'Children need to discover things for themselves.' - Dracula (Hotel Transylvania)
Click To Tweet
Suit of Armor: There is a clogged toilet in room 348.
Dracula: [as Bigfoot growls] lt's okay. We all get stomach aches, Mr. Bigfoot.
---
Dracula: [moviequotesandmore.com] Now, now, is that any way to behave? This is a hotel, not a cemetery.
---
Murray: [holding Frankenstein's head] I love this guy. He always bringing it full tilt. You're looking skinny too. Now that you're just a head.
---
Dracula: These are recent human images our surveillance has uncovered. They are getting to fatter so as to overpower us. And they are wearing less clothing, allowing more movement
to strangle us, or cut open our heads, and put candy in them. But they will never find us here. Evil villain, you will never win!
---
Dracula: [moviequotesandmore.com] You're old enough to drive a hearse now. You're old enough to make your own choices.
---
Eunice: Excuse me. Drac! Have you lost it? Letting your own daughter out there with those horrible humans you always tell us about? That's why you built this place. They hate us. They're vicious. And they're very loud!
---
Wanda: [to Mavis] Bring warm clothes and a sword.
Griffin: And look out for pitchforks.
Murray: Don't you let anyone scoop your brains out either.
Wayne: Maybe stay in the shadows. It's more fun to just observe, from under a house.
Frankenstein: Guys, guys. She can handle it. She's a Dracula, for Pete's sake. But seriously, watch out for fire. Fire bad.
---
Shrunken Head: [moviequotesandmore.com] What did you do?
Dracula: What I had to. She'll thank me one day.
Shrunken Head: Yeah, that's what the guy who shrunk my head said.
---
Dracula: A human! Who are you? And how did you find this place?
Jonathan: Oh, I'm Jonathan. And I was just mountain climbing with some dudes, and heard this story about a spooky forest. And who's not going to go into a spooky forest, right? So then I see these goofy looking dudes on fire, and I just kind of followed them to this like amazing castle.
Dracula: How many of you are there?
Jonathan: Just me. I like to hit it alone. You meet so many awesome people in the youth hostels. Hey, speaking of awesome, that cape thing is killing it!
---
Gremlin Lady: Excuse me. One of your piranhas in the lake is very rude. He ate my sister-in-law.
---
Jonathan: Check it out. I'm a Frankenhomie!
---
Mavis: Who is that?
Dracula: Who is what? Oh, that. That is nobody.
Mavis: Seriously, dad?
Jonathan: Dad?
Mavis: Yeah. I know, Dracula's daughter. Everyone freaks out at first.
Jonathan: Dracula?!
---
Jonathan: [moviequotesandmore.com] Please don't kill me. I'm so young! I have so many places I want to see. I've got tickets to six Dave Matthews Band concerts.
---
Jonathan: Wait. Aren't you going to suck my blood?
Dracula: Classic human paranoia. Human blood is so fatty, and you never know where it's been.
Jonathan: So, Dracula doesn't drink blood?
Dracula: No, I use a blood substitute. Either Near Blood, or Blood Beaters. You can't tell the difference.
---
Jonathan: So, wow, you're like the real Count Dracula. Like, "I'm Dracula. Bleh, bleh-bleh!"
Dracula: l've never said that in my life. "Bleh, bleh-bleh." I don't know where that comes from.
---
Dracula: What is this place? It's a place I built for all those monsters out there, lurking in the shadows, hiding from the persecution of humankind. A place for them and their families to come to and be themselves. A place void of torches, pitchforks, angry mobs! A place of peace, relaxation, and tranquility.
Jonathan: Cool. So, it's like a hotel for monsters?
Dracula: Yes, exactly. A hotel for monsters. Way to sum it up.
---
Dracula: [moviequotesandmore.com] Can Frankenstein sign my costume? Can I meet the Invisible Man? Hey, if I stuck my hand in the lnvisible Man's mouth, would it disappear?
---
Jonathan: So, wait, you didn't have any clothes on when you were a bat? Or were they bat-sized?
---
Mavis: You're my age?
Jonathan: Sure. Well, how old are you?
Mavis: A hundred and eighteen.
Jonathan: One hundred and…
[Dracual elbows him]
Jonathan: Yeah, I'm one-twenty-one.
Mavis: Really?
---
Suit of Armor: [referring to Jonathan] Boy, that kid smelled.
---
Jonathan: Is that real, about the garlic thing?
Dracula: Yes, I cannot have it. My throat swells.
Jonathan: Huh. Wooden stake to the heart?
Dracula: Yeah, well, who wouldn't that kill?
---
Jonathan: [moviequotesandmore.com] Are these monsters going to kill me?
Dracula: Not as long as they think you're a monster.
Jonathan: Huh? That's kind of racist.
---
Mavis: He's your cousin, Johnnystein.
Dracula: Yes, yes, yes.
Frankenstein: I don't have no cousin.
Dracula: No, no. Yyou do. He's your sixth cousin, three times removed.
Jonathan: On your right arm's side.
---
Dracula: Frank, if your arm could talk, he would tell you that the original owner of your arm had a brother.
Jonathan: Who married a woman.
Dracula: Who was…
Jonathan: For strangling a pig!
Frankenstein: I have pig-strangling blood in my arm? That's kind of cool.
---
Frankenstein: [moviequotesandmore.com] Let me get a bubonic moose nose omelet with cockroach paste and mouse jelly. Oh, and with egg whites.
---
Dracula: Look, love droppings, I brought you a bagel with your favorite, scream cheese.
Mavis: Holy rabies. Thanks, dad. Johnny, try some scream cheese, it's awesome.
Jonathan: Oh, cool. But I'm scream cheese intolerant. So, polite pass.
2. Hotel Transylvania 2 (2015)
The story centers on Mavis and Jonathan, who now have a young son named Dennis, whose lack of any vampire abilities worries both Mavis and Dracula for different reasons. When Mavis and Johnny travel to Johnny's hometown in California, Dracula decides to call on his friends to help him make Dennis a vampire, much to Mavis's dismay.
'You can't just make somebody something they're not.' - Mavis (Hotel Transylvania 2)
Click To Tweet
Murray: You got a date?
Griffin: Yeah. She's invisible. That's why you can't see her.
Frankenstein: Oh, right. This is the one from "Canada"?
---
Mavis: [referring to Jonathan] So, you're really okay with him not being a monster?
Dracula: Human, monster, unicorn, as long as you're happy.
---
Dracula: Oh, honey, look at those fluffy clouds. Remember what we played when you were little? Hide and Go Seek Sharp Objects?
---
Mavis: [moviequotesandmore.com] Can you get me some ice cream with anchovies?
Dracula: No, no, no. You mustn't give in to your cravings. It's not good for the baby. You need to increase your spider intake, so he'll be able to climb ceilings properly. And eat lots of sheep bile.
Mavis: I love you, dad, but we don't even know if the kid's going to be a vampire. I'd be thrilled if the baby's humany, just like Johnny.
Dracula: Humany. With thousands of years of Dracula genes. Not going to happen.
Mavis: As long as the baby's healthy.
Dracula: Of course. A healthy little vampire.
Mavis: Or human.
Dracula: Yes, a human who can fly as a bat.
---
Grandma Linda: [referring to Dennis] Are we sure he's a vampire? I mean, not that it's a bad thing, but shouldn't he have fangs, and that pasty skin you guys have?
3. Hotel Transylvania 3: Summer Vacation (2018)
We follow Dracula as he finds love with ship captain Ericka (Kathryn Hahn) while on a vacation on a cruise liner with his family and friends. However, Mavis discovers that Ericka is actually a descendant of monster hunter Van Helsing (Jim Gaffigan), Dracula's arch-enemy.
'Family is everything. You have to honor the past. But we make our own future.' - Dracula (Hotel Transylvania 3: Summer Vacation)
Click To Tweet
Murray: Man, I hate wearing disguises. These heels are killing me.
Dracula: Okay, take it down a notch. We don't want to alarm the humans.
---
Van Helsing: [moviequotesandmore.com] You can't run from me, Prince of Darkness! I will hunt you for all eternity! I swear I will never rest until I destroy you. And every other monster, if it's the last thing I ever do!
Dracula: Boy, that guy is annoying.
---
Mavis: It doesn't matter where you come from, or how different you are. A Zing only happens once in your life, and you have to cherish it.
---
Murray: She got stitches in all the right places.
Wayne: Okay, there's no way that is related to you, Frank.
Frankenstein: No, she's my right arm's cousin.
---
Frankenlady: Frank wanted me to meet you. We're arm cousins, twice removed.
Dracula: Of course. I'd recognize that bicep anywhere.
---
Dracula: [moviequotesandmore.com] I'm far too busy. I have Mavis and Dennis and the hotel, and bleh, bleh-bleh.
Frankenstein: Did you guys hear that? He actually said, "Bleh, bleh-bleh."
Dracula: I don't say, "Bleh, bleh-bleh!"
4. Hotel Transylvania 4: Transformania (2022)
After Van Helsing's mysterious new invention transforms Dracula and his monster pals into humans, and Jonathan into a monster, with their new mismatched bodies, Dracula and the pack must find a way to switch themselves back before their transformations become permanent.
'If you only see the worst in things, you'll miss the best part.' - Jonathan (Hotel Transylvania 4: Transformania)
Click To Tweet
Mavis: Dad, Johnny did all of this for you. He was trying to make this day special.
Dracula: Oh, you mean by ruining my carefully planned party. Wow, thank you, dear son-in-law.
Mavis: What was that?
Dracula: Oh, hey. Nothing, honeybat.
---
Mavis: Dad, I know you and Johnny don't always see eye to eye, but I love him, and I wouldn't change a thing.
Dracula: Really? You sure you wouldn't make just a few teensy changes?
Dracula: [as he cleans up a frozen Johnny] Better, no?
Mavis: No! He's perfect just the way he is.
Dracula: Okay. Okay. Whatever you say, honeybat. Now, let's continue this special day, because it's going to get even more specialier.
---
Ericka: You ready for your big speech, honeyfangs?
Dracula: Yes, I think so. But Johnny is giving me the greatest headache of my entire existence right now, like a giant wooden stake right through my brain!
Ericka: Oh, you know Johnny. He just gets a little carried away.
Dracula: Yes, exactly. And ruins everything. That's the problem.
---
Ericka: [moviequotesandmore.com] Well, you are just all sorts of wonderful, aren't you?
Dracula: Well, it's not for nothing that they call me Count Wonderful.
Ericka: Oh. Do they?
Dracula: And also Dark Prince of Loveliness. Lord of Smoochy Time.
---
Jonathan: I guess I just never got the feeling that he really thought of me as, you know, part of the family.
Mavis: What are you talking about? Of course you're part of the family.
Jonathan: No, I know. But you know how Cranky Fangs is sometimes. I mean, it feels like I am, but not really.