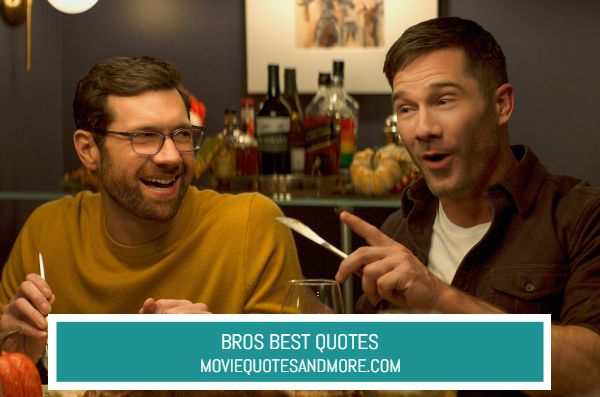 Copyright Notice: It's easy to see when our selected quotes have been copied and pasted, as you're also copying our format, mistakes, and movie scene descriptions. If you decide to copy from us please be kind and either link back, or refer back to our site. Please check out our copyright policies here. Thanks!
Starring: Billy Eichner, Luke Macfarlane, Jim Rash, Bowen Yang, Harvey Fierstein, Ts Madison, Monica Raymund, Guillermo Díaz, Guy Branum, Amanda Bearse, Symone, Miss Lawrence, Benito Skinner
OUR RATING: ★★★½
Story:
Romantic comedy directed and co-written by Nicholas Stoller. Bros (2022) centers on Bobby (Billy Eichner) and Aaron (Luke Macfarlane), two gay men who are busy with the chaos of everyday life that they can't find the time for love. However, after Bobby and Aaron unexpectedly cross paths, the two unwillingly start to develop a loving relationship.
Our Favorite Quotes:
'Happiness for all of us comes from staying fluid, staying open to change. Open to being more than just who you thought you were, or more than what other people assume you are.' - Bobby (Bros)
Click To Tweet
Best Quotes
---
Bobby: [on his podcast] As some of you know, I wrote a series of children's books to help parents teach kids about gay history, which no one bought. Turns out a four year-old didn't want to hear a bedtime story about Martina Navratilova. Hey, parents, thanks for teaching your kids about Santa Claus, a straight man that doesn't exist, and not Martina Navratilova, a lesbian who does.
---
Bobby: These big movie producers came to me and said, "We want you to write a rom-com about a gay couple. Something the whole world would enjoy. Something that a straight guy might even like and watch with his girlfriend." I said, "Something a straight guy might like? Like what exactly? Am I going to be in the middle of some high-speed chase, and then all of a sudden fall in love with Ice Cube? Am I going to get butt-f***ed by Jason Momoa while we're both, I don't know, worrying about a volcano?" And he said, "Bobby, we just want to make a movie that shows the world gay and straight relationships are the same. Love is love is love."
---
Bobby: I said, "Love is love is love? No, it's not. That's bulls**t. That is a lie we had to make up to convince you idiots to finally treat us fairly. Love is not love. Our relationships are different. Our sex lives are different." And he said, "Bobby, we were just trying to make a nice movie about nice gay people." And I said, "Well, there's your first mistake, because not all gay people are nice." And I got up and left. Anyway, it's totally fine. I'm not the right person to write a rom-com anyway.
---
Bobby: I mean, I'm forty years-old. I've never been in love. I've never even had a serious relationship, which is fine. You know, I love my life. I love my freedom. I love my independence. But, you know, probably means I'm not the right person to write a love story.
---
Bobby: And between the weird sex with strangers that you don't like, and conversations with friends you love, that you would never have sex with, you know, you cobble together a version of a romantic single life. And it's good, you know? It works. It's a lot more than what a lot of other people have in this world. And you try to remember that.
---
Bobby: You're in a throuple for six months, and you didn't tell me?
Paul: We didn't know it'd get that serious.
Bobby: How serious is it going to get? You're in a throuple. What are you going to do next, tell your grandparents?
---
Bobby: These things are fragile, and, you know, we're men. Okay? Men dating men. Love is not love. We are horny, and selfish, and stupid. I am too.
---
Tina: And are you happy?
Bobby: Who's so happy all the time?
Tina: A lot of people.
Bobby: Well, I really don't trust those people.
'It is never easy. But it's worth it.' - Bobby (Bros)
Click To Tweet
Bobby: I told Henry I'd meet him at this launch party. I wanted to go home and change first.
Tina: Aren't you guys just going to take your shirts off anyway?
Bobby: No, we're not just going to take our shirts off. It's not 2003. You have a very clichéd view of what gay men do at a party.
---
Henry: [referring to the app] This is Zellweger. It's for gay guys who just want to talk about actresses, then go to bed.
Bobby: Oh, I'd use that.
---
Henry: Bobby, I had sex with a sixty-five year-old.
Bobby: Sixty-five?
Henry: He didn't have an age on his profile. He was really nice, he had an amazing body. But he had this like big, white beard. I felt like Mrs. Claus.
---
Henry: [referring to Aaron] He's at the gym sometimes. Very hot. Very boring.
Bobby: Oh, what else is new?
---
Bobby: [to Aaron] I'm very bad at flirting. And I'm also the type of person who tells you I'm flirting, which is so sexy.
'Confidence is just a choice you make. It's a decision like any other. Usually born out of necessity.' - Bobby (Bros)
Click To Tweet
Aaron: I do probate law. I'm an estate planner. Basically, I write people's wills.
Bobby: Do you like it?
Aaron: Oh, sure. When I was a kid, first thing I would think when I would meet someone is, "Who's that person going to leave their s**t to when they die?" I really wanted to be part of the legal logistics of that.
---
Henry: Oh, my God. That's the sixty-five year-old.
Bobby: Jesus, he's ripped.
Henry: I know. It's like they injected steroids into Dumbledore.
---
Aaron: Gay guys are so stupid.
Bobby: Oh, my God. I know. Gay guys are usually like the absolute smartest, or like the dumbest people I've ever met. We've been smart enough to brand ourselves as being smart and clever.
---
Bobby: What are you into? One of these boring, ripped idiots with no opinions?
Aaron: No, I'd like someone who's physically very frail, and won't stop talking.
'I want to look like a f***ing action star. Forget Provincetown. I want people to think I have a summer share on Jumanji. I'm sick of being niche. I want to be Thor.' - Bobby (Bros)
Click To Tweet
Bobby: [to Aaron] Oh, are you emotionally unavailable? No one's more emotionally unavailable than me. No one. I pride myself on that.
---
Bobby: See you on Grindr, or Zellweger, or whatever the f*** the next one is.
Aaron: I'm not on any of those.
Bobby: Then how do you meet people?
Aaron: I'm not really looking.
Bobby: Yeah. Me neither.
---
Bobby: I know you're voguing, but can I please go home? Please?!
---
Bobby: [over text] I never realized how much Grindr was just like You've Got Mail. Smiley face.
Grindr Guy: Ha-ha. LOL. D**k pic?
Bobby: No d**k pic. Sorry. Think about You've Got Mail. Meg Ryan would never send you a picture of her genitalia.
---
Bobby: [after sending photo of his butt] "Took this just for you, bro." Did he block me?
'I'm too gay for Aaron, but I'm too straight for you? Will somebody please tell me exactly how gay I'm supposed to be?' - Bobby (Bros)
Click To Tweet
Bobby: We cannot afford to push our opening again. People will think we're in trouble. Maybe this whole place could fall apart. We need new ideas for what goes in the final wing, and we need them now. Cherry, go.
Cherry: You know the blue whale hanging in the Museum of Natural History? What about that, but instead of the blue whale, it's a lesbian?
---
Cherry: What about the four hundred lesbians who fought in the Civil War?
Angela: Shut up, Cherry. They were not all lesbians. Some of them were trans men.
---
Robert: I want a hall of bisexuals, like Disney's Hall of Presidents. I want a stage full of animatronic, talking bisexuals. Talking, and moving, and gesturing bisexuals.
---
Robert: This happens to be Bisexual Awareness Week, and no one has acknowledged it!
Wanda: I acknowledged.
Robert: That is true. My bad.
Cherry: Lesbian History Month was in March! Nobody said a goddamn thing! It's June! It was in March!
Robert: Of course, lesbians get a month, and we get a week.
'I insist on progress, not just for our LGBTQ heroes, but for our LGBTQ a**holes.' - Robert (Bros)
Click To Tweet
Wanda: I want you to know that I hear you. I see you, and I'm holding space for you.
Angela: There she go. There she go. She never has any ideas of her own, but she's always "holding space".
---
Bobby: We need to get people to rethink history through a queer prism, not comfort them with another f***ing gay wedding. Alright? It's a museum. It's not Schitt's Creek.
Angela: Ooh, I like Schitt's Creek
Wanda: Love Schitt's Creek.
Cherry: That show has layers.
Bobby: Everyone loves Schitt's Creek. Great. Okay.
Tamara: That's who you remind me of. Eugene Levy.
---
Aaron: [referring to leaving money in his will] Well, sometimes it helps to close your eyes and think about who means the most to you in the world. Who is it?
Melvin Funk: Cher.
Aaron: Okay, so you want to leave a hundred thousand dollars to Cher? Do you really think that she needs that?
Melvin Funk: She has a huge staff.
'It doesn't make you look weak to love someone.' - Tina (Bros)
Click To Tweet
Aaron: [over text] It's Aaron. How's Grindr?
Bobby: A dream. I spent forty-five minutes taking a picture of my own a**.
---
Bobby: [over text] You may be more emotionally unavailable than I am.
Aaron: Well, maybe we can be emotionally unavailable together.
Bobby: "Maybe we can be emotionally unavailable together"? Who's writing your texts? Maroon 5?
'There are people out there worth letting your guard down for. Were you happier with him or without him? That's all that really matters.' - Tina (Bros)
Click To Tweet
Bobby: [over text] We can do whatever, and we can do it whenever. Does that work for you?
Aaron: Yeah, that definitely works.
Bobby: Great. Whatever, whenever.
Aaron: Cool. Whatever, whenever. GIF of Michael Scott dancing. He's good.
Bobby: [to himself] Office GIF? This person isn't gay.
---
Bobby: [to Aaron] You're like a grown-up gay Boy Scout, and I'm like whatever ends up happening to Evan Hansen.
'We are not a monolithic group. We are some of the smartest and most self-reliant people you will ever meet. And we are so stupid. And we are a total mess. And we are great.' - Wanda (Bros)
Click To Tweet
Bobby: What's your favorite movie?
Aaron: The Hangover.
Bobby: The Hangover is your favorite movie of all time? How many movies have you seen? One?
---
Trailer: