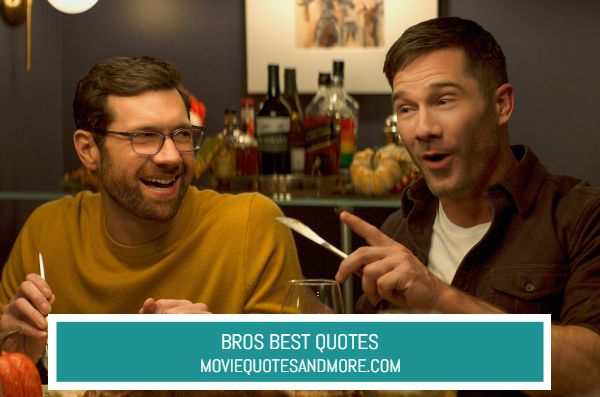 Copyright Notice: It's easy to see when our selected quotes have been copied and pasted, as you're also copying our format, mistakes, and movie scene descriptions. If you decide to copy from us please be kind and either link back, or refer back to our site. Please check out our copyright policies here. Thanks!
Starring: Billy Eichner, Luke Macfarlane, Jim Rash, Bowen Yang, Harvey Fierstein, Ts Madison, Monica Raymund, Guillermo Díaz, Guy Branum, Amanda Bearse, Symone, Miss Lawrence, Benito Skinner
Story:
Romantic comedy directed and co-written by Nicholas Stoller. Bros (2022) centers on Bobby (Billy Eichner) and Aaron (Luke Macfarlane), two gay men who are busy with the chaos of everyday life that they can't find the time for love. However, after Bobby and Aaron unexpectedly cross paths, the two unwillingly start to develop a loving relationship.
We'll add the best quotes once the movie is released and we've had a chance to watch it, but for now, here's a small selection.
Quotes:
Bobby: Hi everyone, it's Bobby Leiber, and welcome to your favorite podcast, where I talk about whatever I feel like talking about.
---
Bobby: So these big movie producers came to me and said, "We want you to write a
rom-com about a gay couple. Something a straight guy might even like and watch with his girlfriend." Something a straight guy might like? They said, we just want a movie that shows the world that gay relationships and straight relationships are the same, love is love, is love. And I said, "Love is love, is love?" No, it's not. That is bulls**t. Our friendships are different. Our sex lives are different. Our relationships are different. I don't want any Hollywood bulls**t. No scenes where two guys are about to hook up, and all of a sudden the camera conveniently pulls away.
---
Bobby: Am I going to be in the middle of some high speed chase, then all of a sudden fall in love with Ice Cube? Am I going to get butt f***ed by Jason Momoa while we're both worrying about a volcano?
---
Bobby: Anyway, it doesn't matter. I'm not the right person to write a rom-com anyway.
---
Woman: Gay guys are my jam.
Aaron: Awesome.
---
Potential Date: [texting] A** pic?
Bobby: [texting] Don't have a** pic.
Potential Date: [texting] Must see pic of a**.
---
Bobby: [after sending photo of his butt] "Took this just for you, bro." Did he block me?
---
Bobby: Hey, guys. It's Bobby Lieber coming to you from the future home of the LGBTQ+ Museum. Everyone is really excited and totally getting along.
---
Colleague #1: This happens to be Bisexual Awareness Week, and no one has acknowledged it!
Colleague #2: Lesbian History Month was in March! Nobody said a goddamn thing!
Colleague #1: Of course, lesbians get a month, and we get a week.
---
Colleague #3: People are threatening to boycott the museum.
---
Colleague #1: You can't say Lincoln was gay.
Bobby: If we don't do this, we're letting the heterosexual terrorists win.
Colleague #4: There are trans terrorists too. Caitlyn Jenner.
---
Colleague #5: Oh, my God. Do you guys remember straight people?
Colleague #2: Yeah, they had a nice run.
---
Bobby: So what's happening? Didn't you guys have an announcement?
Peter: This is a little unexpected, but we are in a thruple situation.
Bobby: You're in a thruple?
---
Bobby: Let me tell you what's progressive now. Being alone. I love my life. I love my freedom. I love my independence.
Friend: That's kind of sad.
Bobby: That I don't want to be in a thruple? I don't even want to be in a couple.
---
Friend: Bobby, I had sex with that sixty-five year-old.
Bobby: Jesus. He's ripped. I know, it's like they injected steroids into Dumbledore.
---
Friend: [to Bobby] Oh, my God. That's Aaron. He's very hot.
---
Aaron: Gay guys are so stupid.
Bobby: I know. But we've been smart enough to brand ourselves as being smart.
Aaron: It's our little secret.
---
Bobby: What are you into, one of these f***ing ripped idiots with no opinions?
Aaron: No, I like someone who's physically very frail, and won't stop talking.
---
Wife: You met a guy?
Bobby: I don't think I'm his type. He's like gay Tom Brady.
---
Wife: [to Bobby] And I bet he's as intimidated by you as you are by him.
---
Husband: [to Bobby] Maybe you're both bottoms and that's the problem.
Little Girl: Bottom dance!
Wife: Ooh, bottom dance.
Bobby: Oh, my God. Gay sex was more fun when straight people were uncomfortable with it.
---
Aaron: [texting] I'm down for whatever.
Bobby: Yeah, I can do whenever, and I can do whatever.
Aaron: Cool. Whatever, whenever. GIF of Michael Scott dancing.
Bobby: "Office" GIF? This person isn't gay.
---
Bobby: I need you to be honest with me. You like these bro-y meathead idiots. Oh, they're fighting. You like that?
Aaron: Hey.
Bobby: I can be tough like your boys. Oh, that's what you like, huh?
Man: [as Aaron and Bobby wrestle] What's going on?
Man: [they see Aaron kiss Bobby] Oh, that's cool. Our bad.
---
Man: Happy Pride.
Bobby: Happy Pride!
Man: [to Bobby and Aaron] Now I have to go to a Pride party, and you're both too old to be in the pool. Please leave.
---
Aaron: You are so different from me. You're very intense.
---
Aaron: I like to keep things chill.
Bobby: I can be chill. Just like a manly man.
---
Friend: What is going on with you?
Bobby: My whole life, I prided myself on being self-reliant. But this m**herf***er has gotten into my head!
Trailer: