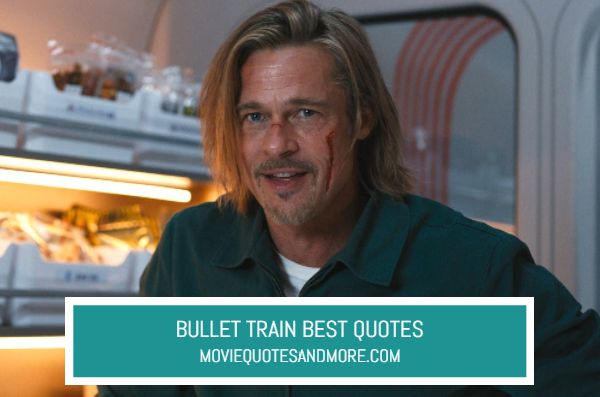 Copyright Notice: It's easy to see when our selected quotes have been copied and pasted, as you're also copying our format, mistakes, and movie scene descriptions. If you decide to copy from us please be kind and either link back, or refer back to our site. Please check out our copyright policies here. Thanks!
Starring: Brad Pitt, Joey King, Andrew Koji, Aaron Taylor-Johnson, Brian Tyree Henry, Zazie Beetz, Masi Oka, Michael Shannon, Logan Lerman, Hiroyuki Sanada, Karen Fukuhara, Bad Bunny, Sandra Bullock
Story:
Action thriller directed by David Leitch. Bullet Train (2022) centers on five assassins, who find themselves on a fast moving Japanese bullet train, where they discover their individual assignments are all interconnected.
We'll add the best quotes once the movie is released and we've had a chance to watch it, but for now, here's a small selection.
Quotes:
Ladybug: Imagine a new way to travel. Tranquil, comfortable, fast. Travel doesn't have to be hectic. Join us for a truly unforgettable experience. NSL, get on board March 2nd. You put peace out in the world, you get peace back.
---
Maria Beetle: [over phone] Talk to me.
Ladybug: I am ready. You are getting the new improved me. Because if you put peace out in the world, you get peace back.
Maria Beetle: I think you might be forgetting what you do for a living.
---
Maria Beetle: Take the gun.
Ladybug: Every job I do, somebody dies. I'm not that guy anymore.
Maria Beetle: Some conflicts require a gun.
---
Ladybug: [as he enters the Bullet Train] Hey, this is nice.
---
Ladybug: Okay. What am I snatching, and or, grabbing?
Maria Beetle: A briefcase. You said you wanted it simple for your first job back. It doesn't get simpler.
---
Ladybug: [as a man on the train attacks him] You stabbed me?
---
Man #1: [as they're fighting] We ruin your life the way you ruined mine!
Ladybug: I don't even know you!
---
Ladybug: Hi. There's gun under the…
Lemon: Ssh. This is the quiet car. Got to use our small inside voice in here, son.
Ladybug: There's a gun…
[Lemon suddenly grabs Ladybug's hand under the table, smacking his head on the table]
Ladybug: There's nothing simple about this job.
Maria Beetle: There's something else going on here.
Ladybug: Yeah. I'm not the only one on this train looking for this case.
---
Tangerine: Lemon, where's the briefcase?
Lemon: Oh, I stashed it.
---
Lemon: [referring to the briefcase] It was just here.
---
Prince: We are right on settle.
---
Hornet: [to Ladybug] This is going to sting!
---
Tangerine: [as they're fighting, the train hostess enters to offer them a drink] Oh, no, thank you.
Ladybug: You know what? Do you have anything sparkling? That's the one. Thank you. Domo arigato.
---
Ladybug: [after the hostess leaves] Are you sure you don't want to talk this out?
Tangerine: Not particularly. No.
Ladybug: Okay.
[tosses the water bottle at Tangerine's head]
---
Man #2: [to Ladybug] Everything that's ever happened to you, has led you here. Fate.
Ladybug: Well, that's a s**t deal.
Trailer: