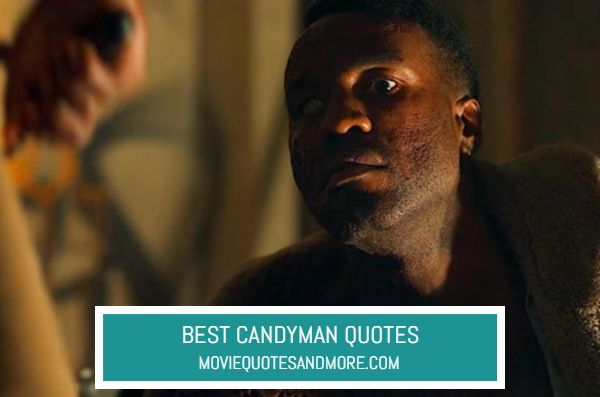 Copyright Notice: It's easy to see when our selected quotes have been copied and pasted, as you're also copying our format, mistakes, and movie scene descriptions. If you decide to copy from us please be kind and either link back, or refer back to our site. Please check out our copyright policies here. Thanks!
Starring: Yahya Abdul-Mateen II, Teyonah Parris, Nathan Stewart-Jarrett, Colman Domingo, Kyle Kaminsky, Vanessa Williams, Rebecca Spence, Christiana Clark, Cassie Kramer, Brian King, Tony Todd, Miriam Moss
OUR RATING: ★★★☆☆
Story:

Horror thriller reboot directed by Nia DaCosta and co-written and co-produced by Jordan Peele. Candyman (2021)  follows artist Anthony McCoy (Yahya Abdul-Mateen II), who becomes obsessed with the legend of the serial killer, Candyman, as he returns to the neighborhood where the legend began, the now-gentrified section of Chicago where the Cabrini-Green housing projects once stood.
Our Favorite Quote:
'The more things change, the more things stay the same.' - William Burke (Candyman)
Click To Tweet
Best Quotes
---
Troy Cartwright: As I told my sister many times, the neighborhood is haunted.
Anthony McCoy: Everywhere is haunted.
---
Anthony McCoy: Cabrini-Green. It was the projects. It was affordable housing that had a particularly bad reputation.
Grady Greenberg: You would never know.
Anthony McCoy: Yeah, because they tore it down and gentrified the s**t out of it.
Brianna Cartwright: Translation, white people built the ghetto, and then erased it when they realized they built the ghetto. Ooh, no offense.
Grady Greenberg: None taken.
---
Brianna Cartwright: They kept telling people they were going to make it better, moving them from place to place. But, really, they were just tearing it down, so they could develop everything around it.
Grady Greenberg: Oh, like here.
---
Troy Cartwright: You guys want to hear a scary story?
Brianna Cartwright: No.
Troy Cartwright: Too bad.
---
Troy Cartwright: This is a story about a woman named Helen Lyle. She was a grad student, a white grad student, doing her thesis on the urban legends of Cabrini-Green. For research, she came down to Cabrini a few times. You know, asking questions, taking pictures of graffiti, of people. And then, one day, she just snaps. She beheaded a Rottweiler. By the time the police show up, she's in one of the apartments, doing snow angels in a pool of blood.
---
Anthony McCoy: [referring to Helen Lyle] She killed a Rottweiler?
Grady Greenberg: Yeah, this is extra, even for you.
Troy Cartwright: There are articles written about this. Look it up. The authorities take her in, but she escapes almost immediately. She goes on a rampage, leaving a trail of bodies in her wake. And then, the baby of one of the residents is abducted. The mother is devastated. Everyone is looking for him, and nothing.
---
Troy Cartwright: On the night of the annual bonfire, with all of the residents of Cabrini watching, Helen arrives with a sacrificial offering. Baby in her arms, she runs towards the fire, but they're on her, quick. They say she was in a fugue state, fighting back blindly. But they got the baby free. While everyone is fussing over him, Helen stands up, and walks right into the fire. And it's on that spot that she dies, burns to death, right in the middle of Cabrini-Green.
---
Brianna Cartwright: I'm not trying to get creeped out in my new apartment before bed.
Anthony McCoy: Your new apartment is ghost-proof. It was on the Zillow listing.
Brianna Cartwright: Our new apartment.
---
William Burke: They'd almost never come round here back in the day. Unless it was to take someone in. But that was a long time ago. Now they can't seem to stay away. At night, they post up where the last of us still live, a police car on either side of the block. Keeping us safe, or keeping us in.
---
William Burke: The more things change, the more things stay the same.
---
William Burke: One white woman dies in the hood, and the story lives on forever.
Anthony McCoy: It's a good story, I guess.
---
Anthony McCoy: Makes you think about what could make someone just snap like that.
William Burke: Helen Lyle was out here looking for Candyman. You ask me, I say she found him.
---
Anthony McCoy: What's Candyman?
William Burke: For me, Candyman was a guy named Sherman Fields. He had a hook for a hand. Neighborhood character. Used to stand there and hand out sweets when I was a kid. One October, a razor blade shows up in a little white girl's Halloween candy. Police come around looking for Sherman, but Sherman's gone. And one day, I saw him myself. He'd been hiding in the walls. That's when I saw the true face of fear.
---
William Burke: They swarmed him. Killed him right there on the spot. What shows up a couple weeks later? More razor blades in more candy. That's when we knew Sherman had been innocent. Harmless. But that wasn't the last we saw of him.
---
Anthony McCoy: [referring to his mother, Anne-Marie] Is she okay?
Brianna Cartwright: She implied that I give you money so you won't visit her.
Anthony McCoy: So, she's about the same.
---
Anthony McCoy: Sherman's face was beaten so badly that it was unrecognizable, and that's where the story started. About them seeing him around Cabrini. About him coming to get you. Over time, his name disappears, and he just becomes the Candyman. What do you think?
Brianna Cartwright: Well, it's a pretty literal approach. Not much room for viewer interpretation, you know. Moving from the symbolism of violence to the actual depiction of it.
Anthony McCoy: Okay, but how is it hitting you?
Brianna Cartwright: It's painful.
---
Anthony McCoy: I feel really connected to this. I've never been this clear before. It's like I know exactly what I'm meant to be doing right now.
---
Anthony McCoy: The legend is, if you say his name five times while looking in the mirror, he appears in the reflection and kills you. So, I thought that we could…
Brianna Cartwright: What did you think?
Anthony McCoy: Summon him.
Brianna Cartwright: Hell, no.
---
Anthony McCoy: Candyman.
Brianna Cartwright: Stop! Stop it.
Anthony McCoy: Candyman.
Brianna Cartwright: Stop it!
Anthony McCoy: Okay.
Brianna Cartwright: You better not do that last one.
Anthony McCoy: Okay! Okay. Okay. Candyman.
---
Anthony McCoy: The mirror invites you to attempt the summoning yourself. Anyway, I don't know why I'm standing next to my own piece like some kind of a**hole. The work speaks for itself.
Finley Stephens: Oh, it speaks, alright. It speaks in didactic knee-jerk clichés about the ambient violence of the gentrification cycle. But your kind are the real pioneers of that cycle, you know.
Anthony McCoy: Excuse me?
Finley Stephens: Artists. Artists descend upon disenfranchised neighborhoods divining cheap rent, so they can d**k around in their studios without the crushing burden of a day job.
---
Grady Greenberg: Should we try it?
Troy Cartwright: What?
Grady Greenberg: Summon the Candyman?
Troy Cartwright: Yeah, no. Black people don't need to be summoning s**t.
Grady Greenberg: Come on, that is nonsense.
Troy Cartwright: This isn't the bayou. In Chicago, that's white people s**t.
---
Jerrica Cooper: Say what five times in the mirror?
Clive Privler: You tell me. You proofread the press release, Jerrica. Candyman. But don't do it, okay? I don't want you to die tonight. At least, not until we f***.
Jerrica Cooper: You're no good for me.
Clive Privler: You know what? I changed my mind. Do it. Necrophilia's always been on my bucket list.
---
Jerrica Cooper: [after they've said Candyman five times] See? Nothing.
Clive Privler: So much for that.
[just then Candyman appears from behind and slashes Jerrica's throat]
---
Anthony McCoy: [after the newsreport of the Clive and Jerrica's murders] They said my name. And Say My Name. I don't know. Just it's cool to be mentioned, I guess. I mean, obviously it's awful.
Troy Cartwright: Really?
---
Gil Cartwright: [as Brianna remembers her father's suicide] Hey. I bet you didn't know your daddy could fly. Did you? Well, I can.
---
Helen Lyle: [Anthony listens her recorded voice] Some of the things that have happened in Cabrini over the years, violence just so extreme, so bizarre. It's almost as if violence became a ritual. The worst part, the residents are afraid to call the police. A code of honor, perhaps, fear of the police themselves. The easy answer is always, "Candyman did it." The summoning game itself could be connected. I mean, it's clear that no one person makes this up. This grew from the community's collective subconscious. A survival tool evolved from the need to protect itself and its children from the horrors of the community.
---
Helen Lyle: [Anthony listens to her recorded voice] Bernadette and I tried the summoning. It's amazing how effective it can be. The suggestion that you're being followed, or stalked, by something lurking in your own reflection. But I get it.
---
Anthony McCoy: Brianna Cartwright: Jack Hyde is coming in from New York, and he never comes to Chicago. So, please don't f*** this up.
Anthony McCoy: I'll be fine.
Brianna Cartwright: For me. Don't f*** this up for me.
---
Trailer: