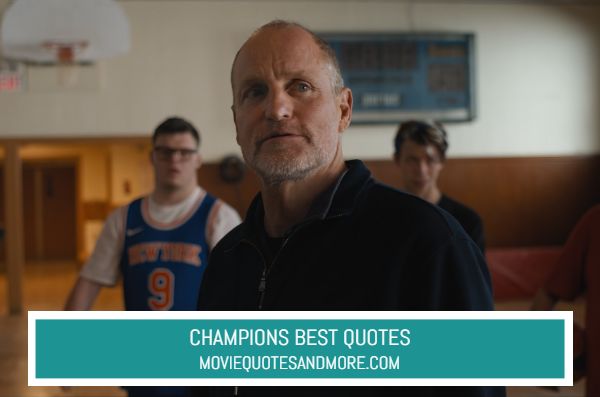 Copyright Notice: It's easy to see when our selected quotes have been copied and pasted, as you're also copying our format, mistakes, and movie scene descriptions. If you decide to copy from us please be kind and either link back, or refer back to our site. Please check out our copyright policies here. Thanks!
Starring: Woody Harrelson, Kaitlin Olson, Ernie Hudson, Cheech Marin, Matt Cook
Story:
Comedy drama directed by Bobby Farrelly. Champions (2023) centers on the story of a former minor-league basketball coach, Marcus (Woody Harrelson), who, after a series of missteps, is ordered by the court to manage a team of players with intellectual disabilities. He soon realizes that despite his doubts, together, this team can go further than they ever imagined.
We'll add the best quotes once the movie is released and we've had a chance to watch it, but for now, here's a small selection.
Quotes:
Sports Commentator: Remember Marcus Marakovich? Well, he got fired.
Jalen Rose: That wasn't nice.
Sports Commentator: Nothing but bad news for the Iowa Stallions.
Marcus: [as he's watching them on his phone] What an idiot.
---
Judge Mary Menendez: Mr. Marakovich, I will offer you community service, coaching adults with intellectual disabilities.
Marcus: Your Honor, we talking re, re…
---
Attorney McGurk: [to Marcus] Woh! No boo-boo words.
---
Marcus: Okay, fellas. We're going to do a simple ball handling exercise.
Craig: My girlfriend loves those.
---
Marcus: It's impossible to coach these guys.
Julio: You don't have to turn them into the Lakers. They just need to feel like a team.
---
Marcus: We're going to need some help.
---
Julio: You're getting a player off the injured list.
---
Marcus: Welcome to the team, Cosentino. What's with the boogie board?
Cosentino: You do you, I do me. Okay? Where did you get this guy?
Young Man: He just showed up one day.
---
Johnny: This is my sister, Alex. You want to do carpool karaoke with us?
Marcus: I don't karaoke.
Johnny: [singing] I get knock down, and I get up again. You're never going to keep me down.
---
Coach Phil Peretti: [to Marcus] You know the game better than anybody. You got to learn to build relationships.
---
Marcus: You got to defend over here!
---
Marcus: I'm new to all this.
Alex: Yeah. I can tell.
---
Marcus: Hey, we got next.
Man: Don't make me say it.
Marcus: Make you say what?
Man: They're re…
Marcus: [as he punches the man in the gut] That's a boo-boo word.
Benny: We got next!
---
Young Man: Coach, this doesn't feel right.
[holds up his hand to reveal his little finger bent to the side]
---
Marcus: I should be coaching in the NBA.
---
Alex: Well, you never know where things could lead.
---
Marcus: No doubt.
---
Marcus: That was fun.
Alex: You were passable.
---
Cosentino: [to Marcus] Girlfriend problems?
Marcus: I don't have a girlfriend.
Cosentino: Makes sense.
Marcus: Oh, what am I that bad looking?
Cosentino: You're no McConaughey.
---
Coach Phil Peretti: If you can get this team to this Special Olympics finals, you might be ready to be back in the NBA.
---
Reporter: We've been following your incredible story, Coach.
---
Johnny: Give me a hug, Coach!
---
Marcus: I don't know if you're brave, or crazy. But I know, this is your shot at being champions.
Trailer: