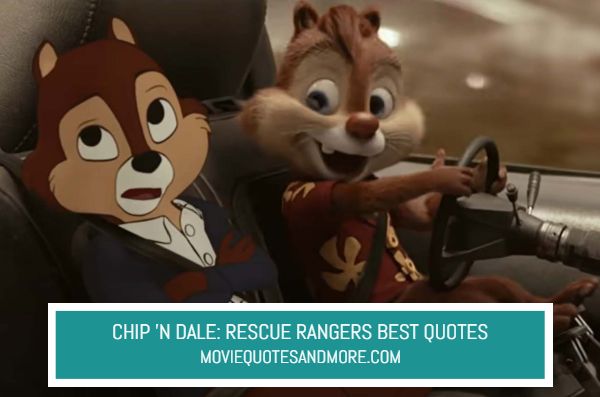 Copyright Notice: It's easy to see when our selected quotes have been copied and pasted, as you're also copying our format, mistakes, and movie scene descriptions. If you decide to copy from us please be kind and either link back, or refer back to our site. Please check out our copyright policies here. Thanks!
Starring: John Mulaney, Andy Samberg, KiKi Layne, Will Arnett, Eric Bana, Flula Borg, Dennis Haysbert, Keegan-Michael Key, Tress MacNeille, Tim Robinson, Seth Rogen, J.K. Simmons, Chris Parnell, Corey Burton
Story:
Disney+ live-action and animated adventure comedy directed by Akiva Schaffer. Chip 'n Dale: Rescue Rangers (2022) follows Chip and Dale (John Mulaney and Andy Samberg), who are living a life of mediocrity in modern-day Los Angeles in a world where humans and cartoon characters live together. When a former cast mate mysteriously disappears, Chip and Dale must repair their broken friendship and take on their Rescue Rangers detective personas once again to save their friend's life.
We'll add the best quotes once the movie is released and we've had a chance to watch it, but for now, here's a small selection.
Quotes:
Chip: To many more seasons of the Rescue Rangers!
---
Dale: We were living the dream, dancing the Roger Rabbit, with Roger Rabbit!
---
Dale: [thirty years later] I just want to remind you guys, I'll be at FanCon this afternoon.
---
Dale: I'm keeping myself fit. And, you know, updated modern look.
---
Interviewer: Don't you think you'd have more fans here if Chip these events with you?
Dale: I haven't thought about it in a little while. I should give him a call. See how life's treating him.
---
Ellie Whitfield: I searched the perimeter. No clues.
Detective: Why would there be? Six missing toons in a month, and not one clue.
---
Chip: Life is the worst. Which is why you need good insurance.
---
Chip: A message on my landline. I don't like that.
Dale: [as Chip plays the message] I know you're still mad about Rescue Rangers getting canceled. But I just got a call from the police, and I need your help.
---
Chip: You look different.
Dale: Hey, it's no secret I had the CGI surgery done.
---
Dale: What's been up with you?
Chip: You know, this, that. Other vague things to fill the space of this conversation.
Dale: Cool.
---
Chip: We can see what we can find out, and then pass it along to the officer. But that's all we're going to do.
Dale: So you're saying the Rescue Rangers are back! Yes!
---
Monterey Jack: My love of cheese got the best of me. I just love it so much.
---
Mouse: [as he's been fed cheese] More please. More please.
---
Agent: I'm thinking reboot!
---
Chip: Nobody wants a reboot!
---
Con Attendee: It's the Rescue Rangers!
---
Dale: We need a disguise or something! Grab the first thing you can!
Chip: [as he puts on Indiana Jones's famous leather jacket and hat] Uh, what?
Dale: Rescue Rangers two-point-o!
---
Dale: This place looks weird.
Chip: Remember that animation style, where everything looked real, but nothing looked right?
---
Peter Pan: You two come poking around where you don't belong, and I can't have that.
Dale: [to Chip] Run!
---
Peter Pan: I was always more of an Alvin and the Chipmunks person.
Chip: You monster!
---
Bob: [looking like a motion capture Viking] Who are you?
Dale: Are you talking to us?
Bob: Obviously.
Chip: But it looks like you're talking to that window.
Bob: It actually looks like I'm looking right at you.
Dale: Okay.
Bob: Look at my eyes, looking right at your eyes.
Chip: Yeah.
---
Bob: What are you looking at?
Pumbaa: Honestly, your weird dead eyes.
---
Chip, Dale: It was like professional. Ha! Same time. Ha! Jinx! You owe me a non-brand specific cola. What? That was crazy! Somebody call Guinness Book! This is…
Dale: Incredible!
Chip: Blowing my mind!
Dale: Oh, we lost it!
Trailer: