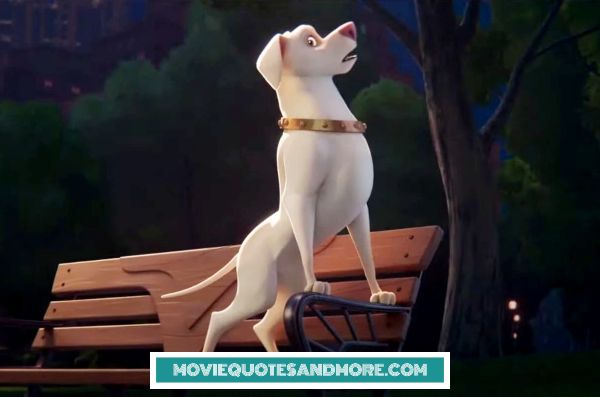 Copyright Notice: It's easy to see when our selected quotes have been copied and pasted, as you're also copying our format, mistakes, and movie scene descriptions. If you decide to copy from us please be kind and either link back, or refer back to our site. Please check out our copyright policies here. Thanks!
Starring: Dwayne Johnson, Kevin Hart, Kate McKinnon, John Krasinski, Vanessa Bayer, Natasha Lyonne, Diego Luna, Keanu Reeves, Marc Maron, Thomas Middleditch, Ben Schwartz
Story:
Animated superhero comedy directed by Jared Stern and by Sam Levine. DC League of Super-Pets (2022) follows Krypto (Dwayne Johnson), who is Superman's dog and best friend, sharing the same superpowers and fighting crime in Metropolis side by side. But when Superman and the rest of the Justice League are kidnapped, Krypto must convince a rag-tag shelter pack, Ace the hound (Kevin Hart), who becomes super strong, PB the pig (Vanessa Bayer), who can grow to giant size, Merton the turtle (Natasha Lyonne), who becomes super fast, and Chip the squirrel (Diego Luna), who gains electric powers, to master their own newfound powers and help him rescue the superheroes.
We'll add the best quotes once the movie is released and we've had a chance to watch it, but for now, here's a small selection.
Quotes:
Krypto: [to a snoring Clark Kent, MQM] Wake up, buddy. It is walk o'clock. Maybe I should let him sleep.
---
Clark Kent: [as Krypto finally manages to wake Clark, MQM] And I'm up. Okay, Krypto. We'll go for a walk.
---
Krypto: [moviequotesandmore.com] I have an owner, and he's Superman.
---
Clark Kent: [uses his laser eyes to iron his shirt, MQM] Let me just iron that out. They should call me Iron Man.
Clark Kent: [laughs] No.
---
Clark Kent: My dog's the best, but he's not the greatest with other animals.
---
Krypto: [moviequotesandmore.com] What is new with you, fellow normal dog?
Dog: I bit the FedEx guy the other day.
Krypto: Who was he working for? General Zod? The Legion of Doom?
Dog: FedEx.
Krypto: Of course! The federation of exes. Not to be trusted.
Dog: What is taking my owner so long?
---
Lex Luthor: Well, well, well. If it isn't the Justice League.
---
PB: What's going on?
Chip: You're super strong.
Ace: I should be a lot more dead right now, right?
Trailer: