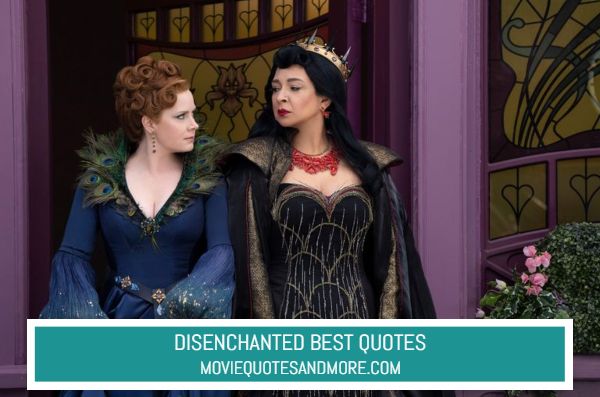 Copyright Notice: It's easy to see when our selected quotes have been copied and pasted, as you're also copying our format, mistakes, and movie scene descriptions. If you decide to copy from us please be kind and either link back, or refer back to our site. Please check out our copyright policies here. Thanks!
Starring: Amy Adams, Patrick Dempsey, James Marsden, Idina Menzel, Gabriella Baldacchino, Maya Rudolph, Yvette Nicole Brown, Jayma Mays, Oscar Nunez, Griffin Newman
Story:
Disney+ live-action animated musical fantasy comedy sequel directed by Adam Shankman. Disenchanted (2022) is set fifteen years since Giselle (Amy Adams) and Robert (Patrick Dempsey) wed, but Giselle has grown disillusioned with life in the city, so they move their growing family to the sleepy suburban community of Monroeville in search of a more fairy tale life. Unfortunately, it isn't the quick fix she had hoped for. Suburbia has a whole new set of rules and a local queen bee, Malvina Monroe (Maya Rudolph), who makes Giselle feel more out of place than ever. Frustrated that her happily ever after hasn't been so easy to find, she turns to the magic of Andalasia for help, accidentally transforming the entire town into a real-life fairy tale and placing her family's future happiness in jeopardy. Now, Giselle is in a race against time to reverse the spell and determine what happily ever after truly means to her and her family.
We'll add the best quotes once the movie is released and we've had a chance to watch it, but for now, here's a small selection.
Quotes:
Giselle: I know that change can be scary, but it can also be exciting.
---
Robert Philip: If I learned anything from meeting a princess on a billboard, is that sometimes you just have to take a leap.
Giselle: Let's start our new life.
---
Giselle: Pretty soon this whole place will feel like home, you'll see. It's all part of the adventure.
---
Morgan Philip: That's not an adventure. That's a landfill.
Giselle: A land filled with adventure.
---
Giselle: [referring to their new house] It's what they call a fixer-upper.
Prince Edward: Yes. Once your peasants have dugout the moat, and added a turret, and a balcony from which you can sing. I see it now.
---
Malvina Monroe: [to Giselle and Robert] Malvina Monroe. I would have sold you this house, but I deal in slightly more upscale homes.
---
Giselle: In Andalasia, the hardest part of life is finding your happily ever after. This world is very different.
---
Prince Edward: If this world is not to your liking, then you must change it.
---
Pip: Jumping jelly sticks! Wait! How am I talking?
---
Giselle: I wished for a fairytale life, and it's all gone terribly wrong. Or terribly right.
---
Book: At the last stroke of twelve, nothing will be as it was before.
---
Rosaleen: That's wicked.
Giselle: Wicked good. Oh.
---
Malvina Monroe: Oh, Giselle, what have you done?
Trailer: