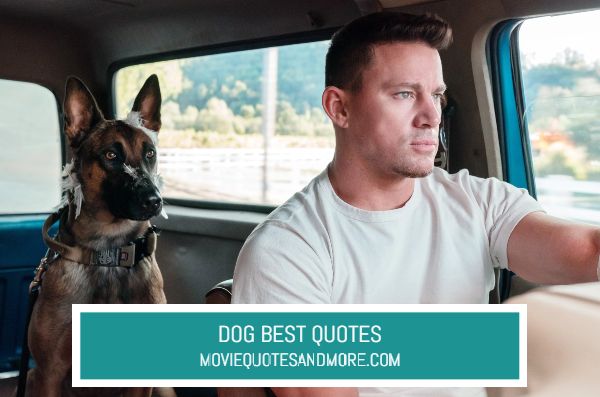 Copyright Notice: It's easy to see when our selected quotes have been copied and pasted, as you're also copying our format, mistakes, and movie scene descriptions. If you decide to copy from us please be kind and either link back, or refer back to our site. Please check out our copyright policies here. Thanks!
Starring: Channing Tatum, Jane Adams, Kevin Nash, Q'orianka Kilcher, Ethan Suplee, Emmy Raver-Lampman, Nicole LaLiberté, Luke Forbes, Ronnie Gene Blevins
OUR RATING: ★★★½
Story:
Buddy comedy directed by Channing Tatum and Reid Carolin, and co-written by Reid Carolin. Dog (2022) centers on former Army Ranger Briggs (Channing Tatum) and his Belgian Malinois companion Lulu as they head to the Pacific Coast in time to catch their best friend's and handler's funeral. One of them has a week to live, the other lives like every day is his last.
Our Favorite Quotes:
'Look, I'm no good at this poem stuff, so I'll just get to the damn point. Thanks. Thanks for saving my life.' - Jackson Briggs (Dog)
Click To Tweet
Best Quotes
---
Jackson Briggs: [to Jones, as he's begging to go back on rotation] Might as well just get the strap out of the center console and put me down if I can't get back in the game, just go ahead and end it for me. Just put me out of my misery, it's fine.
---
Fort Lewis MP: [referring to Briggs's ID] It's expired, sir.
Jackson Briggs: Oh, come on, man. You know how many times I've been in and out of this gate with that?
Fort Lewis MP: Excuse me?
Jackson Briggs: Okay. Think about it. What's the odds I'm ISIS?
Fort Lewis MP: Step out of the vehicle, sir.
Jackson Briggs: You want me to step out of the vehicle? I'll happily…
Ranger Jones: He's with the Ranger battalion.
Jackson Briggs: Ranger battalion.
Fort Lewis MP: [referring to Brigg's ID] You're required to dispose of this.
Jackson Briggs: [flips off the MP] What did you say? I'm sorry, what? Thank you for your service.
---
Jackson Briggs: So what do you got to do? Interview me, or something, to make sure I've got a brain cell left, or…
Ranger Jones: Yeah, something like that.
---
Jackson Briggs: Riley was about as solid as they come.
Sgt. Kiernan: Tell that to the tree he hit doing a hundred and twenty.
---
Jackson Briggs: What's going to happen to his dog?
Ranger Jones: Thought you'd never ask. Family funeral's Sunday outside of Nogales. She's the guest of honor.
Jackson Briggs: Oh, that's a genius idea. I hope she doesn't eat everybody first.
Ranger Jones: Well, that part will be up to you.
Jackson Briggs: Wait, wait. What?
---
Jackson Briggs: [referring to Lulu] Sir, are you asking me to fly a damn dog to Arizona?
Ranger Jones: No, I'm asking you to drive a Ranger to Arizona. She refuses to fly.
Jackson Briggs: Why ain't she deploying with you?
Ranger Jones: Won't work with anyone. One minute she's good, the next minute, she's sending three guys to the ER.
---
Jackson Briggs: [referring to Lulu] So they're just going to put her down anyway.
Ranger Jones: There's not a handler, or a PD crazy enough to adopt her up. Doesn't make us feel warm and fuzzy inside. Just is what it is.
Jackson Briggs: How about I disappear her a**, you make the call, and we both go on with our lives? How about that?
Ranger Jones: You stick your neck out for Battalion, I'll stick mine out for you. Take it or leave it.
---
Ranger Jones: Here's the deal, Briggs. This isn't the same dog you served with. She's got every combat trigger in the book. So you keep her secured, and you don't take her out in public.
---
Jackson Briggs: [to Lulu] What's up, dog? You remember me? Your favorite chew toy from 2015. Huh?
---
Jackson Briggs: [to Lulu] Me and you are going to go on a little road trip. Fifteen hundred miles. Just to act like your daddy's looking down on us from above.
---
Jackson Briggs: [to Lulu] You really did give up, huh? What are y'all so scared of? She's milding out big-time.
Kennel Master: [laughing as Lulu knocks Briggs to the ground] Hey, man, I forgot to tell you not to touch her on the ears, man. I left that part out.
---
Jackson Briggs: [to Lulu] What? What is your deal, man? Come on. You're just slobbering all over my seats. Maybe just take the crazy down. Just like one notch. Just one notch, that's it. And maybe we could get along. And if we get along, maybe we could even have some fun, and send Riley off right. Doesn't that sound nice, dog? I'm all you got. I'm it. It's just me.
---
Jackson Briggs: [to Lulu] Believe it or not, I don't want to keep you all muzzled up twenty-four-seven. I really don't. And to be honest, I don't want to drive straight to some dry-a** desert town, and just sit in a motel, and stare at a wall for five days waiting for his funeral. Do you?
'We trained to put the whole world on our back. At the end of the day, the hardest thing was knocking on a friend's door.' - Noah (Dog)
Click To Tweet
Jackson Briggs: [as he's about to take Lulu's muzzle off] Just remember all those times we had fun kicking in doors, getting our murder on. Relax, I'm not the bad guy. Easy. Do not bite me in the face, alright? I'm going to reach up, I'm not going to touch your ears, or near your ears. Alright, I'm not touching that, I'm not touching that.
---
Jackson Briggs: [as Lulu is shredding his car seat] You know, I was going to let you have a little bit of fun on this trip. I was going to let you run, and frolic, you know, sniff some buttholes, and all that. But, no. Turns out they are right, you're just a demon. You're just a demon!
---
Jackson Briggs: [after he's drugged Lulu] Man, you used to be a legend. Not no more, huh? You're just falling asleep on me.
---
Jackson Briggs: [as Lulu is falling asleep] That's really nice of you. You're right too, I haven't been laid in a while. Maybe not as long as you, but that's not the point. Still sad, and we'll keep that a secret.
---
Jackson Briggs: [to Lulu] Look, I didn't want to drug you. You didn't have to eat my seats, that's all I'm saying. We can be friends, but this is going to be an eye for an eye. Are we going to be cool? Or do we need to have another meeting of the mind? Fine, you don't want to trust me, fine. I don't even care. I definitely don't trust you, so whatever.
---
Jackson Briggs: I was about to give up on this city before I met y'all.
Bella: Well, Portland's not for everybody.
Jackson Briggs: I don't know, it's growing on me. It's not every day you meet two plant musician ladies.
---
Bella: We help heal people by moving blocked energy so they can experience the full potential of sexual pleasure.
Jackson Briggs: Oh. So you just move the energy for… Hell, yeah. I mean, I got cash in the truck, I think.
Zoe: Oh, no. No. No, the attraction is completely genuine.
Bella: As long as it's in the flow for you.
Jackson Briggs: No, I'm good. Kidding. I'm so in the flow.
---
Bella: Your body is in so much pain. I'm so sorry, we had no idea.
Jackson Briggs: No, no. Look, it's fine. It's fine. Do I have permission to remove your shirt? Because I want to take care of your heart.
Zoe: This is why we were drawn together.
---
Jackson Briggs: Hey! What are you doing?
Brad: [referring to Lulu, who's barking in the truck] Freeing that abused animal.
Jackson Briggs: You throw that rock and we're about to see who's abused.
Brad: Of course you threaten violence, you redneck!
Jackson Briggs: You're the one with the rock, man.
Jackson Briggs: [after Lulu ruins his night with Bella and Zoe] You ruined an epic threesome.
---
Jackson Briggs: Whatever happened to you, dog, huh? Remember when Maretti died? Riley made us watch like fifteen hours of Grey's Anatomy. Everybody was sitting around, and then you just came around with your fat head, nuzzling everybody, being all cute, making everybody laugh. Whatever happened to that dog, huh?
---
Jackson Briggs: [to Lulu] People like me and you are better off just being all in or all out. I just wouldn't want some bulls**t-a** injection, like you're going to have. I mean, it's not like you've got a choice in the matter, but it's just not a warrior's death.
---
Jackson Briggs: [to Lulu] Hey, come on, man. Stop the whining. You sound like a whiney-a** chihuahua.
---
Jackson Briggs: [referring to Lulu] How did you make her eat out of your hand?
Tamara: I didn't make her do anything. I just talked to her.
---
Gus: Listen, I'm a lot better at permaculture than I am tying dudes up. I need to know, man, how close was I to…
Jackson Briggs: Dying?
Gus: Yeah.
Jackson Briggs: Pretty close, actually. I almost put an axe in the back of your head.
---
Trailer: