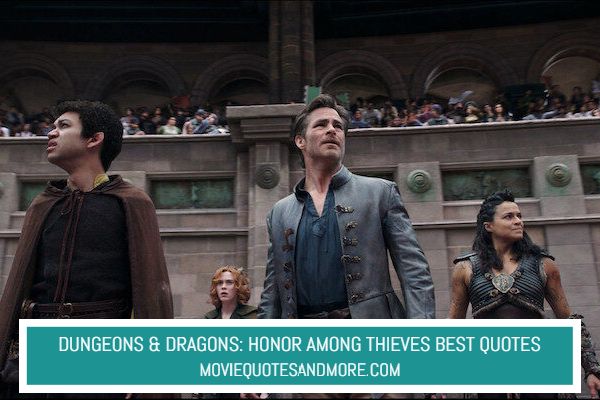 Copyright Notice: It's easy to see when our selected quotes have been copied and pasted, as you're also copying our format, mistakes, and movie scene descriptions. If you decide to copy from us please be kind and either link back, or refer back to our site. Please check out our copyright policies here. Thanks!
Starring: Chris Pine, Michelle Rodriguez, Regé-Jean Page, Justice Smith, Sophia Lillis, Hugh Grant
Story:
Fantasy action adventure comedy, based on the tabletop role-playing game, directed and co-written by Jonathan Goldstein and John Francis Daley. Dungeons & Dragons: Honor Among Thieves (2023) follows a charming thief, Elgin (Chris Pine), and a band of unlikely adventurers, Holga (Michelle Rodriguez), Xenk (Regé-Jean Page), Simon (Justice Smith), and Doric (Sophia Lillis), that undertake an epic heist to retrieve a lost relic. But things go dangerously awry when they run afoul of the wrong people.
We'll add the best quotes once the movie is released and we've had a chance to watch it, but for now, here's a small selection.
Quotes:
Edgin: Here's the thing. We're a team of thieves. And when you do this, you're bound to make enemies. Sometimes those enemies come looking for revenge.
---
Edgin: Truth be told, we helped the wrong person steal the wrong thing. We didn't mean to unleash the greatest evil the world has ever known. But we're going to fix it.
---
Holga: Well, how do we pull that off?
Edgin: Uh…
Holga: Figure it out over a drink?
Edgin: Probably best.
---
Holga: How are we going to pull this off?
Edgin: We're going to need a team.
---
Edgin: We're facing the greatest evil the world has ever known.
---
Holga: What is that?
Edgin: [as they see the dragon] Run!
Holga: It's a dead end!
Doric: Up there!
Edgin: Portal us out of here!
---
Doric: He's executing our people.
---
Xenk: This is unlike anything we've ever seen.
---
Holga: What's trying to kill us this time?
Edgin: Pretty much everything.
---
Simon: The magic is on a whole other level.
---
Holga: We're outmatched. How are we going to defeat them?
---
Edgin: Oh, I got a good feeling about this.
---
Edgin: To give us a fighting chance, we're going to need strength. You got this, right?
Holga: I know you don't.
---
Guard: On your knees.
Holga: Okay. Chop it off.
Edgin: Chop it off. Let's do it.
Edgin: [as Holga uses a loose brick to attach the guards] Oh, we got him now!
---
Edgin: You know what? I'm thinking there are probably sharper stairs somewhere else.
---
Edgin: We also need courage. Magic.
Edgin: [to Doric] And you.
---
Doric: What is it exactly that you bring to this?
Edgin: I'm a planner. I make plans.
Doric: You've already made the plan, so.
Edgin: If the existing plan fails, I make a new plan.
Doric: So you make plans that fail?
Edgin: No.
Holga: He also plays the lute.
Edgin: Not relevant.
---
Edgin: What is that again?
Simon: It's an owlbear.
---
Edgin: None of us can say our lives gone the way we'd hoped.
---
Forge: I did think you'd serve longer.
Edgin: We got an early release.
Holga: Good behavior.
Edgin: Yeah. Behaving good.
---
Forge: What a profound joy it is to welcome you, the good people of Neverwinter, through the resumption of the High Sun King. Do not leave the arena till the close of the games, as there will be a wonderful gift for each and every one of you.
Forge: [looks down] Alright. Take me down. This is absurdly high. It's not what we discussed.
---
Holga: So we just go through the maze?
Simon: I guess till we reach the cage.
Edgin: Run!
---
Edgin: There must be a way to get out of the arena.
---
Xenk: The Red Wizards created an army of the undead.
Simon: Sounds lovely.
Xenk: Quite the opposite.
Simon: I know. I was being ironic.
Xenk: I find irony is a blade that cuts he who wields it most especially.
Holga: You're not a lot of fun, are you?
---
Xenk: I will not be complicit in the illicit use of ill-gotten booty.
Edgin: Can someone else ride next to this guy?
---
Xenk: Be warned. There is evil here.
---
Xenk: Follow me to the orifice.
Edgin: The orifice?
Simon: I'll go last.
---
Holga: [referring to Xenk] I'm glad he's on our side.
---
Edgin: Okay, Simon. How does this work?
Simon: Right. Once the dead man is revived, we can ask him five questions, at which point, he will die again, never to be re-revived.
Doric: Why five questions?
Simon: I don't know. That's just how it works.
Doric: Seems arbitrary.
Edgin: Can we get on with this please?
Simon: Right. Yes.
---
Simon: [screams after the dead man is revived] I wasn't scared. Merely startled.
Edgin: Here we go. Were you killed in the The Battle of Evermores?
Revived Corpse: Yes.
Edgin: Great. I mean, you know, not for you. Sorry for your loss.
Edgin: [to Simon] Four more questions, right?
Revived Corpse: Yes.
Edgin: No. No. That wasn't for you.
Edgin: [to Simon] Did that count as a question?
Revived Corpse: Yes.
Edgin: Dammit. Only answer when I talk to you. Okay?
Simon: Why did you say, "Okay", at the end of that?
Revived Corpse: I didn't.
Edgin: [as the revived corpse mean dies again] Fantastic. Where is the shovel?
---
Edgin: This one's dangerous. But whatever happens, we'll be ready.
---
Edgin: Holga, I could kiss you!
Holga: Try it.
---
Edgin: Just because that sentence is symmetrical, it doesn't make it not nonsense.
---
Xenk: [referring to intellect devourers] The higher the intelligence the prey, the more likely they are to strike.
Edgin: [as all the devourers go by without striking] Well, that's a little hurtful.
---
Xenk: [referring to the golden helmet] This I give you now, trusting that you will protect it with your very life.
Edgin: I will.
Edgin: [passes the helmet to Simon] Hold this.
---
Holga: I don't mind that.
---
Holga: He missed.
Simon: [as the dragon statue comes to life] Oh, that's not good.
---
Simon: Aren't you sick of failing? We could die.
Edgin: There's worse things than dying.
---
Edgin: I lost everything that ever mattered to me. And if we quit now, that's for nothing.
---
Forge: Never put your trust in a con man.
---
Forge: [to Edgin] I don't want to see you die. Which is why I'm going to leave the room.
---
Red Wizard of Thay: This ends now.
---
Xenk: The bridge is protected by an ancient trap. We must not trigger the mechanism.
Simon: I may have triggered the mechanism. So. Sorry.
---
Edgin: Anything you want to add?
Holga: I'm good.
Trailer: