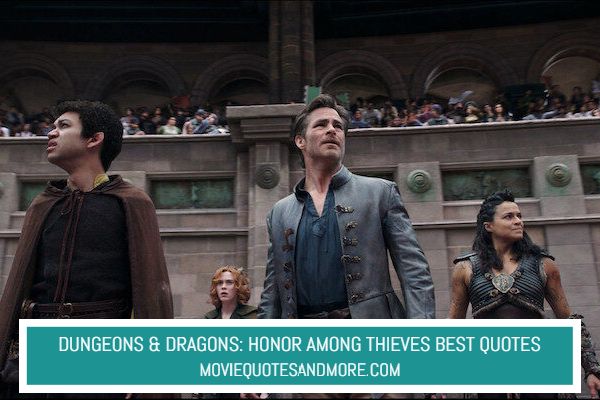 Copyright Notice: It's easy to see when our selected quotes have been copied and pasted, as you're also copying our format, mistakes, and movie scene descriptions. If you decide to copy from us please be kind and either link back, or refer back to our site. Please check out our copyright policies here. Thanks!
Starring: Chris Pine, Michelle Rodriguez, Regé-Jean Page, Justice Smith, Sophia Lillis, Hugh Grant
Story:
Fantasy action adventure comedy, based on the tabletop role-playing game, directed and co-written by Jonathan Goldstein and John Francis Daley. Dungeons & Dragons: Honor Among Thieves (2023) follows a charming thief, Elgin (Chris Pine), and a band of unlikely adventurers, Holga (Michelle Rodriguez), Xenk (Regé-Jean Page), Simon (Justice Smith), and Doric (Sophia Lillis), that undertake an epic heist to retrieve a lost relic. But things go dangerously awry when they run afoul of the wrong people.
We'll add the best quotes once the movie is released and we've had a chance to watch it, but for now, here's a small selection.
Quotes:
Elgin: Here's the thing. We're a team of thieves. And when you do this, you're bound to make enemies. Sometimes those enemies come looking for revenge.
---
Elgin: Truth be told, we helped the wrong person steal the wrong thing. We didn't mean to unleash the greatest evil the world has ever known. But we're going to fix it.
---
Holga: Well how do we pull that off?
Elgin: Uh…
Holga: Figure it out over a drink?
Elgin: Probably best.
---
Elgin: To give us a fighting chance, we're going to need strength. You got this, right?
Holga: I know you don't.
---
Elgin: We also need courage. Magic.
Elgin: [to Doric] And you.
---
Doric: What is it exactly that you bring to this?
Elgin: I'm a planner. I make plans.
Doric: You've already made the plan, so.
Elgin: If the existing plan fails, I make a new plan.
Doric: So you make plans that fail?
Elgin: No.
Holga: He also plays the lute.
Elgin: Not relevant.
---
Elgin: What is that again?
Simon: It's an owlbear.
---
Xenk: Be warned. There is evil here.
---
Holga: [referring to Xenk] I'm glad he's on our side.
---
Elgin: This one's dangerous. But whatever happens, we'll be ready.
Trailer: