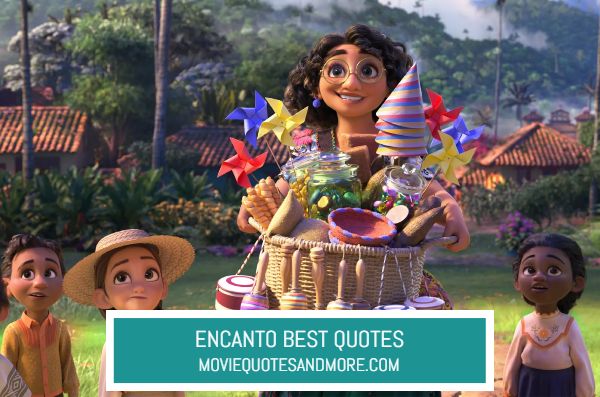 Copyright Notice: It's easy to see when our selected quotes have been copied and pasted, as you're also copying our format, mistakes, and movie scene descriptions. If you decide to copy from us please be kind and either link back, or refer back to our site. Please check out our copyright policies here. Thanks!
Starring: Stephanie Beatriz, María Cecilia Botero, Wilmer Valderrama, Adassa, Diane Guerrero, Mauro Castillo, Angie Cepeda, Jessica Darrow, Rhenzy Feliz, Carolina Gaitan
OUR RATING: ★★★½
Story:
Disney's animated musical fantasy comedy directed by Byron Howard, Jared Bush, and Charise Castro Smith. Enchanto (2021) centers the Madrigals, a family who live in an enchanted town in the mountains of Colombia. Every child in their magical house has been granted a unique ability, such as strength, or healing powers, every child except one, Mirabel (Stephanie Beatriz). However, when Mirabel discovers their magic is under threat, she decides that she may be the only one able to save it.
Our Favorite Quotes:
'Gift or no Gift, I am just as special as the rest of my family.' - Mirabel (Encanto)
Click To Tweet
Best Quotes
---
Young Mirabel: How did we get a miracle?
Abuela Alma: Long ago, when my three babies had just been born, your Abuelo Pedro and I were forced to flee our home. And though many joined us, hoping to find a new home, we could not escape the dangers, and your abuelo was lost. But in our darkest moment, we were given a miracle. The candle became a magical flame that could never go out. And it blessed us with a refuge in which to live. A place of wonder.
Young Mirabel: An encanto.
---
Abuela Alma: The miracle grew. And our house, our casita itself came alive to shelter us. When my children came of age, the miracle blessed each with a magic Gift to help us. And when their children came of age…
Young Mirabel: They got magic too.
---
Abuela Alma: Tonight, this candle will give you your Gift, mi vida. Strengthen our community, strengthen our home. Make your family proud.
Young Mirabel: Make my family proud.
---
Young Mirabel: What do you think my Gift will be?
Abuela Alma: You are a wonder, Mirabel Madrigal. Whatever Gift awaits, will be just as special as you.
'Maybe your Gift is being in denial.' - Town Kid (Encanto)
Click To Tweet
Abuela Alma: What are you doing?
Mirabel: They were just asking about the family and…
Town Kid: She was about to tell us about her super awesome Gift!
Dolores: Oh, Mirabel didn't get one.
Town Kid: You didn't get a Gift?
---
Delivery Guy: Mirabel! Delivery! I gave you the special since you're the only Madrigal kid with no Gift. I call it the "Not Special Special". Since you have no Gift.
Mirabel: Thanks.
Delivery Guy: Oh, and tell Antonio good luck. The last Gift ceremony was a bummer. Last one being yours that did not work.
---
Town Kid: If I was you, I'd be really sad.
Mirabel: Well, my little friend, I am not. Because the truth is, Gift or no Gift, I am just as special as the rest of my family.
[they look over to see their siblings display their powers]
Isabela: Who wants more pink?
Luisa: Alright, guys, where do I drop the wagon?
Town Kid: [to Mirabel] Maybe your Gift is being in denial.
---
Isabela: A little sisterly advice, if you weren't always trying too hard, you wouldn't be in the way.
Mirabel: Actually, Isa, this is called helping. And I'm not in the way. You are.
'We don't talk about Bruno.' - Pepa (Encanto)
Click To Tweet
Agustín: When me and your tío Félix married into the family, outsiders who had no Gift, never, ever would. Surrounded by the exceptional, it was easy to feel unexceptional.
Mirabel: Okay, Papi.
Agustín: I'm just saying, I get it.
---
Abuela Alma: Mirabel, I know you want to help. But tonight must go perfectly. The whole town relies on our family, on our Gifts. So, the best way for some of us to help is to step aside. Let the rest of the family do what they do best. Okay?
---
Mirabel: Nervous? You have nothing to worry about. You're going to get your Gift, and open that door, and it's going to be the coolest ever. I know it.
Antonio: What if it doesn't work?
Mirabel: Well, in that impossible scenario, you'd stay here in the nursery with me. Forever. And I'd get you all to myself.
---
Antonio: I wish you could have a door.
Mirabel: You know what? You don't have to worry about me, because I have an amazing family, and an amazing house. And an amazing you. And seeing you get your special Gift and your door, that's going to make me way more happy than anything. But, alas, I am going to miss having the world's best roomie.
'Surrounded by the exceptional, it was easy to feel unexceptional.' - Agustín (Encanto)
Click To Tweet
Mirabel: [singing] Don't be upset, or mad at all. Don't feel regret, or sad at all. Hey, I'm still a part of the family. Madrigal. And I'm fine. I am totally fine. I will stand on the side as you shine. I'm not fine. I'm not fine. I can't move the mountains. I can't make flowers bloom. I can't take another night up in my room, waiting on a miracle. I can't heal what's broken. Can't control the morning rain, or a hurricane. Can't keep down the unspoken invisible pain. Always waiting on a miracle. A miracle. Always walking alone. Always wanting for more. Like I'm still at that door, longing to shine, like all of you shine. All I need is a change. All I need is a chance.
---
Mirabel: [singing] Who I am inside? So what can I do? I'm sick of waiting on a miracle. So here I go. I am ready. Come on, I'm ready. I've been patient, and steadfast, and steady. Bless me, now as you blessed us, all those years ago, when you gave us a miracle. Am I too late for a miracle?
---
Mirabel: If it was all in my head, how did I cut my hand? I would never ruin Antonio's night. Is that really what you think?
Julieta: What I think is that today was very hard for you.
Mirabel: I was looking out for the family. And I might not be super strong like Luisa, or effortlessly perfect like Señorita Perfecta Isabela, who's never even had a bad hair day, but, whatever.
---
Julieta: I wish you could see yourself the way I do. You are perfect just like this. You're just as special as anyone else in this family.
Mirabel: You just healed my hand with an arepa con queso.
Julieta: I healed your hand with my love for my daughter, with her wonderful brain, and big heart, cool glasses.
---
Mirabel: I know what I saw.
Julieta: Mira, my brother Bruno lost his way in this family. I don't want the same for you.
'You're exactly what this family needs. You just have to see it.' - Bruno (Encanto)
Click To Tweet
Abuela Alma: Ay, Pedro. I need you. Cracks in our casita. If our family knew how vulnerable we truly are. If our miracle is dying. We cannot lose our home again. Why is this happening? Open my eyes. If the answer is here, help me find it. Help me protect our family. Help me save our miracle.
---
Mirabel: I will save the miracle. Wait. How do I save a miracle?
---
Mirabel: Dolores, hey. You know, out of all my older cousins, you're like my favorite cousin, so I feel like I can talk to you about anything, ergo you can talk to me about anything. Like the problem with the magic last night that no one seemed to worry about, but maybe you heard about, that maybe I should know about.
Félix: Camilo! Stop pretending you're Dolores, so you can have seconds.
Camilo: Worth a shot.
---
Dolores: [to Mirabel] The only one worried about the magic is you. and the rats talking in the walls. Oh, and Luisa, I heard her eye twitching all night.
'My Gift wasn't helping the family. But I love my family.' - Bruno (Encanto)
Click To Tweet
Abuela Alma: I've spoken to the Guzmáns about Mariano's proposal to Isabela. Dolores, do we have a date?
Dolores: Tonight. He wants five babies.
Abuela Alma: Wonderful!
---
Luisa: Why would anything be wrong? I'm totally fine. The magic's fine. Luisa's fine. I'm totally not nervous.
Mirabel: Your eye is doing the thing.
---
Luisa: There is something you should know. Last night, when you saw the cracks, I felt weak.
Mirabel: What?
---
Luisa: Before Tío Bruno left, he had like some terrible vision about it.
Mirabel: Tío Bruno? What was in his vision?
Luisa: No one knows. They never found it. But if something's wrong with the magic, start with Bruno's tower. Find that vision.
Mirabel: Wait! How do you find a vision? What am I even looking for?
Luisa: If you find it, you'll know. But be careful. That place is off limits for a reason.
---
Mirabel: A lot of stairs, but at least I'll have a friend.
Mirabel: [the parrot flies off] No. He flew away immediately.
'Sometimes family weirdos just get a bad rap.' - Mirabel (Encanto) Click To Tweet
Mirabel: [as she puts Bruno's vision glass together] What's hurting the magic?
Mirabel: [sees herself] Me.
---
Luisa: My Gift! I'm losing my Gift!
Abuela Alma: What?
Luisa: Mirabel and I were having this little talk about me carrying too much. So, I tried not to carry so much, but I realized it was putting me behind. And I knew I was going to let everyone down. And I felt really bad, so I was grabbing all the donkeys. But then when I went to throw the donkeys in the barn, they were heavy!
Abuela Alma: What did you do? What did you say to her?
Mirabel: Nothing.
---
Trailer: