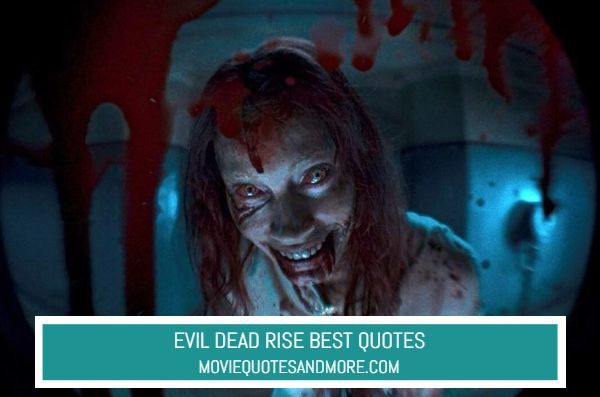 Copyright Notice: It's easy to see when our selected quotes have been copied and pasted, as you're also copying our format, mistakes, and movie scene descriptions. If you decide to copy from us please be kind and either link back, or refer back to our site. Please check out our copyright policies here. Thanks!
Starring: Alyssa Sutherland, Lily Sullivan, Gabrielle Echols, Morgan Davies, Nell Fisher, Mia Challis
Story:
Supernatural horror sequel written and directed by Lee Cronin. Evil Dead Rise (2023) centers on two estranged sisters, Ellie and Beth (Alyssa Sutherland and Lily Sullivan), whose reunion is cut short by the discovery of an ancient book that gives rise to flesh-possessing demons, thrusting them into a primal battle for survival as they face the most nightmarish version of family imaginable.
We'll add the best quotes once the movie is released and we've had a chance to watch it, but for now, here's a small selection.
Quotes:
Beth: [referring to the book] What is this, Danny?
Danny: I found it.
---
Beth: [to the possessed Ellie] No matter how busy you ever got you, always found time for me. I can't believe I'm never going to speak to you again.
---
Beth: What's up, sis?
Ellie: [possessed] I had the most beautiful dream. It was the perfect day. And all I could think about was how much I wanted to cut you all open, and then climb inside your bodies, so that we could stay one happy family.
---
Ellie: [to Beth] Don't let it take my babies.
---
Ellie: [possessed] Eeny. Meeny. Miny! You.
---
Ellie: [possessed] Open up, now.
Kassie: You don't look so good, Mom.
Ellie: [possessed] Nothing a big old kiss from you won't fix.
---
Kassie: Mom?
Ellie: [possessed] Mommy's with the maggots now.
---
Kassie: [to Beth] Is what happened to Mom, is going to happen to us?
---
Beth: I'm getting us out of here. I promise.
Kassie: You'd be a good mom someday, Auntie Beth.
Beth: Oh, yeah?
Kassie: Yeah. You know how to lie to kids.
---
Possessed Voice: This evil creates terror through total chaos. All you can do is run.