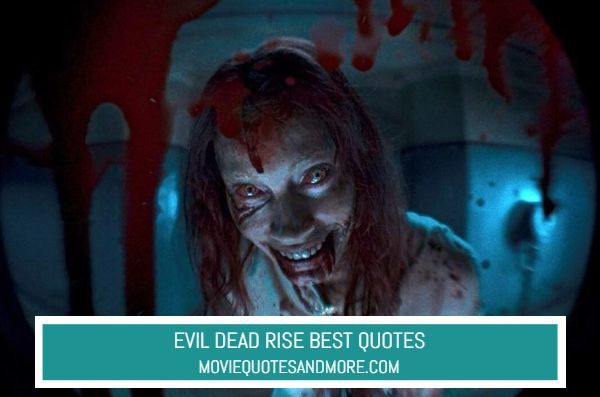 Copyright Notice: It's easy to see when our selected quotes have been copied and pasted, as you're also copying our format, mistakes, and movie scene descriptions. If you decide to copy from us please be kind and either link back, or refer back to our site. Please check out our copyright policies here. Thanks!
Starring: Alyssa Sutherland, Lily Sullivan, Gabrielle Echols, Morgan Davies, Nell Fisher, Mia Challis
OUR RATING: ★★★☆☆
Story:
Supernatural horror sequel written and directed by Lee Cronin. Evil Dead Rise (2023) centers on two estranged sisters, Ellie and Beth (Alyssa Sutherland and Lily Sullivan), whose reunion is cut short by the discovery of an ancient book that gives rise to flesh-possessing demons, thrusting them into a primal battle for survival as they face the most nightmarish version of family imaginable.
Best Quotes
---
Caleb: You looked like you were going to s**t a brick out sideways.
Teresa: You could have taken my head off.
Caleb: It wouldn't have been a clean decapitation with these blades. You'd just scramble your face up real good.
---
Teresa: [to Jessica] You better wake up in the next half hour, or I'm going to be forced to go drown that brainless meat puppet's sorry a**.
---
Deadite Jessica: [possessed as she scalps Teresa] Who's the brainless meat puppet now?
---
Jake: Hey, Bridget. Mom's on nights and we're watching all the Freddy movies in a row.
Scott: Even the s**tty ones.
Jake: There aren't any s**tty ones.
---
Kassie: Your boyfriends are weirdos.
Bridget: You're the weirdo.
---
Ellie: You been sleeping? You look like Mom.
Beth: Beats looking like a tampon.
---
Kassie: Danny told me that when this building used to be a bank, a teller got caught stealing and hunged himself, and if you walk around with coins in your pockets, his ghost hears the jingle. And he scares you to death so he can take all your money.
---
Beth: Ghosts aren't real.
Kassie: Have you ever seen one? Then how do you know they don't exist?
Beth: Because I only believe what I can see.
---
Beth: Why didn't you tell me, El? I would've jumped right on a plane to help you work through this.
Ellie: I called you. Twice. First time, when he told me he was leaving. Second, the night he moved out. That was two and half months ago, Beth.
---
Ellie: What's going on with you, Beth?
Beth: I screwed up again, like I always do. And I need you to help me figure it out. Again.
---
Danny: [as their building is shaken by an earthquake] That was intense.
Kassie: I think I peed my pants.
Bridget: Is it warm?
Bridget: [after Kassie shakes her head] It's probably just soda.
---
Kassie: Bridget dropped the pizza.
Ellie: Oh, honey. I love you guys so much more than pizza.
---
Danny: [referring to the old book] You think it might be worth something? Mom could do with some extra money right now, don't you think?
Bridget: I don't think Mom wants cash from something you stole.
Danny: It's not stolen. It's probably been locked in that vault forever.
Bridget: Yeah, and weird s**t like this gets locked away for a reason.
---
Father Marcus Littleton: [from recording] I would like to present what I believe to be one of the three fabled volumes of Naturum Demento, The Book of the Dead. My tests to date have revealed that its bindings are made of cured human flesh, its passages and etchings inked in blood.
'Nothing can stop this demonic force. Even its final remnants will come after you. You must run. All you can do is run!' - Father Marcus Littleton (Evil Dead Rise)
Click To Tweet
Man: [from recording] Destroy it! It's called The Book of the Dead for a reason!
Father Marcus Littleton: I seek to look at this book for the good of man!
---
Father Marcus Littleton: [from recording] Rejected by the elders of our church, myself, Canon Damien Shanahan, and Father Hugo Cortez have been working in secret to translate The Book of the Dead's myriad writings and glyphs. Its pages contain ancient rituals and incantations, the recitation of which proclaim to allow contact with supernatural forces that exist beyond the thin veneer of our known world.
---
Father Marcus Littleton: [from recording] It is January 24th in the year of our Lord, 1923. And I, Father Marcus Littleton, shall now commence reading aloud the first of the spiritual resurrection passages.
---
Beth: What's up, sis?
Ellie: [possessed] I had the most beautiful dream. We were together, sitting in a tall forest. The wind was clean and the birds were singing the sweetest melodies. It was a perfect day, and all I could think about was how much I wanted to cut you all open and climb inside your bodies so that we could stay one happy family.
---
Ellie: [to Beth] It's in me. Don't let it take my babies.
---
Beth: [referring to Ellie] One minute she was fine, and the next she was talking crazy. And now she's gone.
---
Kassie: I want Dad to come home.
Bridget: He will. When we get the phones working again, he'll come right back.
Kassie: How do you know he will? You said Mom was going to be okay.
Bridget: I thought she would be. I'm so sorry, Kass.
---
Mr. Fonda: I don't like being trapped.
---
Beth: I don't know what to do, El. You're the one who always has the answers. I'm too scared to even face your kids right now. No matter how busy you ever got, you always found time for me. For everyone. I can't believe I'm never going to speak to you again.
---
Ellie: You have to help me, Beth. I'm burning. I'm burning alive!
'Mommy's with the maggots now.' - Deadite Ellie (Evil Dead Rise)
Click To Tweet
Deadite Ellie: What's happening to me, sweetheart?
Bridget: I don't know, Mom.
Deadite Ellie: I do. I'm free now. Free from all you titty-sucking parasites.
---
Deadite Ellie: [after she hurts Bridget] Let me kiss it better.
---
Deadite Ellie: [demonic voice] Who wants to rot next? Eeny. Meeny. Miny! You.
---
Bridget: Don't you think Mom looks just like one of those pictures from that book? Answer me, Danny. You never should've stolen it.
Danny: This isn't my fault.
Bridget: This is your fault!
---
Beth: [as she stops Bridget and Danny fighting] You don't turn on each other. Ever.
---
Danny: [referring to the old vinyls] I took these too. There's this creepy priest on them, reading passages from the book. It's like a weird dark prayer. And when he spoke the words… Bridget's right. This is all my fault.
---
Kassie: What's wrong with you, Mom?
Deadite Ellie: I was just feeling sad about me and your dad. But he's here now. He came home to see us. We're getting back together. We love each other. Isn't that right, my darling? And we love you too.
---
Deadite Ellie: Open up and let us in, Kassie. We can be a big, happy family again.
Kassie: You don't look so good, Mom.
Deadite Ellie: Oh. Nothing a big old hug and kiss from you won't fix.
---
Trailer: