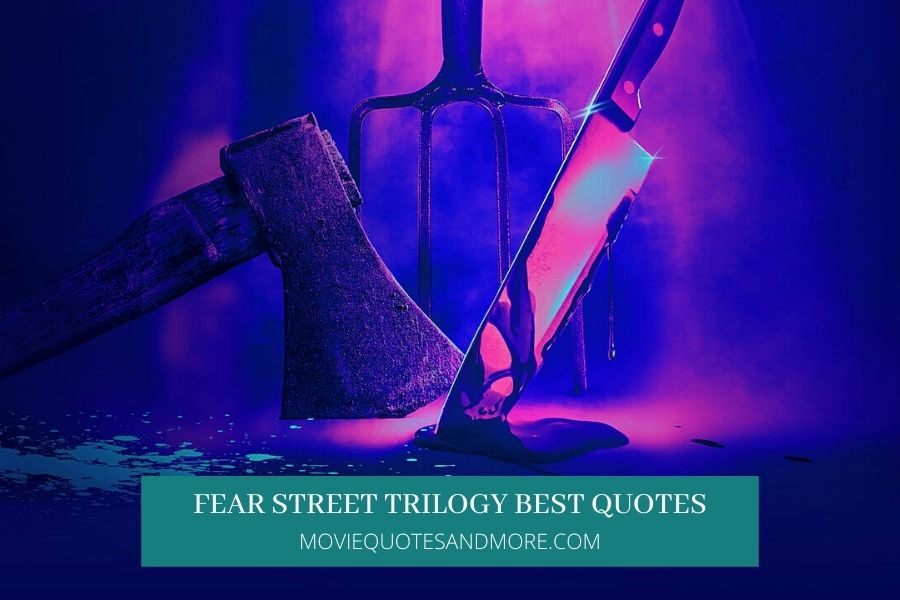 Here is our list of the best quotes from Netflix's horror mystery Fear Street (2021) trilogy all directed by Leigh Janiak. Based on R.L. Stine's best-selling horror series, the trilogy covers three different time periods, 1994, 1978, and 1666, and follows a murder mystery that shakes up the town of Shadyside, Ohio.
Copyright Notice: It's easy to see when our quotes have been copied and pasted, as you're also copying our format, mistakes, and movie scene descriptions. If you decide to copy our movie quotes please be kind and either link back, or refer back to our site. Please check out our copyright policies here. Thanks!
We'll add the best quotes as each movie is released and we've had a chance to watch them, but for now, here's a small selection.
1. Fear Street Part One: 1994
The story follows a group of teens discovering that a series of horrifying events that have plagued their town, Shadyside, Ohio, over many years might not be random, and that they may be the next victims.
Deena: There was a time when things were good in Shadyside. But now, that's all gone.
---
Deena: [answering phone] Hello?
C. Berman: You're still alive!
Deena: Who is this?
C. Berman: It's happening again.
---
Teen Girl: We're all cursed. The witch is real. She put a curse on Shadyside. Bad things happen here.
---
Shadyside Camper: Tonight is Sunnyvale versus Shadyside. Red versus blue. Good versus evil. We commencicate Color War!
---
C. Berman: That was 1978. Five thousand nine hundred thirty-seven days ago.
---
TV Reporter: Shadyside. A history of horror has earned it the nickname Killer Capital, USA.
---
Samantha Fraser: What's happening to us?
---
Deena: You were the only person who survived. How do we end this?
C. Berman: You can't stop her. Your best chance is to run from this place.
---
C. Berman: You have to go back to where it all started.
---
Josh: 1666.
---
1666 Villager: The devil has come to feast on our misdeeds!
---
Female Villager: If they want a witch, I will curse this town, forever.
---
Josh: She's possessing people, turning them into killers to take revenge on the town. It happens in Shadyside, over and over.
---
Deena: It's been three centuries. It stops here. It stops with us.
---
Deena: Who the hell was that?
Simon: How should I know? She was hot. The bitch seemed normal.
Kate: Amazing observation.
---
C. Berman: Your best chance is to run from this place.
---
Ziggy Berman: It's Shadyside. We're all cursed.
---
Female Villager: The devil is in me.
---
Martin: Any tips for fighting these things?
Josh: Try not to die.
---
Samantha Fraser: Welcome to the suck!
2. Fear Street Part 2: 1978
Camp Nightwing is divided by the campers and counselors who hail from the prosperous town of Sunnyvale and the campers and maintenance staffers from the downtrodden town of Shadyside, but when horrors from their towns shared history come alive, they must band together to solve a terrifying mystery before it's too late.
3. Fear Streat Part 3: 1666
A colonial town is gripped by a hysterical witch-hunt that has deadly consequences for centuries to come, and it's up to teenagers in 1994 to try and finally put an end to their town's curse, before it's too late.
Trailer: