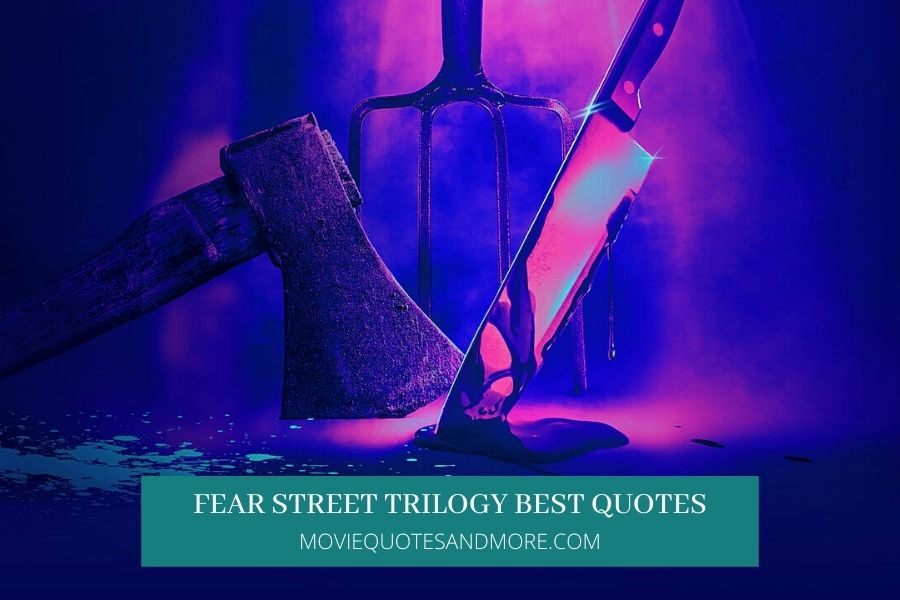 Here is our list of the best quotes from Netflix's horror mystery Fear Street (2021) trilogy all directed by Leigh Janiak. Based on R.L. Stine's best-selling horror series, the trilogy covers three different time periods, 1994, 1978, and 1666, and follows a murder mystery that shakes up the town of Shadyside, Ohio.
'The truth will come out. Maybe not today. Maybe not tomorrow, but it will. The truth shall be your curse.' - Sarah Fier (Fear Streat Part 3: 1666)
Click To Tweet
Copyright Notice: It's easy to see when our quotes have been copied and pasted, as you're also copying our format, mistakes, and movie scene descriptions. If you decide to copy our movie quotes please be kind and either link back, or refer back to our site. Please check out our copyright policies here. Thanks!
1. Fear Street Part One: 1994
The story follows a group of teens discovering that a series of horrifying events that have plagued their town, Shadyside, Ohio, over many years might not be random, and that they may be the next victims.
'It's not your future if you're pretending to be someone else.' - Deena (Fear Street Part One: 1994)
Click To Tweet
Heather: [referring to The Wrong Number by R.L. Stine] "It began as a prank and ended in murder." Fantastic choice. I love this one.
Customer: It's trash. Low-brow horror. It's for my stepdaughter.
---
TV Reporter: Shadyside, small-town America. But among locals, a history of horror has earned it another nickname, "Killer Capital USA". And last night, tragedy struck again.
---
Deena: This internet bulls**t is potentially exactly why you have no friends.
Josh: It's not bulls**t. It's a community dedicated to the truth. Look, some guy went crazy and killed a bunch of people at the mall last night.
Deena: Holy s**t.
Josh: It was all over the news. Skull mask killer. But, of course, the media won't talk
about the most important part.
---
Deena: Josh, I am telling you calmly, step out of your internet fantasy nerd land, and get in the car.
Josh: And you step out your depressoid "I'm going to die alone" land, and stop obsessing about Sam!
---
Kate: You see? It's the witch. Sarah Fier's back.
Deena: Oh, Christ. Not you too.
---
Kate: It's just fun.
Deena: It's sick.
Simon: What? The dude was wearing a Halloween skull mask! How is that not fun?
Deena: People died. Heather died.
---
Deena: The dude was probably just some sad sack who hated his life, just like the rest of us, except he decided, "Hey, why don't I get out of here for good?" And, "Hey, why don't I take Heather, and a couple other mall rats with me?" There's no angry dead witch who made him go postal. The only thing that made him go crazy is this town!
---
Kate: You know we don't believe this witch s**t, right? It's just, like, f***ed-up Santa Claus, or something.
---
Deena: [to Kate and Simon] You're both morons.
Kate: Excuse me? Which one of us is valedictorian, again? And president of every club this s**thole has to offer. I'm getting out of here. Off to claim my place among the stars, b**ch.
---
Deena: [to Sam] I know there's not much of a future in Shadyside with a lesbo. Best case is what? Dead on the mall floor after a double shift, or maybe, maybe if you're really lucky, you're the one carrying the knife.
---
Deena: S**t is doomed!
Samantha Fraser: It doesn't have to be. It's like you want to lose.
Deena: At least I know who I am.
Samantha Fraser: Stop being mad at me for wanting a different future.
Deena: It's not your future if you're pretending to be someone else.
---
Deena: I'm going to kill you.
Josh: Yeah? Well, you better do it before dad gets here, because he's going to murder you! You know the cops called him at work about some accident last night?
Deena: Please get out of my room.
Josh: You get out of your room! You've been in your bed like all day!
---
Samantha Fraser: You are total chaos! And you have always been! So don't blame me when you wake up in ten years just like your dad! Old, and drunk, and going nowhere!
Deena: Okay, first, go to hell. Second, yeah. Congrats on getting out of Shadyside, Sam. All you had to do was suck it up, literally, and swallow some Sunnyvale…
Samantha Fraser: You know what? I never want to see you again!
Deena: Great. Have a nice goddamn life!
---
Sheriff Nick Goode: Martin, around here, people show a little respect. They call me Sheriff Goode.
Martin: Sheriff Goode? More like Sheriff m**herf***ing Evil!
---
Kate: Why do you know so much about killers?
Josh: Know thy enemy, right?
---
Sheriff Nick Goode: Let me get the right paperwork. "Dead killer chasing…" Would you say he was more Dawn of the Dead, or Night of the Living Dead?
Samantha Fraser: Wait. You don't believe us?
---
Samantha Fraser: I think we should stay. We're safe here. What if that psycho shows up again?
Deena: Then we'll be ready.
---
Deena: They didn't believe us. We're on our own.
---
Samantha Fraser: It doesn't make sense. It's not possible. Bullets didn't stop her.
Kate: Amazing observation.
---
Deena: Who the hell was that?
Simon: How the hell should I know? She was hot! I don't know! The b**ch seemed normal!
Deena: Yeah, well, I hate to break it to you, but normal b**ches don't bleed black f***ing blood!
Simon: Well, she was hot and normal, until she attacked me with a f***ing razor blade!
---
Josh: Was she singing something? Was she singing a song, like an oldie song?
Simon: Jesus, Rain Man. How the f*** do you know that?
---
Josh: It happens in Shadyside over and over. Normal people turn into psychos.
---
Samantha Fraser: What's happening to us?
Deena: There are people trying to kill us. Dead people, if you believe my weirdo brother.
Samantha Fraser: That's not what I meant.
Deena: Yeah, I know.
---
Deena: [to Sam] Look, I know I always give you s**t for like pretending you're someone you're not, but it's not really easy for me to, you know, be like us either.
---
Samantha Fraser: Maybe you're right. Maybe s**t is doomed. I mean, here we are. We're together for one night and…
Deena: Dead people are trying to kill us.
---
Josh: None of this is random. It's Sarah Fier. She's turning Shadysiders into killers.
Kate: Do you really believe that? I mean, no one actually thinks that this witch s**t is real.
Simon: Yeah, it's something babysitters make up to scare kids.
---
Josh: 1666, Sarah Fier was hanged for witchcraft, fact. But ever since she was executed, she's been possessing people, turning them into killers, to take revenge on the town.
Simon: It's like the nursery rhyme.
Josh: Yeah. Yeah.
Simon: "Before the witch's final breath, she found a way to cheat her death. By cutting off her cursed hand, she kept her grip upon our land. She reaches from beyond the grave to make good men her wicked slaves."
---
Josh: Don't you see what's happening to us? This is all proof. Shadyside isn't just some hotbed for psychos. All these massacres are connected to Sarah Fier. The witch's curse is real!
Kate: Fine. Let's assume that the witch has been possessing people for some sort of messed-up vendetta. This isn't the same as the mall massacre. Something different is happening to us. Something way worse.
2. Fear Street Part 2: 1978
As the activities at Camp Nightwing are about to begin, another Shadysider is possessed with the urge to kill, and the fun in the sun becomes a gruesome fight for survival.
Deena: You are the only person who knows what we're dealing with.
C. Berman: Which is why I don't want that thing near me. Now get that car and it off my property.
Deena: Her name is Sam. You could have watched us dead on the six o'clock news, but you didn't. You called us back.
C. Berman: I can't help you with this!
---
Deena: My girlfriend is possessed by her, and tied up in a trunk, but you, you saw her, and you survived. What was different? Please. Maybe something happened to you, something that can help us stop her.
C. Berman: There's not! You can't stop her. Run, far as you can, fast as you can! That is your only chance.
Deena: Look, I can't just run!
---
Deena: Look, Sam, I can't let her die. I won't! I love her. Please!
---
C. Berman: In Shadyside, the past is never really past. This was July 12th. The summer of 1978. The first day of camp. A week later, my sister was dead.
---
Sheila: [to Ziggy] You're going to hang, witch.
---
Sheila: You do know what they did to Sarah Fier, right? They hanged her, from this very tree. But she would have died forever if you did what you always do to witches. You burn them.
---
Kurt: Well, that's it, Berman. Five strikes. You're out.
Ziggy Berman: I'm out? They just tried to murder me!
---
Young Sheriff Nick Goode: I don't get a thank you?
Ziggy Berman: Oh! I'm sorry, I forgot. Thank you, King of Sunnyvale, future Police Chief Nick Goode, for rescuing poor, helpless Shadysider me. How could I ever repay you? Oh, I know. I'll just bat my eyes at you, like all the other dumba** girls.
---
Joan: Blue is for beautiful, if you live in Shadyside. Red is for radiance, if you live in Sunnyvale. Despite our differences, we're all perfect! Even you, Ziggy Berman!
3. Fear Streat Part 3: 1666
A colonial town is gripped by a hysterical witch-hunt that has deadly consequences for centuries to come, and it's up to teenagers in 1994 to try and finally put an end to their town's curse, before it's too late.
'One does not summon the Devil by chance. Even the weakest heart, the most corruptible soul, they must make the choice. They must extend their hand.' - Solomon Goode (Fear Streat Part 3: 1666)
Click To Tweet
George Fier: He's struggled so. First his child, then his wife. He needs someone to take care of him. Someone strong and capable.
Sarah Fier: I'm not marrying Solomon bloody Goode, if that's what you're driving at.
George Fier: I worry about you. Is it so wrong for a father to wish his daughter to wed?
Sarah Fier: And leave you alone to eat up all the bacon? Not likely.
---
Sarah Fier: A full moon rises before nightfall.
Lizzie: A good night to enjoy the fruits of the land.
---
Children: [singing] Pastor Miller, blind as a bat. Pastor Miller, blind as a bat! Tried to read the Bible, and his eyes went splat!
'The Pastor' Cyrus Miller: Oh, but I see you. I've got eyes in the back of my head!
---
Mad Thomas: I can see a secret about you, girl.
Sarah Fier: And a good day to you, Thomas.
Mad Thomas: Well, don't you want to hear it, pretty girl? Good girl. I can see everything. I see all the dark secrets in Union.
Sarah Fier: You must be busy.
---
Mad Thomas: I see the darkness in you, girl!
Sarah Fier: Be still, Thomas!
Mad Thomas: Beware, Sarah Fier.
---
Solomon Goode: [referring to the piglet] This is madness, Sarah. It's too much. I can't accept it.
Sarah Fier: Just think of it as my dowry. We're practically married. Haven't you heard?
Solomon Goode: Well, in that case, tell your father this isn't nearly worth it. But thank you, truly.
Sarah Fier: Of course. Shadows fall on us all now and then.
---
Solomon Goode: My brother wants me to give up. Move back to the settlement. He says the Goode family are not farmers. But these lands, they are fertile. I know it. We'll have a healthy crop yet. The sun will shine on us.
---
Sarah Fier: You ought to rest some. You look like death.
Solomon Goode: Sarah Fier, flattering as ever.
---
Solomon Goode: Full moon rises before nightfall. You know nothing good comes from those woods after sundown.
Sarah Fier: You sound like my father.
Solomon Goode: So you're going?
Sarah Fier: Going where?
---
Lizzie: She's not just an old lady. The widow's a thousand years old. She drinks the blood of virgins to keep her youth.
Sarah Fier: You're safe then.
Trailer: