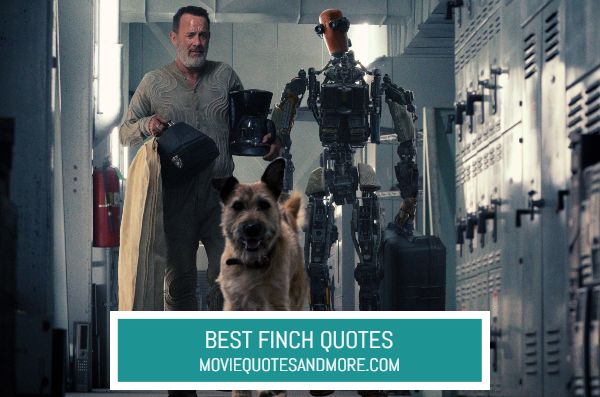 Copyright Notice: It's easy to see when our selected quotes have been copied and pasted, as you're also copying our format, mistakes, and movie scene descriptions. If you decide to copy from us please be kind and either link back, or refer back to our site. Please check out our copyright policies here. Thanks!
Starring: Tom Hanks, Caleb Landry Jones
OUR RATING: ★★★½
Story:
Apple TV+ post-apocalyptic sci-fi drama directed by Miguel Sapochnik. Set on a post-apocalyptic earth, Finch (2021) centers on dying robotics engineer, Finch (Tom Hanks), one of the few survivors of a cataclysmic solar event that has left the world a wasteland, who has been living in an underground bunker with his beloved dog, Goodyear. He creates a robot, Jeff (Caleb Landry Jones), to watch over Goodyear when he no longer can. As the trio embarks on a perilous journey across the country to find a new home, Finch strives to show Jeff the joy and wonder of what it means to be alive.
Our Favorite Quote:
'Things will happen to you. Things that you cannot control. Raw emotion will find you. When it does, how you deal with it, what you do will define who you are. It happens to all of us. Whether we want it to or not.' - Finch
Click To Tweet
Best Quotes
---
Finch: [to Goodyear] Yes, I'll give you scratches. That's all I'm here for, right? Just to scratch you. Just to scratch you.
---
Finch: [as he finishes brushing his teeth, to Goodyear] Alright, you're next. Come here, dog breath.
---
Finch: [as he's about to bring Jeff to life] One small step for man, one giant leap for Finch Weinberg.
---
Finch: Tell me something interesting about you.
Jeff: I have four primary directives.
Finch: What is the first directive?
Jeff: First directive, a robot cannot harm a human, or through inaction, allow a human to be harmed.
---
Jeff: Fourth directive, in Finch's absence, robot must protect the welfare of dog. This directive supersedes all other directives.
Finch: You hear that? So, you understand how important this dog is to me?
Jeff: Yes.
---
Finch: Now, define absence.
Jeff: The state of not being present. Finch.
Finch: Yes?
Jeff: When will you be absent?
---
Jeff: [imitating Finch swear] Oh, sheet.
---
Finch: So we need to get the hell out of St. Louis. South is out of the question. Not with the storm season we've had. As is north, obviously. East, too many cities. You know what that means? People. Pass. So that's that then. Head west. Over the mountains. Go easy on the rations. A little bit of luck, find places that haven't been ransacked or looted.
---
Finch: If we don't go before that storm hits, we'll die down here. All of us. Do you understand?
Jeff: Yes.
Finch: So, as soon as you can walk, we're leaving.
Jeff: But, Finch, if we leave now, data transfer would only be at seventy-two percent.
Finch: Well, we can't all be Einstein.
Jeff: Did you know Albert Einstein was born with an abnormally large head?
---
Jeff: Would you like me to drive?
Finch: No, you just learned how to walk.
---
Jeff: Where is everybody?
Finch: It's a long story.
---
Jeff: Are these all photographs of places you have been?
Finch: Those are postcards. For the record, it's rude to rifle through a man's personal effects.
---
Finch: Watch me then imitate. Now, lesson number one.
Jeff: Lesson number one.
Finch: Never pass on the opportunity for your next meal. Especially when you have a hungry dog to feed.
'Moving at night presents that which is not predictable. People.' - Finch
Click To Tweet
Finch: Lesson number two. Up there, there are holes in the sky. It's like Swiss cheese.
Jeff: Up there, it's like Swiss cheese.
Finch: Took me awhile to figure that out. When the flare hit, it completely fried the ozone, and then the EMP took out everything electrical just like that. It was a good thing I was at work. What are you doing?
Jeff: I was locating the cheese.
---
Finch: Why are you imitating me?
Jeff: You said watch then imitate.
Finch: Stop imitating me.
Jeff: Sorry.
Finch: And stop apologizing.
---
Finch: Lesson number three is, never willfully destroy somebody else's property.
---
Finch: A little extra muscle wouldn't hurt. Help me open this door.
Jeff: [takes the door off its hinges] Muscle.
Finch: That was a little too much muscle.
Jeff: Can you simplify?
Finch: That's a figure of speech. It's another way of saying something, like the cheese.
Jeff: Like the cheese.
Finch: Yeah, like the cheese. Except not exactly.
---
Finch: Lesson number four, use your initiative.
'I know you were born yesterday, but it's time for you to grow up.' - Finch
Click To Tweet
Finch: Lesson number five, live a little.
---
Jeff: Finch, there is something rattling around inside of my head.
---
Finch: Great. Shredded tire, no jack. Mistakes will get you killed, Weinberg. You should know that by now.
---
Jeff: I really enjoyed being a jack.
Finch: You do make a good jack.
'Hunger turned men into murderers. But made me a coward. How can you believe in that?' - Finch
Click To Tweet
Jeff: [referring to his name] How about William Shakespeare? Will you call me William Shakespeare?
Finch: That's taken.
---
Jeff: Why doesn't the dog have a name?
Finch: He does have a name. It's Goodyear.
Jeff: I like that name. Why not use it? He is your dog after all.
Finch: Well, he's not my dog. He is his own dog. Besides, with just the two of us, who needs names?
---
Jeff: [referring to his chosen name, Jeff] It is short and simple.
Finch: Yes, it is.
Jeff: Just like you suggested, Finch. And I've checked. It isn't a dog's name.
Finch: No, it's not. For the life of me, I cannot ever remember a dog named Jeff.
---
Finch: Give me your hand. Other hand. Corresponding hand. And shake hands. Welcome to the world, Jeff.
---
Finch: [as Goodyear barks] What's going on with all the fuss?
Jeff: I thought our communication might improve if I learn to talk dog.
---
Jeff: What is the matter with it, Finch?
Finch: It's not an it. It's a him. There's no such thing as dog talk.
Jeff: I don't think it likes me.
Finch: Well, he doesn't trust you yet. That takes time.
---
Trailer: