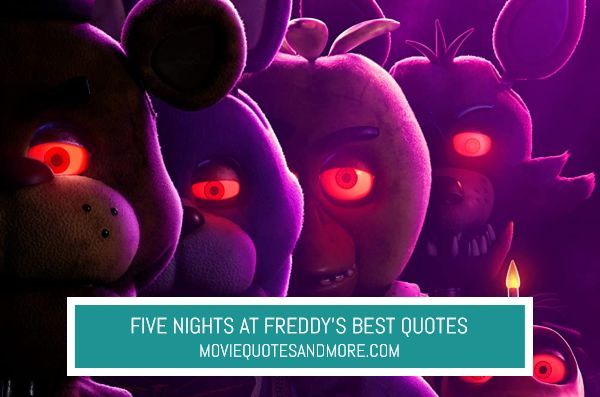 Copyright Notice: It's easy to see when our selected quotes have been copied and pasted, as you're also copying our format, mistakes, and movie scene descriptions. If you decide to copy from us please be kind and either link back, or refer back to our site. Please check out our copyright policies here. Thanks!
Starring: Josh Hutcherson, Matthew Lillard, Mary Stuart Masterson, Piper Rubio, Kat Conner Sterling, Elizabeth Lail
Story:
Supernatural horror directed and co-written by Emma Tammi based on the video game franchise. Five Nights at Freddy's (2023) centers on Mike Schmidt (Josh Hutcherson), a troubled security guard, who begins working at Freddy Fazbear's Pizza, a once successful abandoned family entertainment center. While spending his first night on the job, he realizes the night shift at Freddy's won't be so easy to make it through.
We'll add the best quotes once the movie is released and we've had a chance to watch it, but for now, here's a small selection.
Quotes:
Steve Raglan: [to Mike] I have a job for you. Piece of cake really. It's a security gig.
---
Mike Schmidt: Hi, this is Mike. I was just calling to see if that job that you offered was still available.
Steve Raglan: Yes, the security guard.
Mike Schmidt: I will take anything.
---
Steve Raglan: This place was huge in the 80's with the kids. They shut it down years ago. The owner's just not ready to let it go yet.
---
Mike Schmidt: I will work, and you will sleep.
Abby Schmidt: I understand.
---
Steve Raglan: All you have to do is keep your eyes on the monitor.
---
Kim: Welcome to Freddy Fazbear's Pizzeria, where fantasy and fun come to life. Hit it guys. If you're watching this video, it means you've been selected as Freddy's newest security guard. We're going to have so much fun together.
Mike Schmidt: [as he's watching the video] Okay.
---
Vanessa: You must be, new security guard.
Mike Schmidt: Can I help you, officer?
---
Vanessa: Welcome to Freddy's. Have you met them yet?
Mike Schmidt: Met who?
Vanessa: Them. Foxy. Bonnie. Chica. And Freddy.
---
Vanessa: In the 80's, some kids went missing. The police searched Freddy's top to bottom. They never found them. That's why the place shut down.
---
Mike Schmidt: What is this?
---
Mike Schmidt: There are ghost children possessing giant robots? Thanks for the heads up.
Vanessa: Technically, they're animatronics.
---
Mike Schmidt: What do they want?
Vanessa: [referring to Abby] They want to make her, like them.
---
Mike Schmidt: Tell me how to stop them!
Vanessa: You don't! It's too late. He's coming.
---
Mike Schmidt: Abby, go!
---
Cab Driver: Where to?
Cab Driver: [as he sees Abby in the backseat with Freddy] Why do I always get the weirdos?
Trailer: