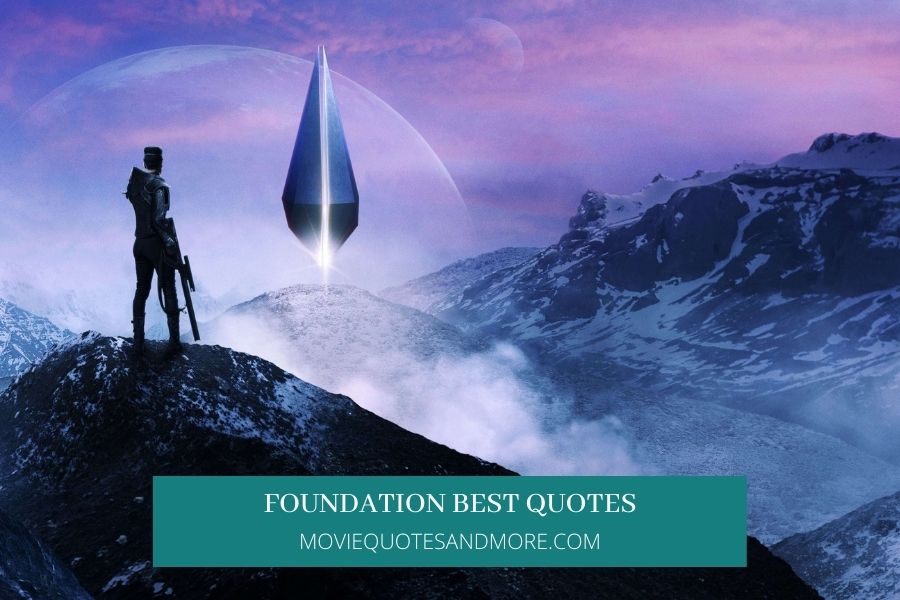 Our list of the best quotes from Apple TV+ series created by David S. Goyer, based on the book series of the same name by Isaac Asimov. Foundation follows Dr. Hari Seldon (Jared Harris), who after predicting the impending fall of the Galactic Empire, he and a band of loyal followers venture to the far reaches of the galaxy to establish The Foundation in an attempt to rebuild and preserve the future of civilization.
You can get a copy of the book series here!
Copyright Notice: It's easy to see when our quotes have been copied and pasted, as you're also copying our format, mistakes, and movie scene descriptions. If you decide to copy our movie quotes please be kind and either link back, or refer back to our site. Please check out our copyright policies here. Thanks!
We'll add the best quotes once the series is released and we've had a chance to watch it, but for now here's a small selection.
Quotes:
Gaal Dornick: When I was a child, at the edge of the galaxy, I heard stories about a man who could forecast the future. But the story remained dark to me until many years later. Until it became my story. Until it became the only story.
---
Hari Seldon: You're familiar with my work, psychohistory?
Gaal Dornick: Every mathematician has read your theory.
Hari Seldon: It's not a theory. It's the future of mankind expressed in numbers. And the empire won't like the future I predict.
---
Man: History is littered with charlatans and false messiahs.
---
Brother Dusk: We should kill them.
Brother Day: We can murder the man, but what about the movement, brother? Martyrs tend to have a long half-life.
---
Gaal Dornick: His math was right. The empire is dying.
---
Hari Seldon: Wars will be endless. A thousand worlds reduced to cinders.
---
Hari Seldon: Change is frightening. Especially to those in power. But we can soften the fall.
---
Gaal Dornick: So what's the plan?
---
Hari Seldon: Many years from now, if humanity is to climb from the ashes, the coming generations will need the knowledge to build upon, a foundation.
---
Gaal Dornick: We must preserve only the most essential pieces of civilization. Deciding what is remembered, what is forgotten.
---
Gaal Dornick: This is the plan. We're not turning around now.
---
Man: We are now staring down the barrel of a crisis.
Trailer: