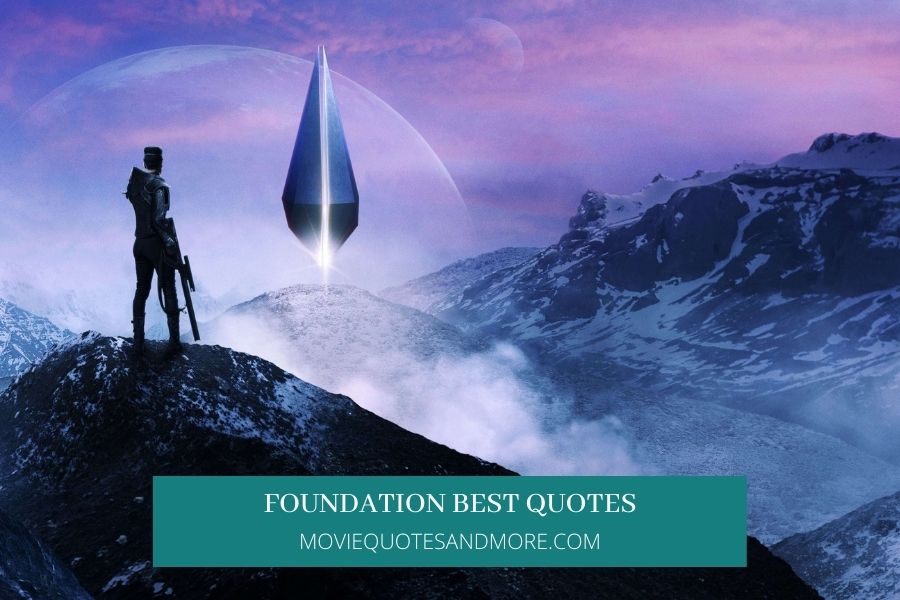 Our list of the best quotes from Apple TV+ series created by David S. Goyer, based on the book series of the same name by Isaac Asimov. Foundation follows Dr. Hari Seldon (Jared Harris), who after predicting the impending fall of the Galactic Empire, he and a band of loyal followers venture to the far reaches of the galaxy to establish The Foundation in an attempt to rebuild and preserve the future of civilization.
Copyright Notice: It's easy to see when our selected quotes have been copied and pasted, as you're also copying our format, mistakes, and movie scene descriptions. If you decide to copy from us please be kind and either link back, or refer back to our site. Please check out our copyright policies here. Thanks!
1. The Emperor's Peace
'Change is frightening. Especially to those in power.' - Hari Seldon (Foundation)
Click To Tweet
Gaal Dornick: When I was a child, I told my mother I wanted to learn every planet in the Galactic Empire, beginning in the center, and moving out to Star's End. Each night, she told me stories. I traveled light-years my mind expanding to hold more and more worlds. But I never reached Terminus. Straddling the farthest reaches of civilization, unsettled by man, it was the end. And its story remained dark to me until many years later. Until it became my story. Until it became the only story.
---
Gaal Dornick: Salvor Hardin. Hober Mallow. The Mule. I would learn these names one day. The heroes and villains fighting for the salvation of mankind. But to understand our future, we have to remember the past, and the ones who caused it all. A mathematician. A martyr. A murderer. And the most important player of all, Hari Seldon.
---
Hari Seldon: It will all work out, Raych.
Raych Foss: Everything is dying.
Hari Seldon: That doesn't mean it won't all work out.
Raych Foss: Do you ever wish there was another way?
Hari Seldon: Every day, son. But this is the optimal time.
'Math is never just numbers. In the wrong hands, it's a weapon. In the right hands, deliverance.' - Hari Seldon (Foundation)
Click To Tweet
Gaal Dornick: All my life, I looked out and dreamed of being somewhere else. Now I realize how much I'll miss this view. I have to remember it perfectly.
---
Gaal Dornick: Billions of citizens spend their lives beneath Trantor's outer shell, toiling away on a hundred subterranean levels without ever seeing the sun or the stars. Whatever remained of the natural world belonged to the Emperors. Dawn. Day. Dusk. The Genetic Dynasty. Clones of Cleon the First, decanted at different ages.
---
Brother Day: [referring to Seldon] The man has amassed a following. People who hinge their hopes on every word Raven Seldon utters. Words have a way of fanning into wildfires.
2. Preparing to Live
'Math is never just numbers. When words fail us, we use math to describe the inexpressible. The things that terrify us most. The vastness of space, the shape of time, the weight and worth of a human soul.' - (Foundation) Click To Tweet
Brother Day: Am I going to regret exiling Seldon and his followers?
Demerzel: No evidence links them to the attack.
Brother Day: No evidence exonerates them. I could destroy them still, even at a distance.
---
Demerzel: Martyring dissidents is a risky enterprise.
Brother Day: So is annoying your emperor.
---
Raych Foss: You were counting primes in your sleep.
Gaal Dornick: How far did I get?
Raych Foss: Not the end, if that's what you're hoping for.
Gaal Dornick: There is no end.
Raych Foss: Numbers, or problems to count?
---
Raych Foss: We have time. A lot of time.
Gaal Dornick: Well, we do until we don't.
---
Hari Seldon: There's an apple orchard in the Imperial Gardens that's older than the Robot Wars. They used to hang AI sympathizers there.
Gaal Dornick: I didn't know there were robot sympathizers.
Hari Seldon: There are always sympathizers.
Gaal Dornick: Well, hopefully, by the end of this trip, this one will be strong enough to hang somebody.
Hari Seldon: Hopefully.
---
Hari Seldon: I was "Dr. Seldon" when we began this journey.
Gaal Dornick: Is that really such a bad thing? For them to know the man behind the math?
3. The Mathematician's Ghost
'To be alive is to know ghosts. We hear their whispers if we listen. We are haunted by prophets, all.' - Gaal Dornick (Foundation)
Click To Tweet
Gaal Dornick: Every world has ghosts. And every house is haunted by them. Even the palace of the Empire. Especially the palace of the Empire.
---
Brother Darkness: I always assumed you'd stay on after I was gone. But it occurred to me, in the near darkness of my life, I shouldn't take anything for granted.
Demerzel: I'm loyal to the Empire.
Brother Darkness: Yes, but will the Empire be loyal to you? It hasn't always shown benevolence to your kind.
Demerzel: You're becoming sentimental, verging on maudlin.
Brother Darkness: Well, I'm dying. And I'm leaving everything in pieces.
---
Brother Darkness: Demerzel, for all you are, and maybe because of it, there are things you will never know.
Demerzel: I may someday know death.
Brother Darkness: Yes. But I doubt you will feel it arrived too soon.
---
Brother Darkness: [referring to the previous Brother Darkness] Do you think of him often?
Demerzel: You know the way I am. I don't forget anything, or anyone. Empire is always on my mind.
---
Demerzel: How you spend this last day is up to you. Every one of you is different.
Brother Darkness: Somehow I doubt that. But thank you for trying to make me feel unique as I shuffle off the stage.
---
Brother Darkness: I am shrinking. The world is beginning to see me from a distance.
4. Barbarians at the Gate
'Repeated luck is never luck.' - Salvor Hardin (Foundation) Click To Tweet
Gaal Dornick: Once, a man came to Hari Seldon and asked to be told his fate. He wanted to know whether the predictive models could chart the significance of his life. But Hari told him only the movements of masses could be predicted. The fate of one individual will always remain a mystery.
---
Gaal Dornick: The clockwork of civilization, the rise and fall of cultures, causes and worlds, these were answers Hari Seldon had long since unriddled. Belief is a powerful weapon. That's why the Empire feared Hari Seldon's predictions so much. Empires govern worldly concerns, but what comes after? Our souls? These realms are the purview of faith. And faith is a sword forged in the fires of the infinite.
---
Brother Day: All Cleons are perfect genetic copies of the first. And therefore…
Brother Dawn: We don't have souls. So, this Halima woman is saying we're, what? Not human?
Brother Dusk: Indirectly. But…
Brother Day: And if the galaxy comes to believe their leaders are less than, rather than more than themselves, they may cease to follow. We are a glass vessel, spun with a fine hand. If the pressures inside start to swirl, and we are not uniform, we may burst.
'A weapon's only as good as the man who's wielding it.' - Phara (Foundation)
Click To Tweet
Salvor Hardin: Tell me your name, at least.
Phara: Are we best friends now?
Salvor Hardin: You've risked a lot coming here.
Phara: We've risked everything, Warden.
---
Gaal Dornick: The stories about Salvor Hardin? They usually begin here. The warden and the ghost, inexplicably bound together.
5. Upon Awakening
'All things have a cycle. After destruction, rebirth. Knowledge gives us ways to survive the destruction until the rebirth arrives.' - Arren Sorn (Foundation)
Click To Tweet
Gaal Dornick: Of all the stories my mother used to tell me at bedtime, the black hole frightened me the most. It wasn't the darkness that scared me. I was comfortable in darkness. It was the idea of an event horizon. Venture into that horizon, and the gravitational pull prevents you from turning back. Escape becomes impossible.
---
Arren Sorn: When a planet wants you dead, you die.
---
Arren Sorn: Furthering knowledge is the most noble work of humankind, Gaal. Remember that.
---
Arren Sorn: The tides that rise will ebb. Not in our lifetime, but someday. All things have a cycle. After destruction, rebirth. Knowledge gives us ways to survive the destruction till the rebirth arrives.
---
Gaal Dornick: As a child, I had nightmares of black holes. I used to imagine what it would be like, drifting towards something miraculous, bearing witness to something most minds could never even comprehend, then realizing too late that you had reached the point of no return.
6. Death and the Maiden
'The search for meaning is not always about the answer. It's also the process of seeking that enlightens.' - Demerzel (Foundation)
Click To Tweet
Gaal Dornick: As a child, I heard stories about Trantor. The city that was a planet
at the heart of the galaxy. I was told the people who lived there were sinners who followed a false prophet. A man who believed himself above the Sleeper's words. I didn't believe the stories until I met him.
---
Gaal Dornick: I was told that the Emperor could create or destroy worlds, that he had triumphed over death itself, and would live forever. And when I looked into his eyes, I saw a man who, in all his lifetimes, had never known doubt, until he encountered Hari Seldon.
---
Demerzel: From the moment you come into the world, you and your brothers know your purpose. But the rest of us have to seek these things on our own.
Brother Day: But you know your purpose. It's to serve my brothers, to serve me, to serve the Empire above all. It's literally written into your code.
Demerzel: And I am quite fulfilled in that service. But the search for meaning is not always about the answer. It's also the process of seeking that enlightens.
'This will not always be your life. But it is your life now. Your choice now. Your change now. Make it count.' - Halima (Foundation)
Click To Tweet
Demerzel: At every point in our lives, we have the power to choose our own path. The goddesses guide us at every step toward service, and truth, as though toward the center of a great spiral.
---
Halima: The salt from this cup is said to draw out any impure intentions from the minds of those who drink from it.
Demerzel: Sadly, Empire is not able to accept any untested potables.
Brother Day: I'm afraid whatever impurities I may harbor will have to remain hidden.
Halima: Something tells me that's how you'd prefer it.
7. Mysteries and Martyrs
Salvor Hardin: The Anthor Belt. Dad used to tell me stories about it. Wonder what he'd say now.
---
Hugo: Without the Empire's tech, the industry just broke down. That's when I started doing long-haul routes. Another life.
Phara: In other words, you abandoned your own people.
Hugo: Meant there was one less Thespin to fight over the scraps.
---
Salvor Hardin: They say, in her day, the Invictus was the most powerful weapons platform the Empire had ever built.
Phara: A world-killer.
Salvor Hardin: Yeah, she disappeared without a trace seven hundred years ago. No debris. No distress signals. People reported sightings of her all across the galaxy, never responding to hails, never seen in the same place twice.
---
Salvor Hardin: You know what you're doing?
Hugo: Almost never, lover.
8. The Missing Piece
'We have to try. And that is all there is in a crisis. Trying.' - Salvor Hardin (Foundation)
Click To Tweet
Phara: [to Savlor] You simply have no concept of revenge, do you? I don't care about mankind.
---
Phara: [to Salvor] The trade-off is simple, Warden. Destroy Trantor, and maybe, just maybe, your precious Foundation survives what comes after. Isn't it remarkable what a person will do for a little time?
---
Hari Seldon: [referring to Gaal's dream of seeing her planet's destruction] That dream drove you to mathematics, which only proved it wasn't a dream at all, but a premonition. I wouldn't be surprised to learn that you have some sort of intuitive processing ability that puts you ahead of the math.
'Seeing nothing, I would not wish that emptiness on anyone.' - Demerzel (Foundation)
Click To Tweet
Hari Seldon: [to Gaal] I'm saying you're extraordinary.
9. The First Crisis
'Violence is the last refuge of the incompetent.' - Abbas (Foundation)
Click To Tweet
Gaal Dornick: Ask a historian, "What was mankind's greatest invention?" Fire? The wheel? The sword? I would argue it's history itself. History isn't fact. It's narrative, one carefully curated and shaped. Under the pen strokes of the right scribe, a villain becomes a hero, a lie becomes the truth.
---
Abbas: Being human is complicated, Sal. We share a common origin, and some of the same myths. But we're governed by this. In here is all the capacity for rational thinking, but it's sharing skull space with our emotions. And sometimes emotions shout louder than logic.
---
Abbas: Violence is the last refuge of the incompetent.
'History is the ultimate weapon, because it harnesses time itself. Used correctly, the past can alter the present.' - Gaal Dornick (Foundation)
Click To Tweet
Abbas: Past behavior is the best predictor of future performance.
10. The Leap
'It takes more power to build than to burn.' - Gaal Dornick (Foundation)
Click To Tweet
Gaal Dornick: My mother used to say that going to sleep was a leap of faith. Our souls wander when we dream, or so she told me. And if we say our devotions, our souls will find their way back before we wake. Climbing from our cradle is another leap. So is leaving the comfort of home. For some, it's setting sail, hurtling ourselves into the void. We send messages into space hoping someone will answer, praying we find safe harbor over the horizon.
---
Hari Seldon: Anacreon and Thespis, you've been at each other's throats so long, the origin of your enmity is almost irrelevant.
Rowan: We have legitimate grounds for our hatred.
---
Captain Tacud: Are you suggesting our history's wrong?
Hari Seldon: History is written by the victor, and neither of you seem to be winning.
'It's not love if it doesn't hurt.' - Hugo (Foundation)
Click To Tweet
Hari Seldon: For the Plan to succeed, the Foundation needs three pillars, just as a stool needs three legs. It needs all the children of the Outer Reach. That is the way I designed it.
---
Salvor Hardin: I'm the one who opened the Vault, and who wrestled that damn ship onto our doorstep.
Hari Seldon: Well, Salvor Hardin, it appears thanks are in order. As to the mystery of the Invictus, its appearances were one of the first tests I gave my predictive models. Where others saw chaos, I found a pattern.
Season 1 Trailer: