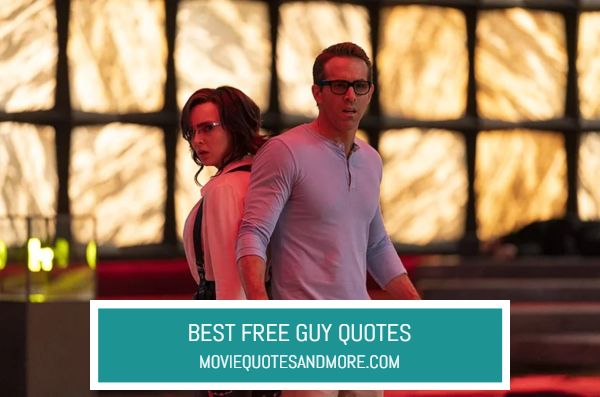 Copyright Notice: It's easy to see when our selected quotes have been copied and pasted, as you're also copying our format, mistakes, and movie scene descriptions. If you decide to copy from us please be kind and either link back, or refer back to our site. Please check out our copyright policies here. Thanks!
Starring: Ryan Reynolds, Taika Waititi, Jodie Comer, Joe Keery, Lil Rel Howery, Utkarsh Ambudkar, Camille Kostek, Channing Tatum
OUR RATING: ★★★½
Story:
Action comedy directed by Shawn Levy. Free Guy (2021) follows Guy (Ryan Reynolds), a bank teller who discovers he is actually a background character in an open world video game called Free City that will soon go offline, and works with the help of an avatar to prevent the makers of the game from shutting it down.
Our Favorite Quotes:
'What's more real than a person trying to help someone they love? Now, if that's not real, I don't know what is.' - Buddy (Free Guy)
Click To Tweet
Best Quotes
---
Guy: My name is Guy, and I live in paradise. I've lived here in Free City my whole life. I've got a best friend. I've got a goldfish. And I work at the bank. What more could a guy want?
---

Guy: [as he drink his coffee] That is unexpectedly hot. Jeez, that's good. It's like losing my virginity, but in my mouth.
---
Guy: Don't have a good day, have a great day!
---
Buddy: This is the greatest cup of coffee of all time. I want to write a song about it.
Guy: I want to dance to that song with my body.
---
Buddy: I love my life. There's something about finding your lane and just staying in it.
Guy: That's why they call them comfort zones. They're so damn comfortable.
---
Guy: In Free City, I have everything I need. Except one thing.
---
Buddy: Oh, come on, don't worry about that, Guy. You going to find someone.
Guy: Oh, it's okay, Bud. Feel like I've been looking for her forever, you know? Maybe it's just, maybe it's not meant to be.
---
Guy: I know the woman I'm looking for.
Buddy: Oh, let me guess. A woman with an offbeat sense of humor. An obsession with feel-good diva pop.
Guy: Yes, that's her. She's rented space in my brain, and she won't move out. And you know what? I don't want her to.
Buddy: Well, guess what? She won't move either in or out. You know why? Because she doesn't exist. She's just a fantasy. It's a fantasy.
Guy: That's cruel. You're cruel. You're being rotten right now. Rotten.
Buddy: I'm being real.
---
Millie: Want to know what I do to people who waste my time?
Masked Player in Alley: Oh, wow. Ooh, someone wants to play. Hey, you really British, or is that an accent filter? Because maybe we could meet up later.
Millie: I don't have a burning desire to see your mum's basement, thanks.
---
Guy: Did you see the sneakers on that last robber?
Buddy: The 2:30?
Guy: No, the four o'clock. The three-quarter high-top, gorgeous foam soles. I could barely feel it when he stepped on my face.
---
Buddy: You know something, Guy, people say it all the time. Like, "Guy can take a shoe to the face better than anybody I know."
---
Guy: [after he sees Millie] That's my dream girl, Buddy. She exists.
---
Guy: Ooh. Cappuccino. I enjoy saying that. It's like a waterfall made of letters.
---
Guy: [as he drink his coffee] That's hot. It's like Jesus washed my tongue, but right before he finished, he finally told my dad, "He's good enough."
---
Guy: [after shooting the bank robber] He's just resting.
Buddy: In pieces! That man is dead!
Guy: He's so sleepy. I'm just going to put your gun down right here, for when you wake.
---
Mouser: Hey, Keys, what skin are you going with?
Keys: The ushe. Dirty stripper cop, big guns, bigger mustache.
Mouser: Little dirt squirrel. I like it.
Keys: Almost scared to ask, but what are you going with?
Mouser: Full body mustache, hot pink. You should be very afraid.
Keys: I'm terrified.
---
Keys: Seriously, man. I'm just being honest. I think the bunny suit is just a little much.
Mouser: Excuse me?
Keys: Right. Rabbit. Okay, my fault.
---
Mouser: [to Guy] Hey, forty year-old virgin! Get over here!
Keys: Let's go.
Mouser: Uh-huh, Captain Khakis, come here.
Keys: Let's go. Let's go.
Mouser: Come on, bud!
Keys: Closer.
Mouser: There he is. Blue Shirt Guy.
Guy: Blue shirt! Yes. Hello, officer. Rabbit?
---
Mouser: Nice skin!
Guy: Thank you! That's sweet.
Mouser: How did you get it?
Guy: Well, uh, mostly genetics, I think. I'm pretty lucky. I have naturally dewy skin.
Keys: Listen up, Neutrogena. You know you can't go around looking like that. The rules are clear. And another thing, you can't hack the NPC avatars!
Mouser: No sir!
Keys: It screws up the mission log.
Mouser: Screws it up!
Keys: And makes the game look bad.
Mouser: Horrible!
Guy: I got like five percent of that.
'Life doesn't have to be something that just happens to us.' - Guy (Free Guy)
Click To Tweet
Mouser: Lose the skin!
Guy: How am I supposed to get rid of my skin?
Mouser: Take it off, man! Just take it off. What are you doing?
Guy: What?
Keys: Seriously.
Mouser: The whole thing. The face, the outfit.
Guy: How?
Mouser: Everything. Ditch it. If you don't, we're going to kill you.
Guy: Why?
Keys: And we're going to keep killing you.
Guy: Still why?
Mouser: Until we do find out who you are, and then we're going to ban you for life!
Guy: Okay. No, no. Okay. I want to comply. I just find the order of those threats very confusing.
---
Mouser: Come on, Blue Shirt. You can't escape the rabbit. We're apex predators. All we do is bone, and brawl, and slit throats!
---
Guy: I can't die! I'm never going to die!
Mouser: [suddenly hits Guy with their car] And that was the heartbreaking story of Blue Shirt Guy. The end.
---
Mouser: Also, aren't you some kind of MIT genius, indie game designer? What are you doing down here dealing with complaints?
Keys: That, Mouser, is a long and pathetic story involving failed dreams, desperation, and a mountain of college debt. You do not want to hear about that.
Mouser: You're absolutely right. That story sounds horrible, and boring, and full of white privilege.
---
Reporter: So, to get a little personal, what's the thing that gets you up in the morning?
Millie: Medium coffee, cream, two sugars. And what's the other thing? Oh, yeah. An insatiable thirst for validation.
Keys: She's not kidding.
Millie: I'm not.
---
Keys: [referring to coding] Because it's not just zeros and ones, it's hidden messages. I like to think of myself, actually, as not a code writer, but an author. I just use zeros and ones instead of words, because words will let you down. But zeros and ones, never. Zeros and ones are as cool as s**t.
Millie: He's not kidding.
Keys: I'm not.
---
Millie: [to Keys] How does it feel working for a galactic black hole of frozen s**t?
---
Keys: You have to leave. I can't talk to you.
Millie: Aw, shame will have that effect.
Keys: No, Millie. I mean I can't talk to you. I can't even see you. I'm literally focusing on background objects, because looking at your lips move violates my NDA, and it could get me fired.
---
Millie: I thought you were an NPC. How did you find me?
Guy: I waited outside, by the murder train. Then I followed you.
---
Trailer: