Our list of the best quotes from crime drama Goodfellas (1990) directed and co-written by Martin Scorsese, based on the non-fiction novel "Wiseguy" by Nicholas Pileggi, which centers on small time gangster, Henry Hill (Ray Liotta), who grows up in the mob and follows his relationship with his wife, Karen (Lorraine Bracco), and his mob partners, Jimmy Conway (Robert De Niro), and Tommy DeVito (Joe Pesci), in the Italian-American crime syndicate.
Where to Watch:
'Never rat on your friends, and always keep your mouth shut.' - Jimmy Conway (Goodfellas) Click To Tweet
Henry Hill: As far back as I can remember, I always wanted to be a gangster.
---
Henry Hill: To me being a gangster was better than being president of the United States.
---
Henry Hill: I knew I wanted to be a part of them. It was there that I knew I belonged. To me, it meant being somebody in a neighborhood full of nobodies. They weren't like anybody else. I mean, they did whatever they wanted.
---
Henry Hill: Paulie might have moved slow, but it was only because Paulie didn't have to move for anybody.
---
Henry Hill: The way I saw it everybody takes a beating sometime.
---
Henry Hill: Hundreds of guys depended on Paulie, and he got a piece of everything they made. It was a tribute, just like in the old country, except they were doing it here in America. All they got from Paulie was protection from other guys looking to rip them off. And that's what it's all about. That's what the FBI could never understand. That what Paulie and the organization does, is protect people who can't go to the cops. That's it. That's all it is. They're like the police department for wiseguys.
---
Henry Hill: At thirteen, I was making more money than most of the grown-ups in the neighborhood. I mean, I had more money than I could spend. I had it all.
---
Henry Hill: It was a glorious time. And wiseguys were all over the place. It was before Appalachian and before Crazy Joe decided to take on a boss and start a war. It was when I met the world. And it was when I first met Jimmy Conway.
---
Henry Hill: Jimmy was one of the most feared guys in the city. He was first locked up at eleven, and he was doing hits for mob bosses when he was sixteen. See, hits never bothered Jimmy. It was business. But what Jimmy really loved to do, what he really loved to do was steal. I mean, he actually enjoyed it.
---
Henry Hill: Jimmy was the kind of guy who rooted for the bad guys in the movies.
---
Henry Hill: And when the cops, they assigned a whole army to stop Jimmy, what did he do? He made them partners.
---
Jimmy Conway: You told them nothing, and they got nothing.
Young Henry: I thought you'd be mad.
Jimmy Conway: I'm not mad at you. I'm proud of you. You took your first pinch like a man, and you learned the two greatest things in life.
Young Henry: What?
Jimmy Conway: Look at me. Never rat on your friends, and always keep your mouth shut.
---
Henry Hill: Whenever we needed money, we'd rob the airport. To us, it was better than Citibank.
---
Henry Hill: For us, to live any other way was nuts. To us, those goody-good people who worked s**tty jobs for bum paychecks, and took the subway to work every day, worried about their bills, were dead. They were suckers. They had no balls. If we wanted something, we just took it. If anyone complained twice, they got hit so bad, believe me, they never complained again.
---
Tommy DeVito: Let me understand this, because maybe I'm a little f***ed up maybe. But, I'm funny, how? I mean, funny like I'm a clown? I amuse you? I make you laugh? I'm here to f***ing amuse you? What do you mean, funny? Funny how? How am I funny?
Henry Hill: You know, how you tell a story. You know?
Tommy DeVito: No. No. I don't know. You said it. How do I know? You said I'm funny. How the f*** am I funny? What the f*** is so funny about me? Tell me. Tell me what's funny.
Henry Hill: Get the f*** out of here, Tommy.
Tommy DeVito: M**herf***er! I almost had him! I almost had him! You stuttering p**ck, you! Frankie, was he shaking? I wonder about you sometimes, Henry. You may fold under questioning.
---
Sonny Bunz: Tommy taking over this f***ing joint is like putting a silk hat on a pig.
Paul Cicero: Tommy's a bad kid. He's a bad seed. What am I supposed to do? Shoot him?
Sonny Bunz: Yeah. That wouldn't be a bad idea.
---
Henry Hill: Now the guy's got Paulie as a partner. Any problems, he goes to Paulie. Trouble with a bill, he can go to Paulie. Trouble with the cops, deliveries, Tommy, he can call Paulie. But now the guy's got to come up with Paulie's money every week, no matter what. "Business is bad? F*** you, pay me. Oh, you had a fire? F*** you, pay me. "The place got hit by lightning, huh? F*** you, pay me."
---
Tommy DeVito: [to Henry] You f***ing believe that? In this day and age? What the f*** is this world coming to? I can't believe this. A Jew broad, prejudiced against Italians.
---
Karen Hill: You got some nerve standing me up. Nobody does that to me. Who the hell do you think you are, Frankie Valli, or some kind of big shot?
Henry Hill: Slow down. Slow down. Alright? I forgot. I thought it was next week.
Karen Hill: It was Friday! It was this Friday! And you agreed, so you're a liar!
---
Henry Hill: [referring to Karen] I remember, she was screaming on the street, and I mean loud. But she looked good. She had these great eyes, just like Liz Taylor's. At least that's what I thought.
---
Karen Hill: What do you do?
Henry Hill: I'm in construction.
Karen Hill: [referring to his hands] They don't feel like you're in construction.
Henry Hill: I'm a union delegate.
---
Karen Hill: [referring to Henry] One night, Bobby Vinton sent us champagne. There was nothing like it. I didn't think there was anything strange in any of this. You know, a twenty-one year-old kid with such connections. He was an exciting guy. He was really nice. He introduced me to everybody. Everybody wanted to be nice to him. And he knew how to handle it.
---
Morris Kessler: What am I? A schmuck on wheels?
---
Karen Hill: I know there are women, like my best friends, who would have gotten out of there the minute their boyfriend gave them a gun to hide. But I didn't. I've got to admit the truth. It turned me on.
---
Karen Hill: It was like he had two families. The first time I was introduced to all of them at once, it was crazy. Paulie and his brothers had lots of sons and nephews. And almost all of them were named Peter or Paul. It was unbelievable. There must have been two dozen Peters and Pauls at the wedding. Plus, they were all married to girls named Marie. And they named all their daughters Marie. By the time I finished meeting everybody, I thought I was drunk.
---
Karen Hill: After a while, it got to be all normal. None of it seemed like crime. It was more like Henry was enterprising, and that he and the guys were making a few bucks hustling while the other guys were sitting on their a**es waiting for handouts. Our husbands weren't brain surgeons, they were blue-collar guys. The only way they could make extra money, real extra money was to go out and cut a few corners.
---
Billy Batts: Don't get too big on me now.
Tommy DeVito: Just don't go busting my balls, Billy. Okay?
Billy Batts: Hey, Tommy, if I were going to break your balls, I'd tell you to go home and get your shine box. This kid was great. They used to call him "Spitshine Tommy". I swear to God. He'd make your shoes look like f***ing mirrors. Excuse my language. He was terrific. He was the best. He made a lot of money too.
---
Billy Batts: I didn't mean to offend you.
Tommy DeVito: I'm sorry too. It's okay. No problem.
Billy Batts: Okay. Salute. Now go home and get your f***ing shine box.
Tommy DeVito: M**herf***ing mutt! You f***ing piece of s**t!
---
Tommy's Mother: Why don't you get yourself a nice girl?
Tommy DeVito: I get a nice one almost every night, Ma.
Tommy's Mother: Yeah. But get yourself a girl so you could settle down. That's what I mean.
Tommy DeVito: I settle down almost every night. But then in the morning I'm free. I love you. I want to be with you.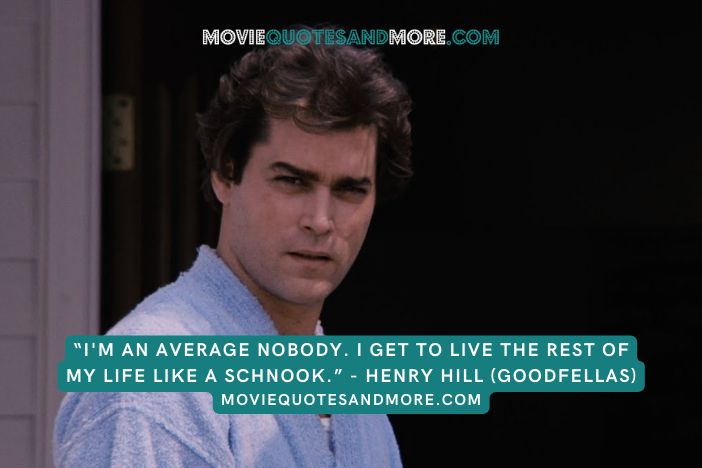 Henry Hill: For most of the guys, killings got to be accepted. Murder was the only way that everybody stayed in line. You got out of line, you got whacked. Everybody knew the rules. But sometimes, even if people didn't get out of line, they got whacked.
---
Henry Hill: We had a serious problem with Billy Batts. This was really a touchy thing. Tommy killed a made guy. Batts was part of the Gambino crew and was considered untouchable. Before you could touch a made guy, you had to have a good reason. You had to have a sit-down, and you'd better get an okay, or you'd be the one who got whacked.
---
Tommy DeVito: [as they're burying Billy's corpse] Henry, hurry up, will you. My mother's going to make some fried peppers and sausage for us.
Jimmy Conway: Oh, hey, Henry. Henry! Here's an arm!
Henry Hill: Very funny, guys.
Jimmy Conway: Here's a leg!
Tommy DeVito: Here's a wing! Hey. What do you like, the leg or the wing? Or you still go for the old hearts and lungs?
Henry Hill: [as he vomits] Oh, that's so bad!
---
Tommy DeVito: [to Spider] What am I? A mirage?
---
Tommy DeVito: [to Spider] I'm the Oklahoma Kid! You f***ing varmint. Dance! Dance! Yahoo, you m**herf***er! Round up those f***ing wagons.
Tommy DeVito: [as he shoots Spider in the foot] Dance, you little p**ck. Now he's moving.
---
Tommy DeVito: Hey, Spider, that f***ing bandage on your foot is bigger than your f***ing head.
---
Spider: Why don't you go f*** yourself, Tommy?
Jimmy Conway: I didn't f***ing hear right. I can't believe what I heard. Spider, here. Hey. This is for you. Attaboy. I got respect for this kid. He's got a lot of f***ing balls. Good for you. Don't take no s**t off nobody. He shoots him in the foot, he tells him to go f*** himself. Are you going to let him get away with that? Are you going to let this f***ing punk get away with that? What's the matter with you? What's the world coming to?
Tommy DeVito: [as he shoots Spider in the chest] That's what the f***ing world is coming to. How do you like that?
---
Jimmy Conway: [to Tommy, referring to Spider] I'm kidding with you, you f***ing shoot the guy?!
Henry Hill: He's dead.
Tommy DeVito: Good shot. What do you want from me? Good shot.
Anthony Stabile: You can't miss at this distance.
---
Karen Hill: Is this the superintendent? Yes, I want you to know, sir, that you have a whore living in 2R! Rossi, Janice Rossi. Do you hear me? He's my husband! Get your own goddamn man!
---
Jimmy Conway: [referring to Karen and Henry] They're not going to get a divorce. She'll never divorce him. She'll kill him, but she won't divorce him.
---
Henry Hill: In prison, dinner was always a big thing. We had a pasta course, and then we had a meat or a fish. Paulie did the prep work. He was doing a year for contempt, and had this wonderful system for doing the garlic. He used a razor, and he used to slice it so thin, that it used to liquefy in the pan with just a little oil. It was a very good system. Vinnie was in charge of the tomato sauce. I felt he used too many onions, but it was still a very good sauce.
---
Paul Cicero: Vinnie, don't put too many onions in the sauce.
Vinnie: I didn't put too much onions in, Paul. I put three small onions, that's all I did.
Johnny Dio: Three onions? How many cans of tomatoes you put in there?
Vinnie: I put two cans. Two big cans.
Johnny Dio: You don't need three onions.
---
Henry Hill: [narrating] Johnny Dio did the meat. We didn't have a broiler, so Johnny did everything in pans. It used to smell up the joint something awful, and the hacks used to die, but he still cooked a great steak.
Johnny Dio: Vinnie, how do you like yours?
Vinnie: Rare. Medium rare.
Johnny Dio: Medium rare. An aristocrat.
---
Henry Hill: You know, when you think of prison, you get pictures in your mind of all those old movies with rows and rows of guys behind bars. But it wasn't like that for wiseguys. It really wasn't that bad.
---
Stacks Edwards: What time is it?
Tommy DeVito: It's eleven thirty. You know, we're supposed to be there by nine.
Stacks Edwards: Yeah. I'll be ready in a minute.
Tommy DeVito: [a she shoots Stacks] Yeah. You're always f***ing late. You're going to be late for your own f***ing funeral.
---
Tommy DeVito: [after he kills Morrie] I thought he'd never shut the f*** up.
Jimmy Conway: What a pain in the a**.
---
Jimmy Conway: [to the cops following him] Come on f***os. Let's go for a ride.
---
Henry Hill: Still, months after the robbery they were finding bodies all over. When they found Carbone in the meat truck, he was frozen so stiff, it took them two days to thaw him out for the autopsy.
---
Henry Hill: We always called each other goodfellas. Like you'd say to somebody, "You're going to like this guy. He's alright. He's a goodfella. He's one of us." You understand? We were goodfellas. Wiseguys. But Jimmy and I could never be made because we had Irish blood. It didn't even matter that my mother was Sicilian. To become a member of a crew, you've got to be a hundred percent Italian, so they can trace all your relatives back to the old country. It's the highest honor they can give you. It means you belong to a family and a crew. It means that nobody could f*** around with you. It also means you could f*** around with anybody, just as long as they aren't also a member. It's like a license to steal. A license to do anything.
---
Henry Hill: As far as Jimmy was concerned, with Tommy being made, it was like we were all being made. We would now have one of our own as a member.
---
Henry Hill: [referring to Tommy being killed] It was revenge for Billy Batts, and a lot of other things. And there was nothing that we could do about it. Batts was a made man and Tommy wasn't. And we had to sit still and take it. It was among the Italians. It was real greaseball s**t. They even shot Tommy in the face so his mother couldn't give him an open coffin at the funeral.
---
Henry Hill: [narrating, referring to the guns] I only bought the damn guns because he wanted them, and now he didn't want them.
Jimmy Conway: What the f*** are these things? None of them fit. What's the matter with you? What, you want me to pay for this s**t? I'm not paying for it.
Henry Hill: [narrating] I didn't say a thing. Jimmy was so pi**ed off, he didn't even say goodbye.
---
Henry Hill: For a second, I thought I was dead. But when I heard all the noise, I knew they were cops. Only cops talk that way. If they had been wise guys, I wouldn't have heard a thing. I would have been dead.
---
Henry Hill: [referring to Paulie] Thirty-two hundred bucks. That's what he gave me. Thirty-two hundred bucks for a lifetime. It wasn't even enough to pay for the coffin.
---
Henry Hill: If you're part of a crew, nobody ever tells you that they're going to kill you. It doesn't happen that way. There aren't any arguments or curses like in the movies. See, your murderers come with smiles. They come as your friends. The people who have cared for you all of your life. And they always seem to come at a time when you're at your weakest and most in need of their help.
---
Henry Hill: Jimmy had never asked me to whack somebody before. But now he's asking me to go down to Florida and do a hit with Anthony. That's when I knew I would never have come back from Florida alive.
---
Henry Hill: Whenever you move me, I asked once and I'm going to tell you again, I don't want to go any place that's cold.
Detective Deacy: You don't have a choice in that matter.
---
Detective Deacy: [to Karen, referring to Henry] It doesn't matter. Because whether he goes to jail, or whether he stays on the streets and he beats the case, he's a dead man. He knows it and you know it.
---
Henry Hill: It was easy for all of us to disappear. My house was in my mother-in-law's name. My cars were registered to my wife. My Social Security cards and driver's licenses were phonies. I never voted. I never paid taxes. My birth certificate and my arrest sheet, that's all you'd ever have to know I was alive.
---
Henry Hill: See, the hardest thing for me was leaving the life. I still love the life. We were treated like movie stars with muscle. We had it all, just for the asking. Our wives, mothers, kids, everybody rode along. I had paper bags filled with jewelry stashed in the kitchen. I had a sugar bowl full of coke next to the bed.
---
Henry Hill: I know nothing about being a rat.
Attorney: Mr. Hill, you know everything about a rat.
---
Henry Hill: Anything I wanted was a phone call away. Free cars. The keys to a dozen hideout flats all over the city. I'd bet twenty, thirty grand over a weekend, and then I'd either blow the winnings in a week, or go to the sharks to pay the bookies. It didn't matter. It didn't mean anything. When I was broke, I would go out and rob some more. We ran everything. We paid off cops. We paid off lawyers. We paid off judges. Everybody had their hands out. Everything was for the taking. And now it's all over. And that's the hardest part. Today everything is different. There's no action. I have to wait around like everyone else. Can't even get decent food. Right after I got here I ordered spaghetti with marinara sauce, and I got egg noodles and ketchup. I'm an average nobody. I get to live the rest of my life like a schnook.