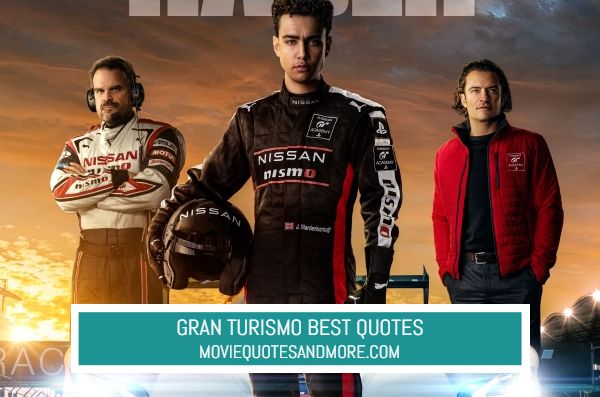 Copyright Notice: It's easy to see when our selected quotes have been copied and pasted, as you're also copying our format, mistakes, and movie scene descriptions. If you decide to copy from us please be kind and either link back, or refer back to our site. Please check out our copyright policies here. Thanks!
Starring: David Harbour, Orlando Bloom, Archie Madekwe, Djimon Hounsou, Darren Barnet, Geri Halliwell Horner, Daniel Puig, Josha Stradowski, Thomas Kretschmann
Story:
Sports action drama directed by Neill Blomkamp. Based on a true story, Gran Turismo (2023) centers the ultimate wish fulfilment of Jann Mardenborough (Archie Madekwe), a teenage Gran Turismo player whose gaming skills won a series of Nissan competitions to become an actual professional race car driver.
We'll add the best quotes once the movie is released and we've had a chance to watch it, but for now, here's a small selection.
Quotes:
Jann Mardenborough: Who do you think the best driver is?
Friend: Probably Rory.
Jann Mardenborough: I would dust him in a lap!
---
Steve Mardenborough: Jann, all you do is play video games with some crazy dreams of racing cars.
Jann Mardenborough: Dad, you're the one that told us to always do something we love.
Steve Mardenborough: Do you know what racing cars cost? Look around. It's not our world, son.
---
Jack Salter: What is this?
Danny Moore: It's a contest. The best Gran Turismo players in the world. A chance to compete in professional racing.
---
Jann Mardenborough: Dude, this is real.
---
Jack Salter: [to Danny] I'm sorry. Do you really think you're going to take a kid who plays video games in their bedroom, and you're going to strap them to a two hundred mile an hour rocket? It'll tear them to pieces.
---
Jack Salter: It's not going to work. The guys who race are elite athletes. Your kids are scrawny little gamer kids.
Danny Moore: Well, that's where you come in.
---
Jack Salter: [training the gamers] Come on! Let's go! It must be a new experience for you moving your legs.
---
Jack Salter: [to a trainee gamer] You puked on my lawn.
---
Jack Salter: When you're in a race, the cockpit is going to be a hundred and forty degrees Fahrenheit. The G-forces will be twice what an astronaut experiences upon liftoff.
---
Jann Mardenborough: [trying to drive the race car] I can't see anything!
---
Jack Salter: [to Jann after he swerves off the race course] Hey. Do you get extra points for that in the game? Jesus Christ.
---
Jack Salter: [referring to Jann] This whole thing is insane. But out of the couch-surfing nerds that you sent me, he is the best one.
---
Jack Salter: You made it.
Jann Mardenborough: Yes!
---
Danny Moore: [to Jann] Welcome to Team Nissan.
---
Jann Mardenborough: What's next?
Jack Salter: [The major leagues. The other drivers are going to hate you.
---
Jann Mardenborough: Dude, what is your problem?!
Nicholas Capa: The name of the game is called racing!
---
Jack Salter: If you miss a line in the game, you reset. If you miss it on the track, you could die.
---
Jann Mardenborough: I know this track. I've raced it a thousand times.
Trailer: